Choosing From Many Construction Accounting Solutions Available

Finding a solution that will do "All I Need It To Do" This is the challenge for Construction Contractors.

One of the most basics is pad and paper. Write out your proposals on a piece of paper and give it to your client when presenting a Bid, Estimate, List of Material, Invoice, Receipt For Payment. It is Simple, and it works.

I remember the 13 Column Pad and a good calculator with paper tape. Happiness was when all the columns added up and matched both directions "The First Time."
---
Moving up using the paper method is a pad of carbonless forms. They come in assorted sizes and are blank and ready for you to customize as needed. You can order carbonless forms pre-printed with your letterhead and some of your standard items. For an additional fee can have the Disclosure or Notice To The Owner preprinted on the back and other statements regarding warranty printed on the front.

One sub-contractor put a copy of his logo with contact information on a blank piece of paper and photocopied it over and over again and used it as an invoice. Yes, I asked – the office used QuickBooks and translated his handwritten "stuff" into real information). Easy to create an invoice "On The Fly."

Moving into a little more technology; I remember Contractors using Quicken Home and Business.
It worked for awhile but discovered that for financials statements Tax Accountants felt it gave them "something" saying that "something was better than nothing" (author unknown). Making your reports Hard on everyone around you may not have the best result. Missed deductions, higher fees charged.

Your Tax Accountant wants to help you save money and pay only what you should be paying in taxes. It is a challenge if your Tax Accountant does not have a clean set of financials, Profit & Loss and Balance Sheet Reports for the previous year.

Tax Accountants are dedicated professionals able to keep track of the Tax Code and how it will impact you, me, your friends, family, and neighbors. Each tax return is a little bit different and in the end, Tag Your Tax Accountant is it.

Besides the Internal Revenue Service, Social Security, every banker whether you are applying for a Car Loan, Credit Card, Buying A Home is looking at your financials. Some software can give necessary information, and it might be "just enough" for the Tax Accountant to do you are Annual business and personal taxes. Best foot forward.

I have had New Clients come to me because their existing Accounting file was a MESS or they were using software that their banker was not easily able to explain the financials to the Loan Committee.

Bankers are usually polite when they say No and may not be comfortable in telling you the real reason is they had to present the most easily explainable financials to the Loan Committee. You could be the most profitable and financially worth the risk – but the aggravation of messy paperwork may not be worth it for them to try. They need to keep in mind outside factors of "how they look" and most positive reviews.

Some Construction Contractors have downsized their accounting system. Before the downturn of the economy, they had a more substantial Construction business, employees, in-house staff and specialty software.
Hats Off to everyone who made it, challenges and all. Last year was better than the previous years.
This year is looking much better for almost everyone I am talking too. Thanks to the hard work of all.
Let Me Share A Little Bit About Our Different Services. We Are Much More Than Just Contractor Accounting
We support Outsourced Clients using QuickBooks Desktop.
Use QuickBooks Desktop in a "cloud environment."
QuickBooks Desktop in the cloud is not the same as QuickBooks Online.
QuickBooks Desktop is very customizable and can quickly create reports.
We can add to Chart of Accounts, Items Lists, Reports to meet the needs of clients.
QuickBooks can be a simple electronic checkbook or invoice program.
With us, you do not have to have access to QuickBooks to get the benefit of the reports generated.
Your tax accountant would appreciate that you use an accounting system that creates Profit and Loss and the Balance Sheet for the ease of creating annual tax return. Your customers would like an invoice they can read and understand. Your supplier wants you to pay their bills promptly.

We Recommend QuickBooks Pro, QuickBooks Premier and QuickBooks Enterprise desktop in the cloud because we have used it since 1991 in several of our construction companies and we provide Outsourced Construction Accounting for a lot of contractors all across the USA including Alaska and Hawaii. Yes we have tried dozens of other accounting softwares including QuickBooks Online and we keep coming back to QuickBooks Desktop in the cloud.
Remote Access To QuickBooks Desktop In The Cloud
Access QuickBooks Desktop Version From PC or Mac
Highly Skilled Technicians Maintain The Software
Paperless System For You To Store, Print, E-mail Documents
Microsoft Word Is On The Server For You To Use
Microsoft Excel Is On The Server For You To Use
Frequently Asked Questions And Answers Click Here
Push A Button And Have:
Cash Report

anytime YOU want it!

Receivables report

anytime YOU want it!

Payables report

anytime YOU want it!

Profit & Loss statement

anytime YOU want it!

Balance Sheet report

anytime YOU want it

!

Job Costing report

anytime YOU want it!

Estimates Vs. Actuals report

anytime YOU want it!

Frequently Asked Questions And Answers Click Here
The Screenshots Below Were Taken In Our Lynnwood Washington Office
QuickBooks Is 1,000+ Miles Away Running On High-Speed Servers


Tucked Securely In A Building With Armed Guards
With Highly Skilled Technicians Maintaining It

Access Windows QuickBooks Desktop Version From PC or Mac
English Speaking, U.S. Based Technicians Maintain The Server
QuickBooks Software Updates Are Automatically Applied
We Provide Your QuickBooks Maintenance And Support
Frequently Asked Questions And Answers Click Here
This Solution Works Best For Contractors Listed Below:
#1 BOOKKEEPING DO-IT-YOURSELF – Follow the links for the Individual Contractor Types. This will get you pointed in the right direction. If not call me and I will help you get there Sharie 206-361-3950.

#2 BOOKKEEPING DONE-FOR-YOU – Follow the links for information about using our Outsourced Accounting Services.
Additional QuickBooks Templates, Resources, And Services

We Serve Over 100 Types Of Contractors So If Your Type Of Company Is Not Listed
Please Do Not Be Concerned Because If You Are A Contractor
There Is A Good Chance We Can Help You!

We use other software programs for document management, more detailed financials, and general ease of doing our work. These software programs assist us to work faster and in keeping our fees lower. As much as we all wish it; reality is that no one software does everything.
The key is finding the right products that work together where to the outside world it looks seamless. Proper Accounting is like your projects when they are finished, listening cute, with your customers saying "Wow, I could have done that" Thanks!

We are in the process of adding a Phone App for our clients. Welcome everyone to download it when it becomes available as it will have FREE features useful to everyone. Every little bit helps.

Check out the FREE Forms on FastEasyAccounting.com. You will find an estimate, invoice, timecards as some of the forms available.
Look forward to chatting (or chatting again) with all of you. I am excited when someone I talked to years ago is calling back. Anytime time we chat; I want to leave something of value from our conversation even when it is apparent that we will not be doing business together.

With a good conversation and exchange of information – you are helping me with what is happening in your area. The software you are using. Other services that you found helpful. "Free, Perfect, Now" is not the only solution. You have to know what you are looking for to determine if "Free" is a good bargain.

What Do You Need Today? Explaining Our Commonly Used Accounting Terms:
Outsourced Accounting – This is where enter your transactions into your QuickBooks Desktop file.
Access to your QuickBooks file is optional. We have reporting tool, in-box, invoicing program.
Document Management Systems where we receive electronic documents or scan paper documents to.
QuickBooks Desktop Setup can be on Pro, Premier, Enterprise the PC or Windows Version.
New QuickBooks Desktop File – for a Brand New Company or Starting New File, No Transactions.
Chart of Accounts – Add our Customized Chart of Accounts to an existing QuickBooks file.
Items Lists are added to existing QuickBooks file and are usually Construction Specific to your needs.
QuickBooks Cleanup of existing QuickBooks file with all transactions is already in the QuickBooks file.
QuickBooks Cleanup is moving existing transactions as needed, adding lost sales to the file.
We reconcile all bank and credit card accounts to verify all the "Cash Transactions" are in the file.
Looking at Loans, Long Term Payables, Accounts Receivables. The Three O's. Who Owes Who Money?
In addition to digital products, Free Forms are available on FastEasyAccountingStore.com
The store has several categories for Contractors In USA, Canada, and International with digital products for QuickBooks Desktop, QuickBooks Online, Xero. QuickBooks Online and Xero products may import other Online Accounting Software.

You can reach the Fast Easy Accounting Store at the top of the homepage on FastEasyAccountingStore.com
When we are chatting – I find it easier to drop farther on the home page below the picture of the USA map.

BOOKKEEPING DO-IT-YOURSELF – Follow the links for the Individual Contractor Types
Doing this can get you pointed in the right direction. If not call me and I will help you get there.

BOOKKEEPING DONE-FOR-YOU – Follow the links for information about using our Outsourced Accounting Services.

Blend of Both Worlds – Be on the server, with payroll imports and specialized reports from our reporting tool.

Thinking Happy Thoughts

Enjoy Your Day.

Sharie
---
In Conclusion:
Helping Contractors around the world is one of the reasons we added the FastEasyAccountingStore.com
Follow our blogs, listen to Contractor Success M.A.P. Podcast. We Appreciate Our Visitors, Listeners, and Subscribers. – Thank You!!
Please feel free to download all the Free Forms and Resources that you find useful for your business.

We are here to Help "A Little or A Lot" depending on your needs.
About The Author:
Sharie DeHart, QPA is the co-founder of Business Consulting And Accounting in Lynnwood Washington. She is the leading expert in managing outsourced construction bookkeeping and accounting services companies and cash management accounting for small construction companies across the USA. She encourages Contractors and Construction Company Owners to stay current on their tax obligations and offers insights on how to manage the remaining cash flow to operate and grow their construction company sales and profits so they can put more money in the bank. http://www.fasteasyaccounting.com/sharie-dehart/ 206-361-3950 or sharie.com
---
When You Become A Client - Then we can tap into our resources of knowledge and strategy banks. We use the reports hidden in your QuickBooks in order to diagnose and understand your construction business and develop plans and help you implement a path to success for you and you alone because every contractor has unique Strengths, Weaknesses, Opportunities and Threats (S.W.O.T. Analysis) that when understood can lead to a Strategic Roadmap which cannot help but make a lot of money.
We Remove Contractor's Unique Paperwork Frustrations
For Construction Company Owners who do not need the full power of a QuickBooks for contractors and want 24/7 online access we offer Xero Accounting Online, and we have a custom setup for construction companies. Click Here For More.
This Is One More Example of how Fast Easy Accounting is helping construction company owners all across the USA including Alaska and Hawaii put more money in the bank to operate and grow your construction company. Construction accounting is not rocket science; it is a lot harder than that, and a lot more valuable to people like you so stop missing out! Call Sharie 206-361-3950 or sharie.com and schedule your no charge one-hour consultation.
Profitable Contractors and Construction Company owners have known about the value of outsourced bookkeeping services and contractor coaching services like ours for a long time, and now you know about it too!
Thank You For Reading This Far, And I Hope You Understand we really do care about you and all contractors regardless of whether or not you ever hire our services.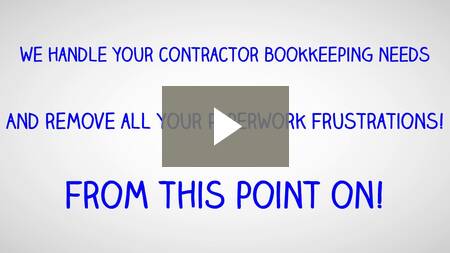 We Scan Your Receipts, And Invoices link the appropriate transactions to QuickBooks or Xero Accounting Online depending on the construction accounting service you are using and provide ongoing Cloud Based Contractors Bookkeeping Services by accountants who understand construction.

Thinking About Outsourcing Your Contractors Bookkeeping Services To Save Time And Money?
Click On The Button Below To Download A Free Guide
Need Help Now?
Call Sharie 206-361-3950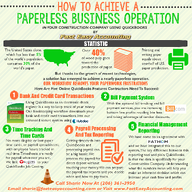 We Are Also Xero Accounting Experts Specializing In Construction Bookkeeping Services
---

Most Contractors Setup QuickBooks Desktop Version In One Of Three Ways:
#1 EZ Step Interview inside QuickBooks Setup
#2 Asked Their Tax Accountant To Setup QuickBooks
#3 They Attended A How To Setup QuickBooks Class Or Seminar
And QuickBooks Does Not Work The Way They Want It Too!
The Answer: