Three Types Of Construction Workers
Construction Is A Wonderful Profession - With a built-in natural progression for those who choose this most honorable of all professions. Am I a raving fan of construction and everyone who works, lives and plays in it? Absolutely Yes I am!
#01 - New Construction Workers Are Cavemen (And darn good people!)
Phase One - The Awareness A young man or woman gets becomes aware of the urge to build something, remodel something or merely play with construction tools and equipment. So they ask questions, do research online or perhaps make application at a construction firm.
Phase Two - They Get Hired The young man or woman is hired by a New Construction Company and starts at the bottom, literally as an apprentice and learns by experience and in some cases, supplemented with night school.
Phase Three - They Become Cave Men & Women the Apprentice has learned all the lessons and developed the skills to become a Journeyman Construction Technician
Their Skill Sets Include:
Brute Force - Always use brute force and if that doesn't work use more brute force and be quick about it....we're burning daylight!

Dress Code - Tattoos, torn shirt, filthy coat, scruffy jeans, greasy, dirty boots with heavy thick tread that picks up everything you step on

Vocabulary - All the four letter words combined with every insult every hurled, mixed in new and interesting combinations.

Attitude - I not paid to think! Can't somebody else do that? It is not my fault! That was broke when I got here!
#02 - Remodel Construction Workers Are Cowboys (And darn good people!)
Phase One - The Awareness After a while in new construction the physical intensity begins taking its toll on the body and they cannot compete with the younger kids that are always coming into the trades. They consider a slower pace of work where their skills and experience are more in demand; remodeling.
Phase Two - They Get Hired They are hired by a construction company that does residential remodeling or commercial tenant improvement work.
Phase Three - They Become Cowboys and Cowgirls The technician has learned all the lessons and developed the skills to become a first class remodel technician
Their Skill Sets Include:
Brute Force - Sometimes brute force works and if not stop and think until you find a better way

Dress Code - Clean shirt, coat, jeans, boots with soles that will not pick up everything you step on

Vocabulary - Few if any of the four-letter words. Limited insults and quietly spoken to co-workers and other construction trades.

Attitude - I am paid to think. I take responsibility to make the experience as pleasant as possible for the customer. If something is broke, I figure out how to get it fixed.
#03 - Service And Repair, Handymen, Construction Workers Are Shoe Salesmen (And darn good people!)
Phase One - The Awareness After a few years in remodeling the body rebels again, and it is time to move to the next stop, service and repair or handyman.
Phase Two - They Get Hired They are hired by a company or start their own business.
Phase Three - They Become Shoe Salesmen having experience in all areas of construction they have what appears to be X-Ray vision because they know what is behind the walls, under the floor and on top of the ceiling
Their Skill Sets Include:
Gentle Persuasion With a Touch of Brute Force - They work where people are living or at someone's busy office, so brute force is not the first option.

Dress Code - Professional logo's on clean shirt and coat. Work pants or crisp jeans, dark colored shoes with shoe covers

Vocabulary - Language that could be spoken in church or to their grandmother. No four letter words!

Attitude - I am paid to think and be of service in the best way I know how!
There is a lot more to this subject, marketing, strategy, back-office set up which I may cover on another article later. The key take away is to understand that just because someone is good at one part of construction does not mean they will be good at another part.
Before hiring a contractor make a point to ask what they specialize in and only ask for bids and consider those contractors that specialize in the work you need to have done.
Unfortunately in any downturn in the economy or slowdown in the work and some contractors take on work in areas they are not set up to manage and complete.
Each area New Construction, Remodel, Service has an entirely different set of skills, tools; expertise and back office support that is needed to do the work and keep customers happy.
In the 25+ years I have been involved in construction most of the problems, heartache and headache can be traced back to a contractor that was out of his or her expertise.
Here Is Someone Who Progressed Through All Three Construction Worker Paths And Ended Up Back At Square One As

The Contractors Accountant!
Profitable Construction - Companies have known about the value of outsourced bookkeeping services for a long time and now you know about it too!
We Scan Your Receipts And Invoices link them to QuickBooks transactions where it is appropriate and give you back a CPA-ready packet for your tax return and we provide ongoing Cloud Based Contractors Bookkeeping Services by accountants who understand construction.
Fill

Out The Form And Get The Help You Need!
Need Help Now?
Call Sharie 206-361-3950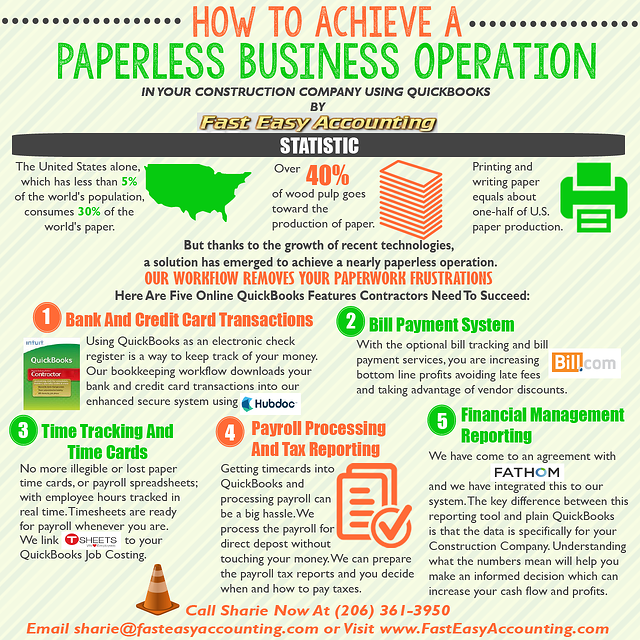 We Are QuickBooks Experts Specializing In Construction Bookkeeping Services
About The Author:

Randal DeHart, PMP, QPA is the co-founder of Business Consulting And Accounting in Lynnwood Washington. He is the leading expert in outsourced construction bookkeeping and accounting services for small construction companies across the USA. He is experienced as a Contractor, Project Management Professional, Construction Accountant, Intuit ProAdvisor and QuickBooks For Contractors Expert. This combination of experience and skill sets provides a unique perspective which allows him to see the world through the eyes of a contractor, Project Manager, Accountant and construction accountant. This quadruple understanding is what sets him apart from other Intuit ProAdvisors and accountants to the benefit of all of the construction contractors he serves across the USA. Visit http://www.fasteasyaccounting.com/randal-dehart/ to learn more.
Our Co-Founder Randal DeHart - Is a Certified PMP (Project Management Professional) with several years of construction project management experience. His expertise is construction accounting systems engineering and process development. His exhaustive study of several leading experts including the work of Dr. W. Edward Deming, Michael Gerber, Walter A. Shewhart, James Lewis and dozens of others was the foundation upon which our Construction Bookkeeping System is based and continues to evolve and improve. Follow Randal on Google+