Contractors Bookkeeping Services
Your One-Stop Shopping Place For Your Outsourced Contractor Bookkeeping And Accounting Services Needs. Payroll, Sales Tax and Job Costing Reports. Mentoring new and seasoned small business owners in all stages of their growth; showing them how to get more real information out of their accounting system.

Are You Bogged Down By The Bookkeeping?
Is The Issue - The File or The Person Doing It? Are you trying to do The Work and The Office? Most contractors use a combination of Phone Apps and a Paper System (shoebox / paper hidden under the seat). Each day - Do you know which activities bring in the most results?
A Properly Set Up QuickBooks Is The Solution!
We Love Bookkeeping and Helping Contractors Succeed! What is the most productive use of your time? Question: Who "Owes Who The Money"? We deal with "The Paper" from handling the receipts, creating reports to assisting with Simple Invoices / Progress Billings / Complex Pay App. / Bank Draws.

We help "A Little" Or "A Lot" depending on your individual company's needs. Spend your valuable time using the information. There is plenty of "Work" that only "You Can Do". Outsource Your Day-To-Day Bookkeeping and Accounting Needs To Us Because We Know What To Do!
When Was The Last Time Anyone Listened To You? I mean really listened to what you have to say? And when was the last time someone who could help you really listened to you and provided good solid advice?
How Much Fun is it to be the center of attention, because somebody really cared enough to make the conversation all about you?
We Are More Than Just Accountants We Are Construction Accountants. The only accountants who have been where you are, know what you know and understand you; in some cases better than your spouse understands you because we were contractors.
We Accept You As You Are. We care deeply about you as a person and about the profession you have chosen so let's meet over the phone or in person and get to know each other!
Profitable Construction Companies have known about the value of outsourced bookkeeping services for a long time and now you know about it too!
Fill Out The Form And Get The Help You Need!
Need Help Now?
Call Sharie 206-361-3950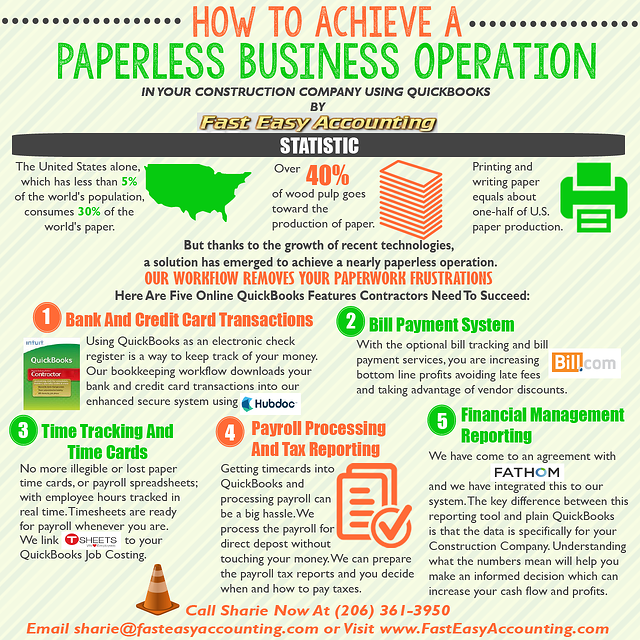 About The Author:

Randal DeHart, PMP, QPA is the co-founder of Business Consulting And Accounting in Lynnwood Washington. He is the leading expert in outsourced construction bookkeeping and accounting services for small construction companies across the USA. He is experienced as a Contractor, Project Management Professional, Construction Accountant, Intuit ProAdvisor and QuickBooks For Contractors Expert. This combination of experience and skill sets provides a unique perspective which allows him to see the world through the eyes of a contractor, Project Manager, Accountant and construction accountant. This quadruple understanding is what sets him apart from other Intuit ProAdvisors and accountants to the benefit of all of the construction contractors he serves across the USA. Visit http://www.fasteasyaccounting.com/randal-dehart/ to learn more.
Contractors Accounting and Bookkeeping Services