Our Workflow Removes Your Paperwork Frustrations
You're a smart contractor and you know QuickBooks has the Financial Reports, Job Costing Reports and Job Profitability Reports you need to operate and grow your construction company; but it does not provide Benchmarking Reports to let you see how your Construction Company is performing compared to your competitors.
Every time you or your bookkeeper opens the darn thing it sits there and does nothing. That's because QuickBooks is deaf and dumb! The people that developed QuickBooks are geniuses and I really mean it because the products they put out are top drawer!
When you understand they designed it to be sold to all industries, not just my favorite, construction you begin to see the problem; it has tons of stuff contractors don't need.
QuickBooks Is Getting Harder For Contractors To Learn And Use
I know it because for the first 10 years of using it I yelled at it, slammed my fist on the desk, cussed it out, called it every name in the book, threatened it by beating keyboards until they shattered into a million pieces and I got a bloody fist.
I tried asking nicely, performed a variety of song and dance routines, pleaded with it, bought and read dozens of books all claiming to have the answers to make QuickBooks do what I needed it to do, called QuickBooks technical support and got nowhere because I only speak English.
After all of that, I spent weeks learning the QODBC (QuickBooks Open Database Connector) and how to use it only to discover it's a rabbit hole that never ends. The more you try to make QuickBooks do something you need it to do the deeper you need to go until you wake up and realize you forgot what you were trying to do in the first place.
To make matters worse not only do you need 10,000 Hours Practice To Master Strategic Construction Bookkeeping but nowadays you need to have intense skills in Project Management to wade through the millions of online applications to find the ones that say they work with QuickBooks and then you need a computer science laboratory to test them and tweak them to fit into a Construction Document Collection and Management System.
Five Online QuickBooks Features Contractors Need To Succeed
1. Online Download Bank And Credit Card Transactions And We Put Them Into QuickBooks
2. Online Bill Payments And We Put The Transactions Into QuickBooks
3. Online Time Tracking And Timecards Which We Put It In QuickBooks
4. Online Payroll And Tax Reporting Which We Put Into QuickBooks
5. Online Financial Management Reports Which We Put Into QuickBooks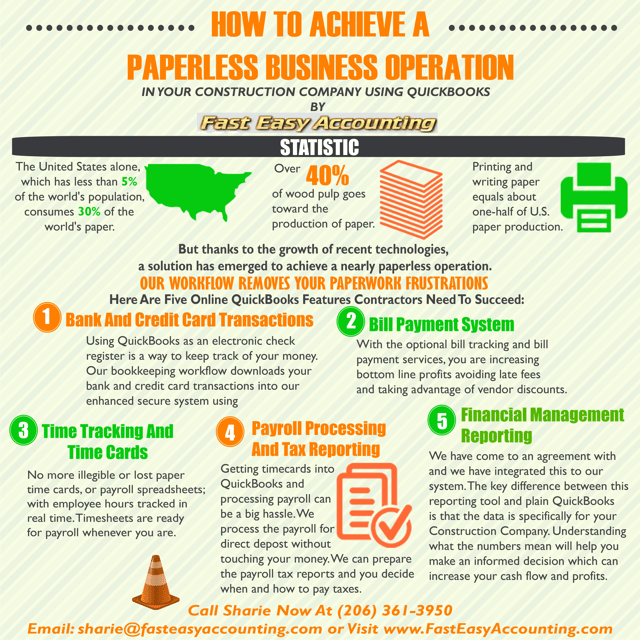 1. Online Download Bank And Credit Card Transactions

Using QuickBooks as an electronic check register is the number one reason contractors buy QuickBooks. You need a way to keep track of your money. Then the banks and credit card companies started offering to download transactions directly into QuickBooks and that seemed like a miracle because of all the time and money you would save in data entry.
2. Online Bill Payment System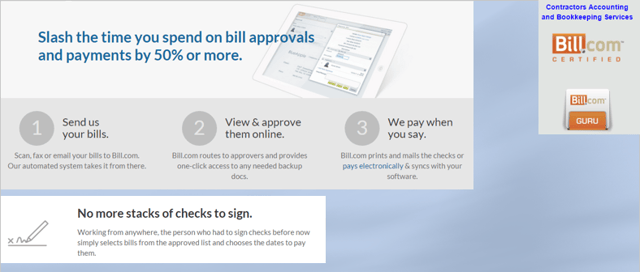 "Online Invoicing and Bill Pay is the next great leap in productivity since the introduction of the cell phone!"
- Randal DeHart, Premier Construction Accountant
Online invoicing and bill paying is saving construction contractors time and money by streamlining their entire processes which means they are getting paid faster and putting more money in the bank to operate and grow their construction company.
With the optional bill tracking and bill payment services they are increasing bottom line profits by avoiding late fees and taking advantage of vendor discounts which in some cases can generate 36% Return on Investment!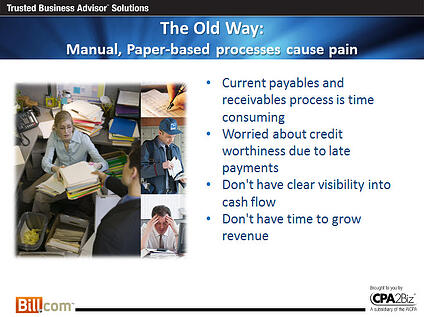 Online bill paying services were originally developed as a way to save individuals and businesses time and money during the bill paying process and have since grown to encompass a whole host of services designed to reduce the need for highly paid office staff.
For example a part-time bookkeeper paid $15.00 an hour will cost you approximately $25.29 an hour after all of the taxes and overhead.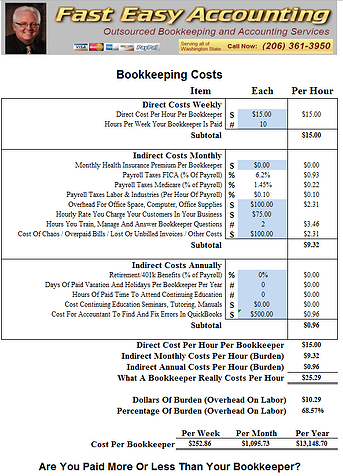 How much time and money would your construction company save if you and your field workers could use a smartphone, tablet, iPhone, laptop or notebook to invoice the job when you are done and email your customer or client before leaving the job? What would it be worth to you in time saved, misunderstandings with the bookkeeper and general aggravation?
3. Online Time Tracking And Timecards

Online Time Card Calculator For Construction Contractors Links To QuickBooks Job Costing And Actually Works!
"No more illegible or lost paper time cards, or payroll spreadsheets; TSheets is sweeping business owners and bookkeepers everywhere off their feet with fast, easy, and mobile time tracking for payroll.
With employee hours tracked in real time, employee timesheets are ready for payroll whenever you are. It's delightfully easy time tracking for delightfully fast payroll." - Quote From TSheets Website
Click On The Image Below To Calculate Your Savings!
Eliminate The Job Site To Office Time Card Headache!

4. Online Payroll Processing And Tax Reporting
Getting timecards into QuickBooks and processing payroll can be a big hassle for your construction company.

Timecards come in late causing payroll to be under enormous pressure to meet direct deposit deadlines

Tracking employee bonuses, reimbursements and garnishments take time and money and can cost your company some serious fines, penalties and lost productivity if you don't have handled correctly.

Employee advances and loans that you forget to deduct can drain away your entire profit
Because you never, never, never, never want to let anyone have access to your company bank accounts! That is one of the fastest ways to lose everything you own so do not do it!

Any payroll service or rotten accounting firm that suggests they will keep your payroll and tax deposits in their "Trust Account" do not have your best interest in mind!

No matter what you have been told at the contractors round table you, the business owners are 100% responsible for paying all your payroll taxes no matter what happened to the tax deposit including a bad bookkeeper who embezzled it or an rotten accountant that lost it playing the stock market.

We do not touch your money! We can process the payroll for direct deposit, you can print them on your office printer, we can print them for you in our office, YOU MUST BE PRESENT, you can hand write them from the paystub we send you, whatever is best for you!

We can prepare the payroll tax reports and you decide when and how to pay the taxes!
PS: If you are having issues with back taxes we can help and I mean real help, not the kind you see on television.
5. Online Financial Management Reporting For Contractors
The number two reason contractors buy QuickBooks is to get financial reports.
We have come to an agreement with Fathom, the developers of the Financial Statement And Strategic Management Reporting Tool and we have integrated into our Unique Contractor Bookkeeping Workflow System For Contractors In U.S.A.

We feel so strongly about how this tool and all of the ways it can help you operate and grow your contracting company that it is

FREE for our clients!
The key difference between this reporting tool and plain Q
uickBooks financial statements is the data is customized specifically for your Contracting Company and it will help you understand what the numbers mean; where you are making and losing money, so that you can make informed
decisions
which can increase your cash flow and profits.
This reporting tool has a lot of information with easy to follow explanations in short paragraphs to help you make sense of it all.
The goal is to provide you with insights and answers to help
you operate and grow your Construction Contracting Company, p
ut
additional
money in the bank, give you more freedom and greater peace of mind.
If QuickBooks Is Not Giving You Useful Reports
No Reporting Tool Can Fix That!
What typically happens is you or your bookkeeper spends 100's or 1,000's of hours inputting checks, bills, receipts and other documents and every time you run financial reports something looks strange and you begin to suspect something is wrong with QuickBooks.
After some research you discover your QuickBooks setup was done wrong. Your QuickBooks was setup for a company that needs regular accounting not construction accounting.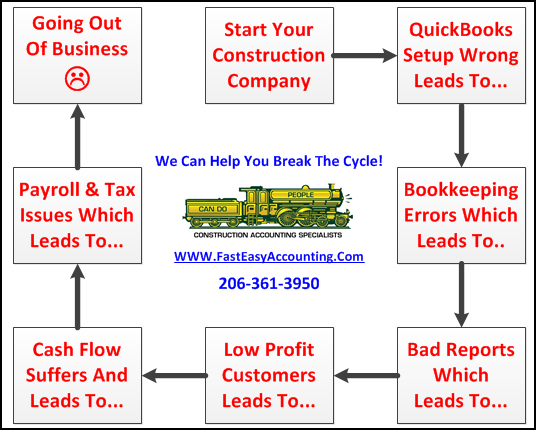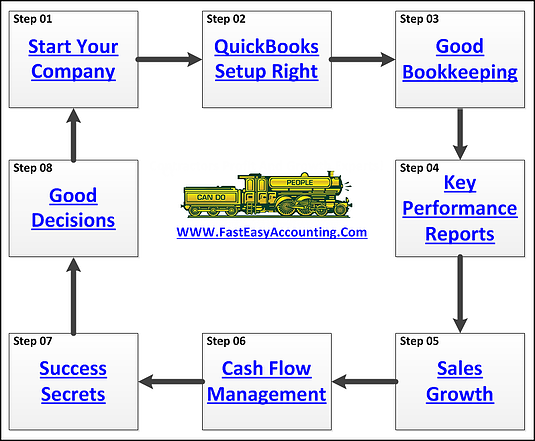 We Remove Contractor's Unique Paperwork Frustrations
This Is Only The Tip - Of the Iceberg. Everything we publish in our blog posts, articles in other websites, and anything you can find on the web is nothing compared to what is available to you as our client. We show only the basic tools to open your mind to the possibilities that are available to you. The best finish carpentry tools in the hands of a golf professional without proper carpentry training will not produce anything near to what a skilled finish carpenter can. The same can be said about the best construction business consulting and accounting tools in the hands of a skilled finish carpenter. And I say that with respect and admiration for everyone in construction.
When You Become A Client - Then we can tap into our resources of knowledge and strategy banks. We use the reports hidden in your QuickBooks in order to diagnose and understand your construction business and develop plans and help you implement a path to success for you and you alone because every contractor has unique Strengths, Weaknesses, Opportunities and Threats (S.W.O.T. Analysis) that when understood can lead to a Strategic Roadmap which cannot help but make a lot of money.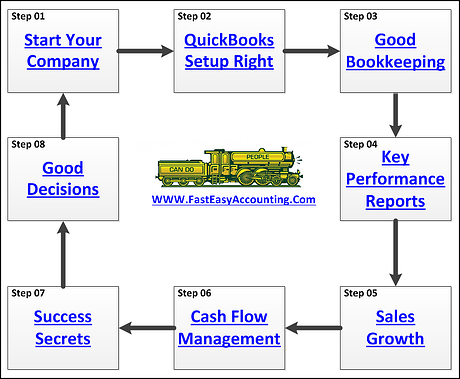 If You Are A Contractor You Deserve To Be Wealthy
Because You Bring Value To Other People's Lives!
This Is One More Example of how Fast Easy Accounting is helping construction company owners just like you put more money in the bank to operate and grow your construction company. Construction accounting is not rocket science; it is a lot harder than that and a lot more valuable to people like you and me so stop missing out! Call Sharie 206-361-3950 or sharie@fasteasyaccounting.com and schedule your no charge one-hour consultation.
Profitable Contractors and Construction Company owners have known about the value of outsourced bookkeeping services and contractor coaching services like ours for a long time and now you know about it too!
We Scan Your Receipts And Invoices link the appropriate transactions to QuickBooks or Xero Accounting Online depending on the construction accounting service you are using and provide ongoing Cloud Based Contractors Bookkeeping Services by accountants who understand construction.
Thinking About Outsourcing Your Contractors Bookkeeping Services?
Click On The Button Below To
Download A Free Guide

Need Help Now?
Call Sharie 206-361-3950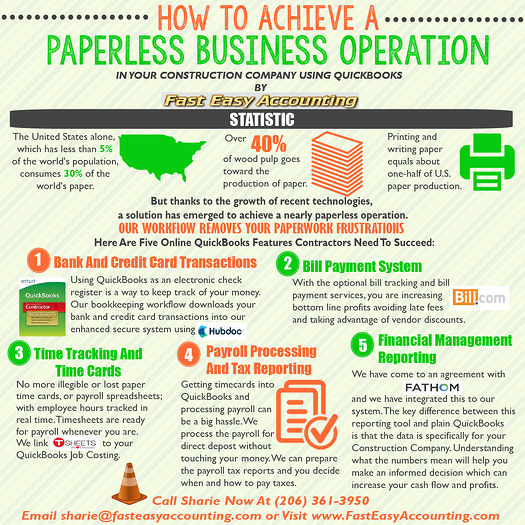 We Are Construction Accounting Experts Specializing In Construction Bookkeeping Services For Contractors All Across The USA Including Alaska And Hawaii
About The Author:

Randal DeHart, PMP, QPA is the co-founder of Business Consulting And Accounting in Lynnwood Washington. He is the leading expert in outsourced construction bookkeeping and accounting services for small construction companies across the USA. He is experienced as a Contractor, Project Management Professional, Construction Accountant, Intuit ProAdvisor, QuickBooks For Contractors Expert and Xero Accounting Specialist and Bill.Com Certified Guru. This combination of experience and skill sets provides a unique perspective which allows him to see the world through the eyes of a contractor, Project Manager, Accountant and construction accountant. This quadruple understanding is what sets him apart from other Intuit ProAdvisors and Xero accountants to the benefit of all of the construction contractors he serves across the USA. Visit http://www.fasteasyaccounting.com/randal-dehart/ to learn more.
Our Co-Founder Randal DeHart - Is a Certified PMP (Project Management Professional) with several years of construction project management experience. His expertise is construction accounting systems engineering and process development. His exhaustive study of several leading experts including the work of Dr. W. Edward Deming, Michael Gerber, Walter A. Shewhart, James Lewis and dozens of others was the foundation upon which our Construction Bookkeeping System is based and continues to evolve and improve. Follow Randal on Google+
Our Co-Founder:

Sharie DeHart, QPA, is the President of Business Consulting And Accounting (Fast Easy Accounting) in Lynnwood, Washington. She is the leading expert in managing outsourced construction bookkeeping and accounting services companies and cash management accounting for small construction companies across the USA. She encourages Contractors and Construction Company Owners to stay current on their tax obligations. She offers insights on managing the remaining cash flow to operate and grow their construction company sales and profits so they can put more money in the bank. Call 1-800-361-1770 or sharie@fasteasyaccounting.com.