Contractors Bookkeeping Services - Four Levels Of Learning
As someone who has been around since the early days of information technology...beginning with chiseling on stone tablets, moving on to using charcoal to write on the back of tree bark and then progressing to IBM punch-cards, it is good to finally get close to using current technology in an era when we can have QuickBooks desktop version online and have it appear as if it were on our local computer.
I am a Construction Accountant and anybody who knows accountants, we can be booooorrring! It just figures! However, I have something a lot of accountants don't have...I have a sense of humor! It came from being raised in a family that was involved in the construction industry.
Contractors experience life on a physical as well as psychological level which means we are expected to "make bricks with no straw" and get it done by quitting time or get replaced with someone that can! It is a good life for those with the mental and physical stamina with a CAN DO attitude.
As a result contractors do one of two things. We develop a sense of humor or take up some very unsavory habits…I developed a sense of humor and made a list of Funny Construction Definitions.
During my lifetime and love of construction I can honestly say that I have been there, done that, got the T-Shirt, a tattoo (not really) and sung a song about it...Mickey Mouse...You would have to grow up in the 1950's and 1960's to understand that one!
There are Four Levels of Learning:
Level I – (Freshman) I don't know that I don't know about a particular subject
Level II – (sophomore) Now I know that I don't know about a particular subject
Level III – (Junior) I know it well enough to do it….if I really concentrate hard and pay attention
Level IV – (Senior) I know it well enough to do it in my sleep
I have added another level which is where I live…..
Master Level
Level V – (Master) I thought for sure I know this stuff; however, I need to continue learning just to keep current.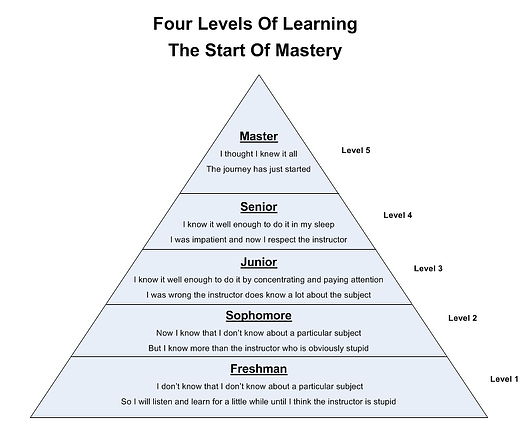 My heart goes out to the thousands of people who are in bookkeeping jobs and are way, way over their heads because they simply are not trained and are not likely to spend the time, money or effort to get training. To any of those bookkeepers reading this I sincerely encourage you to contact us and let us help you find some resources to get the training you need.
We use QuickBooks in our practice and I say practice because I've been practicing at it since it was first released in the early 1990′s and have mastered most of the Construction Accounting and bookkeeping service part of it.
Even with all those years of experience I still need to read books, attend webinars, classroom instructions, participate in seminars and with a few hundred more of them and I will begin to really get good at construction bookkeeping services…LOL!
If any of this resonates with you please make a comment and let me know what you think.
Need A Mentor? - Someone who has been were you want to go and can guide you. We would like to be that person for you. Fill out the form on the right or call Sharie 206-361-3950 or email sharie@fasteasyaccounting.com and schedule your no charge one-hour consultation
For Construction Company Owners who do not need the full power of QuickBooks for contractors and want 24/7 online access we offer Xero Accounting Online and we have custom setup for construction companies. Click Here For More.
This Is One More Example of how Fast Easy Accounting is helping construction company owners just like you put more money in the bank to operate and grow your construction company. Construction accounting is not rocket science; it is a lot harder than that and a lot more valuable to people like you and me so stop missing out! Call Sharie 206-361-3950 or sharie@fasteasyaccounting.com and schedule your no charge one-hour consultation
Profitable Contractors and Construction Company owners have known about the value of outsourced bookkeeping services and contractor coaching services like ours for a long time and now you know about it too!
We Scan Your Receipts And Invoices link the appropriate transactions to QuickBooks or Xero Accounting Online depending on the construction accounting service you are using and provide ongoing Cloud Based Contractors Bookkeeping Services by accountants who understand construction.


Thinking About Outsourcing Your Contractors Bookkeeping Services?
Click On The Button Below To Download A Free Guide
Fill

Out The Form And Get The Help You Need!
Need Help Now?
Call Sharie 2

06-361-3950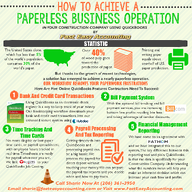 We Are QuickBooks Experts Specializing In Construction Bookkeeping Service
About The Author:

Randal DeHart, PMP, QPA is the co-founder of Business Consulting And Accounting in Lynnwood Washington. He is the leading expert in outsourced construction bookkeeping and accounting services for small construction companies across the USA. He is experienced as a Contractor, Project Management Professional, Construction Accountant, Intuit ProAdvisor, QuickBooks For Contractors Expert and Xero Accounting Specialist and Bill.Com Certified Guru. This combination of experience and skill sets provides a unique perspective which allows him to see the world through the eyes of a contractor, Project Manager, Accountant and construction accountant. This quadruple understanding is what sets him apart from other Intuit ProAdvisors and Xero accountants to the benefit of all of the construction contractors he serves across the USA. Visit http://www.fasteasyaccounting.com/randal-dehart/ to learn more.
Our Co-Founder Randal DeHart - Is a Certified PMP (Project Management Professional) with several years of construction project management experience. His expertise is construction accounting systems engineering and process development. His exhaustive study of several leading experts including the work of Dr. W. Edward Deming, Michael Gerber, Walter A. Shewhart, James Lewis and dozens of others was the foundation upon which our Construction Bookkeeping System is based and continues to evolve and improve. Check out our Contractor Success Map Podcast on iTunes and Follow Randal on Google+Follow Randal on Google+
Our Co-Founder:

Sharie DeHart, QPA is the President of Business Consulting And Accounting (Fast Easy Accounting) in Lynnwood, Washington. She is the leading expert in managing outsourced construction bookkeeping and accounting services companies and cash management accounting for small construction companies across the USA. She encourages Contractors and Construction Company Owners to stay current on their tax obligations and offers insights on how to manage the remaining cash flow to operate and grow their construction company sales and profits so they can put more money in the bank. Call 1-800-361-1770 or sharie@fasteasyaccounting.com.