How We Help Contractors And Related Professionals
We Are QuickBooks Experts In Construction Bookkeeping Services
How Do We Help Contractors To Succeed? - What is the process? What can you expect? Should you contact us or should you wait until we contact you? However we contact each other, you can expect a friendly construction accountant who understands contactors and construction, someone who likes to talk on the phone and listen to you and wants to hear what you have to say. We have a passion and a calling to help construction contractors http://www.fasteasyaccounting.com/mission-statement/
First Let Me Say Thank You - For visiting our website, blogs and whitepapers on fasteasyaccounting.com. We trust the information is useful and we look forward to your becoming a client. Please download as many of our FREE tool as you and please let us know which forms you find most helpful.
Here Is A Brief Outline Of How We Work



Our Niche Is Contractors
From the brand new contractor to those who have been in business for many years and have more complex needs – We welcome everyone and are sure we can help you with your specific needs!
The Right Tools for You
In order to tailor our service to your needs, we use a variety of accounting tools such as:
QuickBooks For Contractors Bookkeeping Services
Our Construction Bookkeeping Services System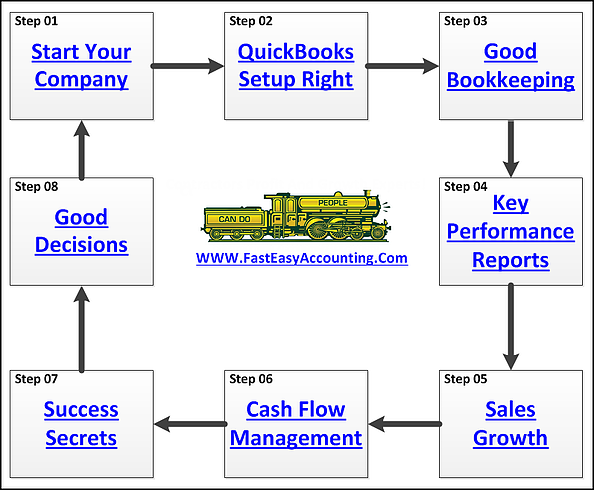 We Scan Your Receipts And Invoices and give you back a CPA-ready packet for your tax return and we provide ongoing Cloud Based Contractors Bookkeeping Services by accountants who understand construction.
We Value Openness - We believe that all contractors should have access to their QuickBooks financial reports – it's just a good it is good business practice to "Trust-But-Verify" to paraphrase President Ronald Reagan.
Important Note - QuickBooks Desktop Version in the cloud and QuickBooks Online are two completely different products.
We Use QuickBooks Desktop Version - In an online (hosted) secure server environment.
Desktop QuickBooks - http://www.fasteasyaccounting.com/quickbooks-desktop-online
Explore The Next Step Click The Button Below:
Our Co-Founder:

Sharie DeHart, QPA, is the President of Business Consulting And Accounting (Fast Easy Accounting) in Lynnwood, Washington. She is the leading expert in managing outsourced construction bookkeeping and accounting services companies and cash management accounting for small construction companies across the USA. She encourages Contractors and Construction Company Owners to stay current on their tax obligations. She offers insights on managing the remaining cash flow to operate and grow their construction company sales and profits so they can put more money in the bank. Call 1-800-361-1770 or sharie@fasteasyaccounting.com.