QuickBooks Reports For Your Construction Company



There Are Hundreds Of Preset QuickBooks For Contractors Reports inside QuickBooks desktop version and they are easy to understand when you think of them in these four categories:
#01 List Reports show things like customers, employees and vendors. They can be sorted and filtered to provide contact information including social media and demographics and more.
#02 Primary Financial Reports like Profit & Loss and Balance Sheet how your construction company is doing from a big picture view like looking out the window of an airplane cruising at 30,000 feet. They can be sorted and filtered to provide more detail and you can drill down into each and every transaction if you want too.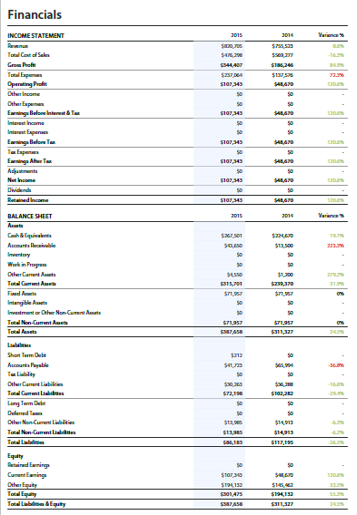 If you want to see the entire Online Financial Management Report Sample click the button below:
#03 Job Costing Reports like Profit & Loss By Job, Job Profitability and Estimates Vs. Actual Reports provide you with the foundation reports that can help you understand where you construction company is making an losing money. The 80/20 Rule For Construction Success.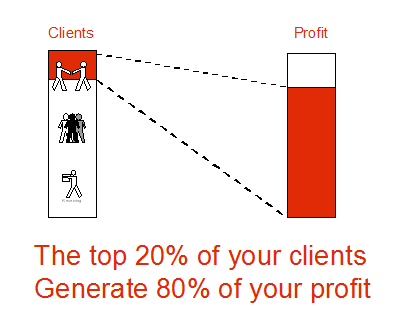 #04 The Five Key Performance Indicator Reports are special combination of reports that we use to help our construction contractor clients get a Fast Easy Accounting view of their construction company in only five minutes a day. They are "The 5 At 5 For 5". If you will review these Five Reports at Five O'clock (or whatever time is best for you) for Five Minutes and do it every day in 90 days or less you could see a dramatic improvement in your bottom line profits and cash flow. Why you ask does this work?
Because What Gets Measured Gets Managed!
Here Are The Key Performance Indicators: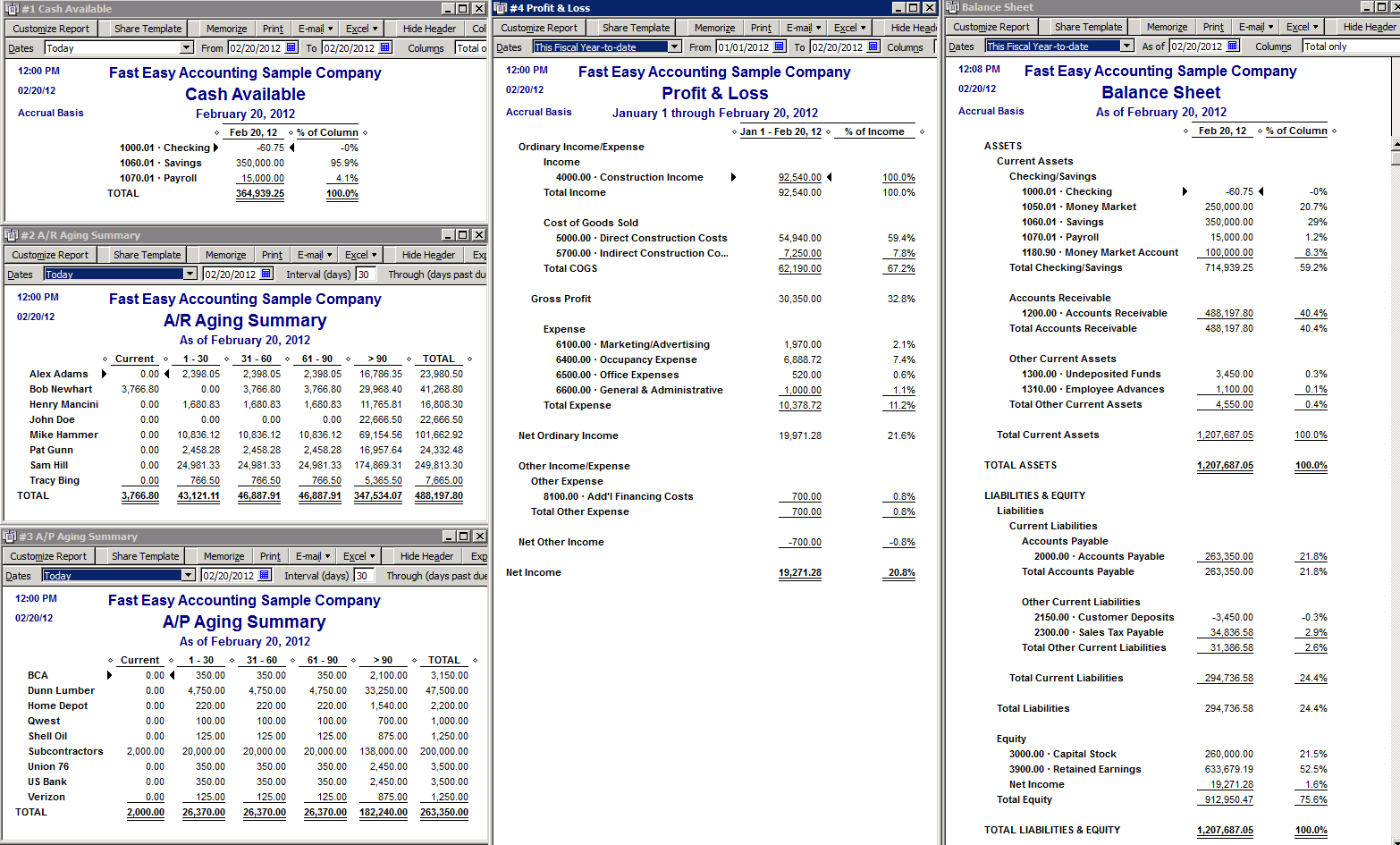 It Works Best When You Think Of Them Like The Dashboard On Your Truck

Plan Your Work And Work Your Plan - Making a lot of money as a contractor is easy if you know what to do and I don't mean your ability to produce more field work than anyone else; although that does help.
We Have Provided Links to show you some examples of the most useful QuickBooks for contractor reports below and we trust you will find value in them.
Click On The Reports Below To Learn About Them
We Can Setup These Reports In Your QuickBooks fill out the form on the right or contact Sharie at 206-361-3950 or by email sharie@fasteasyaccounting.com
You Do Not Have To Open QuickBooks For Contractors in order to get these reports and a whole lot more. As a client of Fast Easy Accounting we can setup a login to view these reports.
In Addition To Outsourced Contractor Bookkeeping Services and paperless vault for storing documents linked individual transactions in QuickBooks for Contractors our contractor clients can have on demand 24/7 internet cloud based access to their financial reports without having to open, touch or even look at QuickBooks For Contractors!
We Provide Contractor Bookkeeping Services for construction company owners with annual sales volume $0 - $5,000,000 using the full desktop version of QuickBooks For Contractors which rests on an Intuit Approved Commercial Hosting Service which means you can access the full desktop version of QuickBooks online.
The Short Video Below Tells The Whole Story
For Construction Company Owners who do not need the full power of QuickBooks for contractors and want 24/7 online access we offer Xero Accounting Online and we have custom setup for construction companies. Click Here For More.
Profitable Construction - Companies have known about the value of outsourced bookkeeping services for a long time and now you know about it too!
We Scan Your Receipts And Invoices link them to QuickBooks transactions where it is appropriate and give you back a CPA-ready packet for your tax return and we provide ongoing Cloud Based Contractors Bookkeeping Services by accountants who understand construction.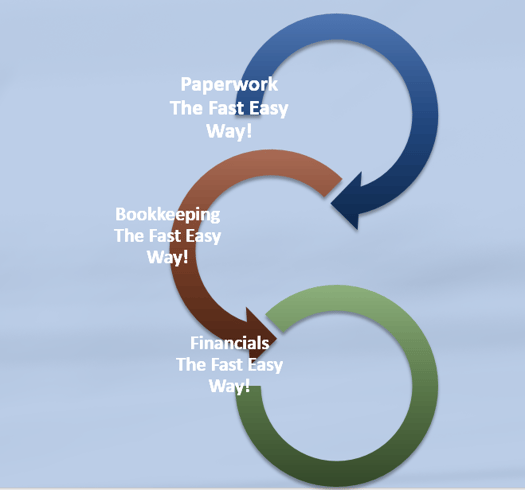 Fill O

ut The Form And Get The Help You Need!
Need Help Now?
Call Sharie 206-361-3950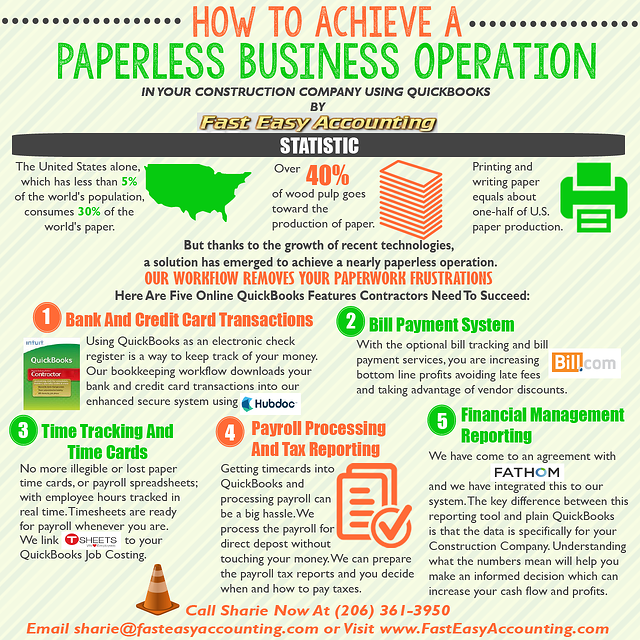 We Are QuickBooks Experts Specializing In Construction Bookkeeping Services
About The Author:

Randal DeHart, PMP, QPA is the co-founder of Business Consulting And Accounting in Lynnwood Washington. He is the leading expert in outsourced construction bookkeeping and accounting services for small construction companies across the USA. He is experienced as a Contractor, Project Management Professional, Construction Accountant, Intuit ProAdvisor, QuickBooks For Contractors Expert and Xero Accounting Specialist. This combination of experience and skill sets provides a unique perspective which allows him to see the world through the eyes of a contractor, Project Manager, Accountant and construction accountant. This quadruple understanding is what sets him apart from other Intuit ProAdvisors and Xero accountants to the benefit of all of the construction contractors he serves across the USA. Visit http://www.fasteasyaccounting.com/randal-dehart/ to learn more.
Our Co-Founder Randal DeHart - Is a Certified PMP (Project Management Professional) with several years of construction project management experience. His expertise is construction accounting systems engineering and process development. His exhaustive study of several leading experts including the work of Dr. W. Edward Deming, Michael Gerber, Walter A. Shewhart, James Lewis and dozens of others was the foundation upon which our Construction Bookkeeping System is based and continues to evolve and improve. Follow Randal on Google+

Our Co-Founder:

Sharie DeHart, QPA, is the President of Business Consulting And Accounting (Fast Easy Accounting) in Lynnwood, Washington. She is the leading expert in managing outsourced construction bookkeeping and accounting services companies and cash management accounting for small construction companies across the USA. She encourages Contractors and Construction Company Owners to stay current on their tax obligations. She offers insights on managing the remaining cash flow to operate and grow their construction company sales and profits so they can put more money in the bank. Call 1-800-361-1770 or sharie@fasteasyaccounting.com.