QuickBooks Set Up For Plumbing Contractors



Set Up QuickBooks - Done by a QuickBooks expert in construction accounting to work specifically for Plumbing contractors on whatever year and version of QuickBooks you own. We have setup QuickBooks since it first arrived in the early 1990's in DOS and have developed several templates to address different types of contractors needs from mobile service and repair firms like plumbing - electrical - HVAC, residential remodel companies, commercial tenant improvement firms, land developers, spec home builders, excavation contractors and more.
More Plumbing Contractor QuickBooks Digital Products Available HERE!
Some Contractors Compete In Several Trades - Spec home builders sometimes mix new houses with remodeling or flipper houses to keep crews busy during slack times (see BCG Matrix below); which means the accounting process can be very tricky and if not done properly can cause the contractor to overpay income taxes, miss an opportunity to earn 36% return on investment, and pay massive fines and penalties for late or inaccurate quarterly tax returns. Don't blame the tax preparer because most income tax preparers are horrible construction accountants and the reverse is also true!
Each Contractor Type - Has unique construction accounting needs which meant if the setup QuickBooks process is custom fitted to the needs of each construction company it could eliminate many heated discussions at trade group meetings.
We Have Listened As Our Contractor Clients - Have described to fellow contractors how "fast and easy QuickBooks is and what wonderful reports it generates" while the other contractor will describe in no uncertain terms what a piece of junk it is. The difference is in the setup QuickBooks process. Two woodsmen will cut and stack vastly different piles of firewood in a day if one uses a chainsaw as it was intended and the other uses it like a cross cut saw. Same tool, different result!
Which QuickBooks Edition - Is right for your construction company depends on your annual sales volume and what QuickBooks Reports you want to have? We can setup QuickBooks from QuickBooks Pro to QuickBooks enterprise for contractors and everything in between including QuickBooks for Mac (not all features are available in the QuickBooks Mac version) on every platform from the version released in the year 2000 to latest edition.
QuickBooks Pro - Works well for most contractors with annual sales under $250,000 because your QuickBooks Reporting needs are relatively simple.
QuickBooks Premier Contractor - We recommend for contractors with annual sales over $250,000 or projected to be at that level in the next 12 months. The difference in cost is very small compared to the potential value in additional reporting and Job Costing Reports that are available to you.
You Don't Have To Purchase QuickBooks - In order to use it. We can lease it from our Intuit approved Commercial Host provider and you can remote access the full desktop version anywhere you have internet access. However, if you want to maintain your setup QuickBooks file on your own computer we will provide a flash drive with your custom setup QuickBooks file on it.
The Most Important - Part of the setup QuickBooks process is having a QuickBooks expert with a deep background in construction accounting who understands what your particular construction company needs. Among other things you need a fast and easy way to monitor the financial health of your construction company.
We Set Up QuickBooks For Your Plumbing Company - To include a running scorecard of Key Performance Reports that you can use with our Business Process Management Tools like What Ten Minutes Waste Costs Your Company to fine tune your construction company strategy which can help you optimize profits and take advantage of the 80-20 Rule by working smarter, not harder.
Here Are Some Things To Consider:
You can use QuickBooks to track all the costs and generate Complex Payment Applications Item Estimates vs. Actuals, Job Profitability Summary and Job Profitability Detail Reports to monitor progress so the setup QuickBooks process is critical and needs to be done by a QuickBooks expert in construction accounting.

Your custom setup QuickBooks Chart of Accounts is focused Goods Sold Accounts (COGS) to allocate project costs.

Your setup QuickBooks process will include the Key Performance Indicators For Contractor Success (KPI) to monitor the financial health of your construction company.

Your setup QuickBooks will have between 1,000 to 5,000 Items setup to track all the costs of the construction process from beginning to end in order to get the QuickBooks reports you need.

Setup QuickBooks for your Plumbing company means you will have the right mix of Direct, Indirect, COGS and only a few WIP accounts.

You will have a simple way to track and get paid for retention included in the setup QuickBooks process.

The day to day contractor bookkeeping input is difficult and needs to be done properly. We suggest using accounting staff with specialized training in construction accounting.

Our experience has been that most construction company owners can generate a stable income if they have good rock solid financial reports and pay attention to their business strategy.

And of course why hiring a Cheap Bookkeeper is the one area where short term savings is overwhelmed by making bad decisions based upon inaccurate QuickBooks reports so please don't do that!

In order for your Plumbing business to reach its full potential you will need an overall strategy including a business plan which can be an investment of time and effort. Just know the payoff can be very rewarding and fulfilling when you have a construction company that is a cash cow!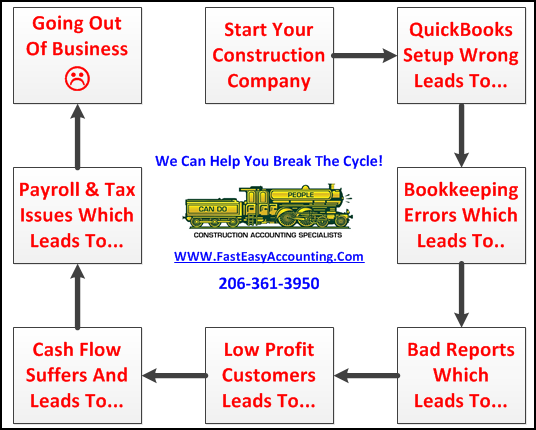 Having Used - A number of accounting programs over the years we believe when the setup QuickBooks process is done correctly by a QuickBooks expert in construction accounting the finished product is the best, hands down, no contest! For the construction trades the tiny amount of money difference between QuickBooks Pro and QuickBooks Premier Contractor Edition is worth the investment for the extra contractor reports alone.
Upgrading QuickBooks Every Year - Is a "no brainer" because of all the new features. If your construction accounting staff only saves Ten Minutes A Day the labor savings alone should more than pay for the program and the setup QuickBooks we provide you should upgrade with each new QuickBooks version. Either way is fine because we can setup QuickBooks on whatever year and version you have from QuickBooks Pro 2000 to QuickBooks Enterprise for Contractors latest edition and everything in between including QuickBooks for Mac (not all features are available in the QuickBooks Mac version).
Our Mission - Is to "Help Contractors Achieve Their Definition Of Success".
We Contract - With An Intuit Authorized Commercial Host Company that allows you, your staff and us remote access your QuickBooks Desktop Version Online all at the same time from any internet connection. However, if you want to maintain your setup QuickBooks file on your own computer we will provide you a flash drive with your custom setup QuickBooks file on it.
This Is One More Example of how Fast Easy Accounting is helping construction company owners just like you put more money in the bank to operate and grow your construction company. Construction accounting is not rocket science; it is a lot harder than that and a lot more valuable to people like you and me so stop missing out! Call Sharie 206-361-3950 or sharie@fasteasyaccounting.com and schedule your no charge one-hour consultation.
Profitable Contractors and Construction Company owners have known about the value of outsourced bookkeeping services and contractor coaching services like ours for a long time and now you know about it too!
We Scan Your Receipts And Invoices link the appropriate transactions to QuickBooks or Xero Accounting Online depending on the construction accounting service you are using and provide ongoing Cloud Based Contractors Bookkeeping Services by accountants who understand construction.
Thinking About Outsourcing Your Contractors Bookkeeping Services?
Click On The Button Below To
Download A Free Guide

Need Help Now?
Call Sharie 206-361-3950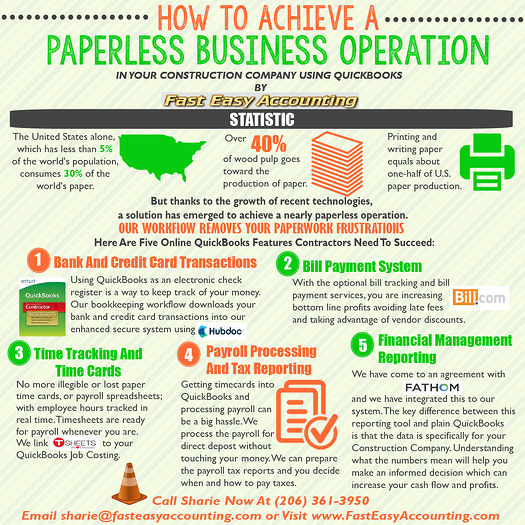 We Are Construction Accounting Experts Specializing In Construction Bookkeeping Services For Contractors All Across The USA Including Alaska And Hawaii
About The Author:

Randal DeHart, PMP, QPA is the co-founder of Business Consulting And Accounting in Lynnwood Washington. He is the leading expert in outsourced construction bookkeeping and accounting services for small construction companies across the USA. He is experienced as a Contractor, Project Management Professional, Construction Accountant, Intuit ProAdvisor, QuickBooks For Contractors Expert and Xero Accounting Specialist and Bill.Com Certified Guru. This combination of experience and skill sets provides a unique perspective which allows him to see the world through the eyes of a contractor, Project Manager, Accountant and construction accountant. This quadruple understanding is what sets him apart from other Intuit ProAdvisors and Xero accountants to the benefit of all of the construction contractors he serves across the USA. Visit http://www.fasteasyaccounting.com/randal-dehart/ to learn more.
Our Co-Founder Randal DeHart - Is a Certified PMP (Project Management Professional) with several years of construction project management experience. His expertise is construction accounting systems engineering and process development. His exhaustive study of several leading experts including the work of Dr. W. Edward Deming, Michael Gerber, Walter A. Shewhart, James Lewis and dozens of others was the foundation upon which our Construction Bookkeeping System is based and continues to evolve and improve. Follow Randal on Google+