Specialized Bookkeeping Services For Carpentry Contractors



More Carpentry Contractor QuickBooks
Digital Products Available HERE!
What Do You Need Today?
If You Need People Committed To:
Serving Your Carpentry Contractor Company - With superior contractors bookkeeping services and fast results!
Like Ham And Eggs For Breakfast - The hen is involved but the pig is committed!
Providing Your Carpentry Contractor Company - With most awesome, efficient, forward thinking, innovative, accounting technology, construction accounting and contractors bookkeeping service on the planet!
Being The Best QuickBooks Expert - Contractors bookkeeping services providers on the planet with over 10,000 hours construction accounting services experience in QuickBooks setup and contractors bookkeeping services!
Understanding You And Your Industry - People who specialize in serving emerging, new, seasoned, micro and small contractors in residential, commercial Tenant Improvement (T.I.), residential remodeling, spec and custom home builders who need reliable low cost contractors bookkeeping and accounting services.
Flat Rate Pricing - So you know in advance what your contractors bookkeeping services will cost, NO SURPRISES! You don't have to pay hourly for contractors bookkeeping services! Why should you pay for somebody else's next vacation in paradise? The only reason contractors bookkeeping services charge by the hour is they don't have a contractors bookkeeping services system so they have no idea how long it will take to handle your bookkeeping services. To be on the safe side they put all the risk on you! The longer it takes the better for them and the worse for you! We have a contractors bookkeeping services system so we know how long it takes to do all the bookkeeping no matter which of the Four Types Of Contractors you are!
The Fast And Easy Accounting Difference:
Pick And Choose Your Contractors Bookkeeping Services:
Our Contractors Bookkeeping System Is An Assembly Line - Where contractors bookkeeping tasks are divided into groups and assigned by skill level. Everything is reviewed by an extremely skilled QuickBooks expert in construction accounting. This process costs less and we pass the savings on to you!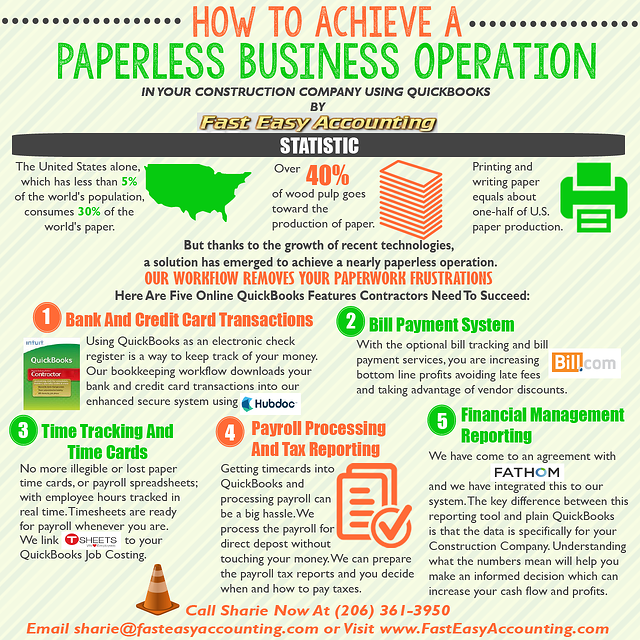 About The Author:

Randal DeHart, PMP, QPA is the co-founder of Business Consulting And Accounting in Lynnwood Washington. He is the leading expert in outsourced construction bookkeeping and accounting services for small construction companies across the USA. He is experienced as a Contractor, Project Management Professional, Construction Accountant, Intuit ProAdvisor, QuickBooks For Contractors Expert and Xero Accounting Specialist and Bill.Com Certified Guru. This combination of experience and skill sets provides a unique perspective which allows him to see the world through the eyes of a contractor, Project Manager, Accountant and construction accountant. This quadruple understanding is what sets him apart from other Intuit ProAdvisors and Xero accountants to the benefit of all of the construction contractors he serves across the USA. Visit http://www.fasteasyaccounting.com/randal-dehart/ to learn more.
Our Co-Founder Randal DeHart - Is a Certified PMP (Project Management Professional) with several years of construction project management experience. His expertise is construction accounting systems engineering and process development. His exhaustive study of several leading experts including the work of Dr. W. Edward Deming, Michael Gerber, Walter A. Shewhart, James Lewis and dozens of others was the foundation upon which our Construction Bookkeeping System is based and continues to evolve and improve. Follow Randal on Google+