Everything You Wanted To Know About Outsourced Xero Accounting Online
Are you the owner of a small construction contractor company, perhaps a handyman service or someone who does construction projects that last from a few hours to a few days and you only need to give your customer or client one invoice?
Do you look forward to the day where you can press a button and know where all your money is because it is stressful to wing it like you are doing now? That day is now with Xero accounting online!
If this describes you then perhaps Xero Accounting Online is a better fit for you than QuickBooks. We offer both Xero Accounting Online and QuickBooks bookkeeping services for construction contractors.
We are the small construction company owner's #1 Fan!

The best support system for your small construction company!

New contractor trying to decide if Xero Accounting Online is right for you?

Established contractor who knows Xero Accounting Online can do a lot more for you?

Do you have between 1 to 10 employees including yourself?

Are your yearly sales between $0 and $5 million?
Picture yourself in the same room with one of the owners of Business Consulting And Accounting; The Premier Construction Bookkeeping and Accounting firm for construction companies using Xero Accounting Online in the USA.
How will you feel when you realize the conversation is all about you, your wants, needs, wishes, desires and your issues, your concerns, your challenges and your company?
When was the last time anyone listened to you? I mean really listened to what you have to say? And when was the last time someone who could help you really listened to you and provided good solid advice?
How much fun is it to be the center of attention, because somebody really cared enough to make the conversation all about you?
We are more than accountants we are Construction Accountants and the only accountants who have been where you are, know what you know and understand you; in some cases better than your spouse understands you because we were contractors.
We accept you as you are and we care deeply about you as a person and about the profession you have chosen so let's meet over the phone or in person and get to know each other!
Profitable Construction - Companies have known about the value of outsourced bookkeeping services for a long time and now you know about it too!
Need Help Now?
Call Sharie 206-361-3950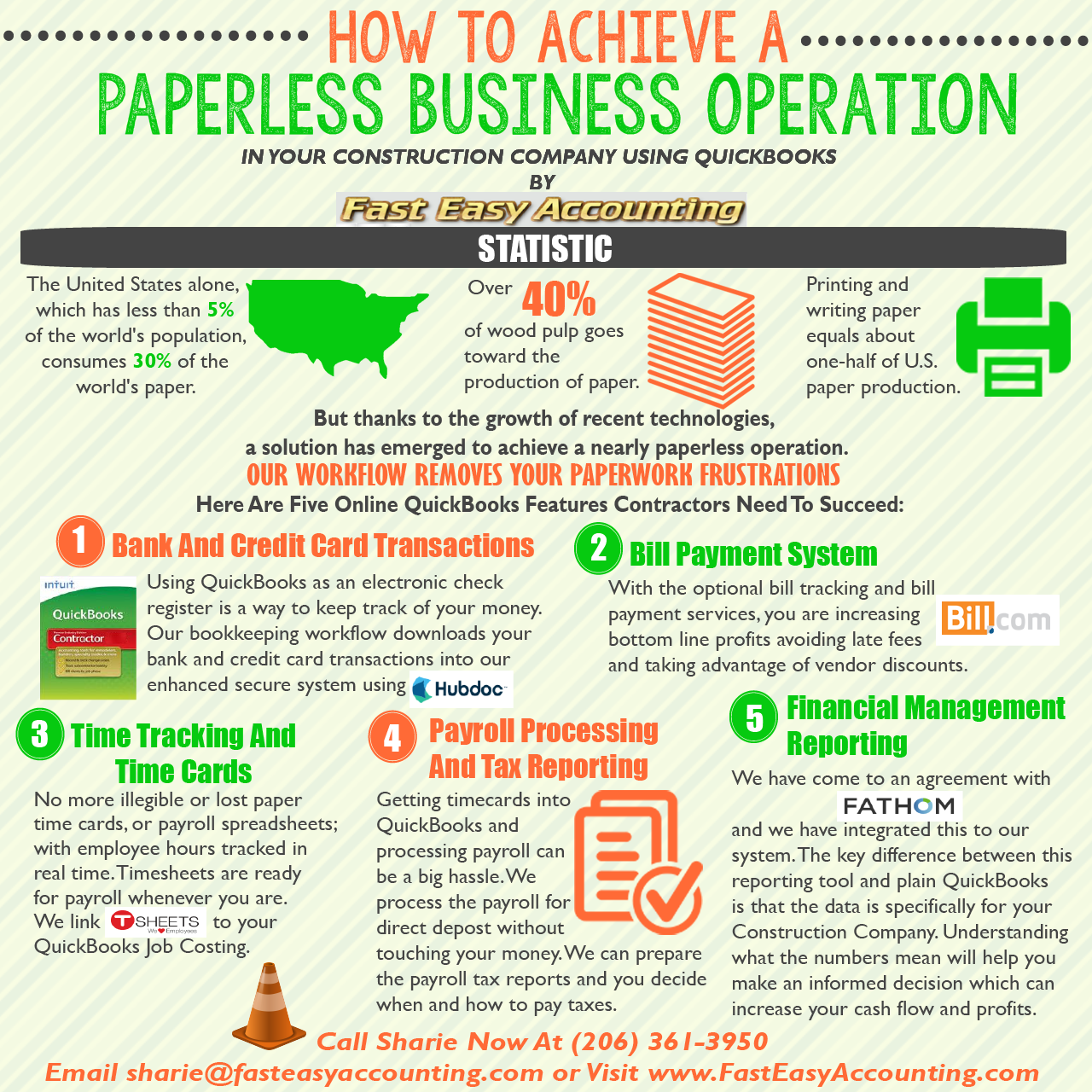 We Are Xero Experts Specializing In Construction Bookkeeping Services
About The Author:
Randal DeHart, PMP, QPA is the co-founder of Business Consulting And Accounting in Lynnwood Washington. He is the leading expert in outsourced construction bookkeeping and accounting services for small construction companies across the USA. He is experienced as a Contractor, Project Management Professional, Construction Accountant, Intuit ProAdvisor, QuickBooks For Contractors Expert and Xero Accounting Specialist. This combination of experience and skill sets provides a unique perspective which allows him to see the world through the eyes of a contractor, Project Manager, Accountant and construction accountant. This quadruple understanding is what sets him apart from other Intuit ProAdvisors and Xero accountants to the benefit of all of the construction contractors he serves across the USA. Visit http://www.fasteasyaccounting.com/randal-dehart/ to learn more.
Our Co-Founder Randal DeHart - Is a Certified PMP (Project Management Professional) with several years of construction project management experience. His expertise is construction accounting systems engineering and process development. His exhaustive study of several leading experts including the work of Dr. W. Edward Deming, Michael Gerber, Walter A. Shewhart, James Lewis and dozens of others was the foundation upon which our Construction Bookkeeping System is based and continues to evolve and improve. Follow Randal on Google+