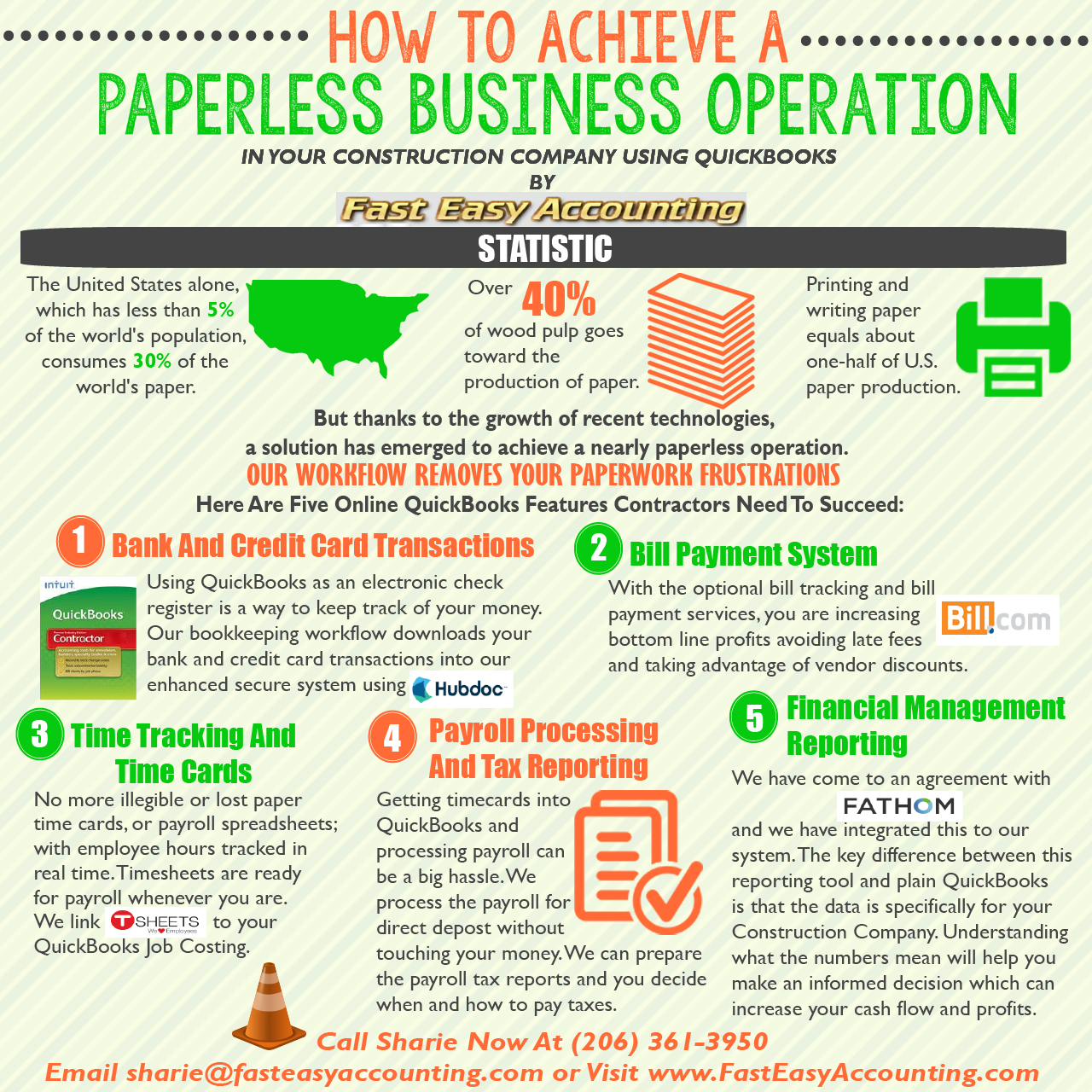 Dear Construction Company Owner,
Thanks for visiting today. Just to recap our discussion the answer is yes, we can get your QuickBooks contractor cleaned up and running smoothly. We know what to do with the paper, the electronic documents and how to turn it all into usable information.
Construction Accounting is different than general accounting. Most tax accountants think only what they need to do the annual tax return is important...Their answer to your questions about Work-In-Process, Job Costing, Job Profitability and anything that is not needed to fill out a tax return is "That Is Totally Unnecessary!"
Since August of 2011 Randal has been writing a blog at under Fast Easy Accounting. He goes into great length about the definition and costs of a bad bookkeeper.
We have cleaned up a lot of QuickBooks contractor files and in a number of cases our clients were able to get past tax returns amended and get tax refunds which far exceeded the cost our services.
Fast Easy Accounting has a lot of information about our QuickBooks skills and Randal has entire tabs about QuickBooks, Financial Reports and more at www.FastEasyAccounting.com
Every construction company owner has a few unique needs that are specific to their situation and we have a group of processes that make us efficient while dealing with your specific needs. www.FastEasyAccounting.com/Testimonials
Looking forward to getting started on your QuickBooks contractor file and helping you find peace of mind and greater prosperity in the coming years.
Please contact me when you are ready. Sharie@fasteasyaccounting.com206-361-3950
If You Are A Contractor You Deserve To
Be Wealthy Because You Bring Value
To Other People's Lives!
Construction accounting is not rocket science; it is a lot harder than that and a lot more valuable to people like you and me so stop missing out! Call Sharie 206-361-3950sharie@fasteasyaccounting.com and schedule your no charge one-hour consultation.
or
Profitable Contractors and Construction Company owners have known about the value of outsourced bookkeeping services and contractor coaching services like ours for a long time and now you know about it too!
Thinking About Outsourcing Your
Contractors Bookkeeping Services?
Click On The Button Below To
Download A Free Guide

Need Help Now?
Call Sharie 206-361-3950
We Are Construction Accounting Experts Specializing In Construction Bookkeeping Services For Contractors All Across The USA Including Alaska And Hawaii
About The Author:
Sharie DeHart, QPA is the co-founder of Business Consulting And Accounting in Lynnwood Washington. She is the leading expert in managing outsourced construction bookkeeping and accounting services companies and cash management accounting for small construction companies across the USA. She encourages Contractors and Construction Company Owners to stay current on their tax obligations and offers insights on how to manage the remaining cash flow to operate and grow their construction company sales and profits so they can put more money in the bank. http://www.fasteasyaccounting.com/sharie-dehart/
Read More