QuickBooks Set Up For Interior Designers
You are an interior designer and with your permission we would like to introduce ourselves. We have special expertise in construction accounting and construction bookkeeping including job costing.
We are QuickBooks experts in construction bookkeeping and we are very good in QuickBooks setup, QuickBooks cleanup, QuickBooks catchup, quarterly tax returns, job costing, applications for payment, construction company coaching, consulting, and turnaround. If it involves construction and construction accounting we can help.
More Interior Designer Contractor QuickBooks
Digital Products Available HERE!
Are you new or have you been in construction since dirt was two days old like us?
Starting where you are: We help "A Little" or "A Lot" depending on the individual needs. We take a shoebox, file box and all the receipts hidden under the seat, & turn them into useable data. Click here and see how easy it is to get paperwork to us.
Some of our construction company clients say their customers are demanding detailed application for payment invoicing and all the receipts before they will pay for the work.
Some of their customers want full accounting for all the money they paid including deposits, advances, work that has been done, (Work In Progress or W.I.P.), material stored on the job site, percentage complete and more before they pay give the contractor any more money. We have a solution for that problem click here.
Have you found at times you give away The Profit of the job just to get your money?
Now more than ever it is absolutely critical to have your Interior Design Contracting company QuickBooks set up properly by a QuickBooks expert and have your construction bookkeeping done right, on time without delays or excuses from a bad bookkeeper.
We are QuickBooks experts in construction accounting services with experience in owning and operating construction companies. Construction accounting and construction bookkeeping is not just another line on the list of services, it is the service we offer which means you get the best construction accounting and construction bookkeeping services on planet earth that is big in value and little in cost.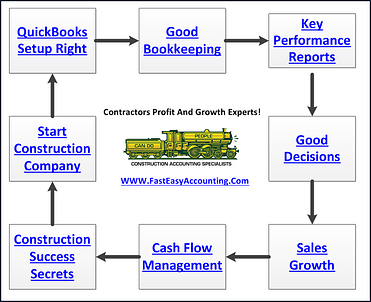 Do you have issues or problems with Washington State sales tax returns, payroll, payroll quarterly tax returns, Washington State labor and industries quarterly tax returns, Washington State Employment Security quarterly tax returns? We can help; call now 206-361-3950 and speak with a QuickBooks expert in construction.
Customized QuickBooks reports hold many answers to the WHO Questions
Who Owes Money To Whom?

Who is your Best Customer? (The 80-20 Rule)

Is your #1 Favorite Customer adding / taking profits or cash flow?
Having good construction bookkeeping is more than entering the receipts into QuickBooks it is having QuickBooks setup right to begin with and knowing where, why and how and that knowledge only comes with proper training in construction accounting.
Is it time for a QuickBooks clean up for your Interior Design company? We do a lot of QuickBooks cleanup for construction company owners and we do it fast and easy. The most common reason for needing a QuickBooks cleanup is needed the new construction bookkeeping person tried to do contractors bookkeeping by following the way the previous construction bookkeeping services did the data entry.
Perhaps they found an entry in the check register for $500.00 tool purchase that was put in as a fixed asset and now every tool is put in as a fixed asset which could cause you to pay more income tax than you should.
What does that mean? We handle the paperwork and you handle your money. We help with the details so that you can focus on the management tasks that only you can do.
What should you do?
Estimates

Create invoices so you can get paid

Collect your money

Deposit your money in the bank

Pay the bills and possibly earn 36% R.O.I.

Pay your taxes on time and avoid penalties and interest
Along the way – we help with item lists, detailed customer invoicing (Pay Apps) and Job Costing.
When we are done your QuickBooks setup will make it easy for your tax preparer to handle the annual tax returns.
Busy Construction Company Owners Can Access Your Existing QuickBooks Setup File In "The Cloud"
You can review and print your QuickBooks Reports anytime and anywhere you have internet access www.fasteasyaccounting.com/quickbooks-desktop-online
FREE – One Hour Consulting for construction company Owners / Spouses / Partners. Be sure you bring a copy of your QuickBooks setup file.
Special Thanks – Our Biggest Coupon $100.00 Off Any New Service – Limit One Per Client Every Little Bit Helps – Use Yourself & Pass-On-Copy To Someone Who Would Also Benefit
Please contact our office at 206-361-3950 or email sharie@contracting4profit.com for more information on how we can help you. We would be glad to set up a meeting at your convenience.
Profitable Construction - Companies have known about and outsourced bookkeeping for a long time and now you know about it too!
Fill Out The Form And Get The Help You Need!

Fill
Out The Form And Get The Help You Need!
Need Help Now?
Call Sharie 206-361-3950
We Are QuickBooks Desktop Version And Xero Accounting Online Experts Specializing In Construction Bookkeeping Services
About The Author:

Randal DeHart, PMP, QPA is the co-founder of Business Consulting And Accounting in Lynnwood Washington. He is the leading expert in outsourced construction bookkeeping and accounting services for small construction companies across the USA. He is experienced as a Contractor, Project Management Professional, Construction Accountant, Intuit ProAdvisor, QuickBooks For Contractors Expert and Xero Accounting Specialist and Bill.Com Certified Guru. This combination of experience and skill sets provides a unique perspective which allows him to see the world through the eyes of a contractor, Project Manager, Accountant and construction accountant. This quadruple understanding is what sets him apart from other Intuit ProAdvisors and Xero accountants to the benefit of all of the construction contractors he serves across the USA. Visit http://www.fasteasyaccounting.com/randal-dehart/ to learn more.
Our Co-Founder Randal DeHart - Is a Certified PMP (Project Management Professional) with several years of construction project management experience. His expertise is construction accounting systems engineering and process development. His exhaustive study of several leading experts including the work of Dr. W. Edward Deming, Michael Gerber, Walter A. Shewhart, James Lewis and dozens of others was the foundation upon which our Construction Bookkeeping System is based and continues to evolve and improve. Check out our Contractor Success Map Podcast on iTunes and Follow Randal on Google+Follow Randal on Google+