---
Basics of Starting Your Handyman Company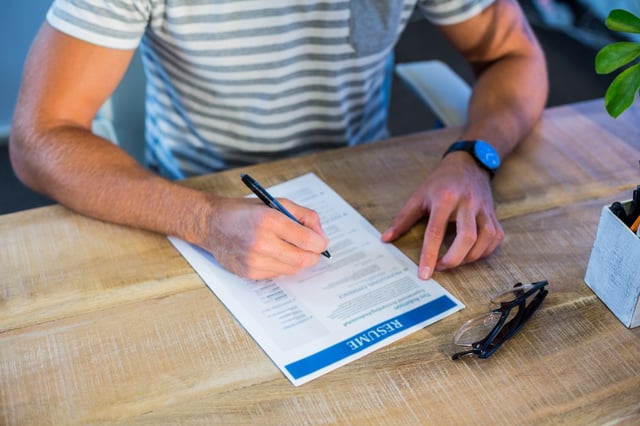 Sometimes it hard to know where to begin when starting any Construction Company including a Handyman Company.
First Place to decide what type of contracting business do you want to start.
For many contractors, the Place To Begin is to choose to be a handyman.
Why do I suggest a Handyman?
No one expects a Handyman to have the skills of a High-End Finish Carpenter.
It will give you an opportunity to try many things.
Learn how to make simple repairs.
Determine what you like to do and learn the skills associated with that trade.
Many states have a basic license for the Handyman.
The best place to learn about starting up and operating a highly profitable Handyman Company is Dan Perry Handyman Startup. Here is a link to his online course that is only open twice a year. Get on the list.
The next steps are all about Company Structure. We recommend being an S-Corp because it has several benefits over any other structure like LLC, C-Corp, and Partnership.
---
Many Tax Accountants And Lawyers Suggest Setting Up Your Company As An LLC
They like it because it is simple and cheap to set up in the beginning and they do not care how much you will be overpaying on your Income Tax! In most cases, they will set up your Handyman Company to be taxed as a Sole Proprietor, which means you will pay payroll taxes on all the net profit. In the first year in business, this might be almost nothing.

The problem is that a Handyman Company Owners and Construction Contractors never go into business with the idea of NOT MAKING A PROFIT. The difference between a Not Profitable Company and a Profitable Construction Company can be a few jobs that went well and paid before the end of the year.

You cannot go back to the IRS and say – I changed my mind, and now I want to be treated as an S-Corp for this year because I made a profit. It doesn't work that way. For an LLC – forms must be filled out early in the new year for that year and can be treated as an S-Corp every year going forward.

When a Handyman Company Owner or a Construction Contractor chooses to be an S-Corp in the beginning, then no one gets confused on what you expect. An S-Corp is always treated as an S-Corp. Just a quick heads up; Corporate Officers must take a reasonable salary (W-2 income) and the balance either as dividends or invests it in retirement accounts. It defeats the purpose to be in business if a Corporate Officer takes payroll for every dollar taken out of the company.

If you want to be paid like a regular employee, then save yourself a headache and be an employee for someone else. Being in business is full of challenges, some fun, and others not so much fun. Decisions are made every day (many days it feels like every minute of every day). As the Owner, there is no one to tell you what you supposed to do or what you have to do. Of course, there are nasty letters, phone calls, or fines and penalties when do you not pay what you are supposed to pay by the due date.

When choosing a name for your Handyman or Construction Company, I recommend that the Corporate Identify is more general and not an exact match to the Trade Name you may be using. Why – because as an S-Corporation you can evolve and change what you do and keep the same Corporate Structure.

We started out as Construction Contractors, at one time we were General Contractors and at some point changed to being predominately a Specialty Trade Contractor. Individual changes within that space, we worked New Construction, Remodel, Service, and Repair - all of which were slightly different.

Employees that were fantastic in New Construction did not do well in Residential Remodel projects, or Commercial Tenant Improvement (TI) Projects and Vice versa. An entirely different group of employees loved service and repair but were clueless when it came to New Construction for Residential Remodel or TI Projects.

We have been Construction Accountants for many years now but remember each of the phases of our own career. From permits, sitting for inspections, wearing a hard hat, buying safety glasses by the case, and a zillion and one other OSHA and safety items. We have not forgotten what it is like on your side of the world, in the trenches, doing the work that needs to be done in the mud, the blood, the sweat and the tears.

The next step in your business search is where do you want to do business? My recommendation is to have an office, warehouse, mailing address away from home. Your home is your castle, and you need to put Family First. The last thing you need is a drunken employee or customer showing up on Saturday night to talk about what they don't like about you or your company.

As a contractor, you can handle anything and everything. But you need to have the peace of mind that no one is calling or dropping by your house to leave or pick up a check, discuss the job (good or bad) after a few beers. In my opinion, this also includes employees.

It sounds cost effective to have your shop in the garage or basement. Not so nice if those same employees do not respect your personal space and go wandering in your bedrooms, family rooms, kitchen and anywhere else they please. Get a business address. Nothing is so important that you can't handle during the day or to meet someone away from home and family.

I strongly recommend you do this before you set up your business. This will limit the number of places your home address is listed. Government Agencies can find you for behind the scenes you and your company are tied together (and somewhere that will include your home address) What you are limiting is the number of places your home address is in public view for everyone to see and drop by unannounced.
Tracking The Money In and Out
Set up more than one bank account. Limit the amount of money in the account with a debit card. If the Debit Card is lost – all the money in the account is a lot no matter who you are. Setup business checking accounts (even if you are a sole prop) and pay business expenses out of business checking accounts.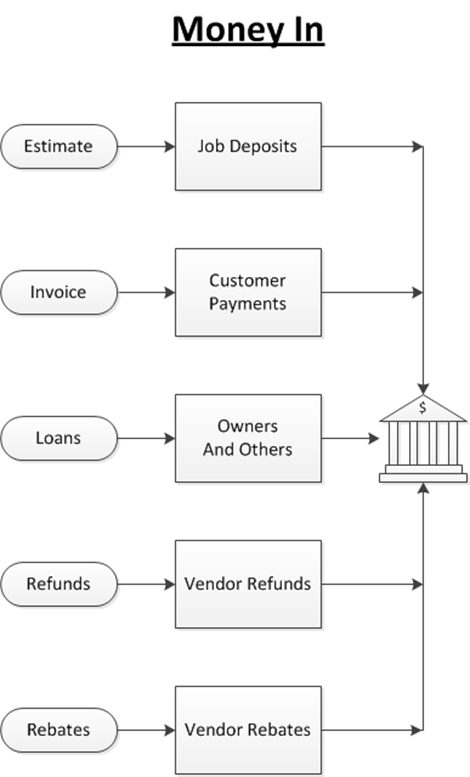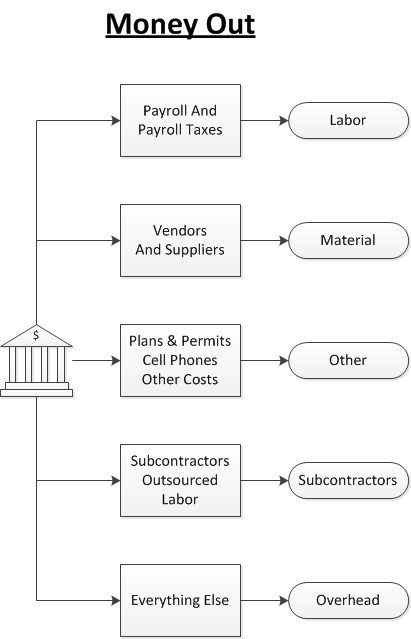 Lend your Handyman Company money as needed. With a good Construction Accounting System that money will be tracked. You can pay yourself back. Without a good Construction Accounting System then it is too easy for the money to appear as income and therefore taxable.

Many Construction Contractors pull money out of the company only to determine they needed to put the funds back into the Construction Company to pay bills or purchase material to do the next project. Designate personal credit cards for business and try to never use them for personal. This again helps isolate business from personal expenses.
In the end – Did you make a profit?

Did you remember to show all your expenses in your Construction Accounting?

Many expenses that were personal now are a business expense (vehicle, cell phone, etc.)

Did you collect all the money due to you?

Are you using an Estimating Program?

Did you get signed Change Orders?

Are you using Online Invoicing?

Did you get a signed Contract?
It is all about the three O's. Who Owes you money? Who do you Owe money? What do you Own?
Everyone started out as a New Construction Contractor – Your challenges are not new.
Do you have any money left over to do what you want to do?

Wishing you the best as the Holiday Season approaches.

Sharie
---
In Conclusion:
Helping Contractors around the world is one of the reasons we added the FastEasyAccountingStore.com
Follow our blogs, listen to Contractor Success M.A.P. Podcast. We Appreciate Our Visitors, Listeners, and Subscribers. – Thank You!!
Please feel free to download all the Free Forms and Resources that you find useful for your business.

We are here to Help "A Little or A Lot" depending on your needs.
About The Author:
Sharie DeHart, QPA is the co-founder of Business Consulting And Accounting in Lynnwood Washington. She is the leading expert in managing outsourced construction bookkeeping and accounting services companies and cash management accounting for small construction companies across the USA. She encourages Contractors and Construction Company Owners to stay current on their tax obligations and offers insights on how to manage the remaining cash flow to operate and grow their construction company sales and profits so they can put more money in the bank. http://www.fasteasyaccounting.com/sharie-dehart/ 206-361-3950 or sharie@fasteasyaccounting.com
---
When You Become A Client - Then we can tap into our resources of knowledge and strategy banks. We use the reports hidden in your QuickBooks in order to diagnose and understand your construction business and develop plans and help you implement a path to success for you and you alone because every contractor has unique Strengths, Weaknesses, Opportunities and Threats (S.W.O.T. Analysis) that when understood can lead to a Strategic Roadmap which cannot help but make a lot of money.
We Remove Contractor's Unique Paperwork Frustrations
Thanks for reporting a problem. We'll attach technical data about this session to help us figure out the issue. Which of these best describes the problem?
Any other details or context?
message
For Construction Company Owners who do not need the full power of a QuickBooks for contractors and want 24/7 online access we offer Xero Accounting Online, and we have a custom setup for construction companies. Click Here For More.
This Is One More Example of how Fast Easy Accounting is helping construction company owners all across the USA including Alaska and Hawaii put more money in the bank to operate and grow your construction company. Construction accounting is not rocket science; it is a lot harder than that, and a lot more valuable to people like you so stop missing out! Call Sharie 206-361-3950 or sharie@fasteasyaccounting.com and schedule your no charge one-hour consultation.
Profitable Contractors and Construction Company owners have known about the value of outsourced bookkeeping services and contractor coaching services like ours for a long time, and now you know about it too!
Thank You For Reading This Far, And I Hope You Understand we really do care about you and all contractors regardless of whether or not you ever hire our services.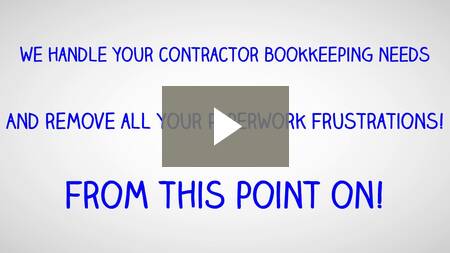 We Scan Your Receipts, And Invoices link the appropriate transactions to QuickBooks or Xero Accounting Online depending on the construction accounting service you are using and provide ongoing Cloud Based Contractors Bookkeeping Services by accountants who understand construction.

Thinking About Outsourcing Your Contractors Bookkeeping Services To Save Time And Money?
Click On The Button Below To Download A Free Guide
Need Help Now?
Call Sharie 206-361-3950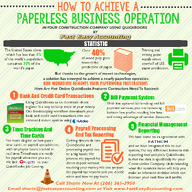 We Are Also Xero Accounting Experts Specializing In Construction Bookkeeping Services
---

Most Contractors Setup QuickBooks Desktop Version In One Of Three Ways:
#1 EZ Step Interview inside QuickBooks Setup
#2 Asked Their Tax Accountant To Setup QuickBooks
#3 They Attended A How To Setup QuickBooks Class Or Seminar
And QuickBooks Does Not Work The Way They Want It Too!
The Answer: