One of the biggest struggles contracting business owners deal with is the overwhelming amount of paper they have to organize as part of their everyday tasks. Invoices, receipts, bills, contracts, client records, pay applications, insurances, licenses - are just among the few in the seem to be never ending "etc". Keeping important documents is necessary. Most contractors go from one extreme to the other. One extreme is saving everything for decades, and the other is tossing everything out.
What to save? What to toss out? At Fast Easy Accounting, we no longer need to print and save every document in file folders and keep adding new file cabinets. Our paperwork processes ensures your happiness and peace of mind knowing that your papers can be retrieved electronically at any time in the future.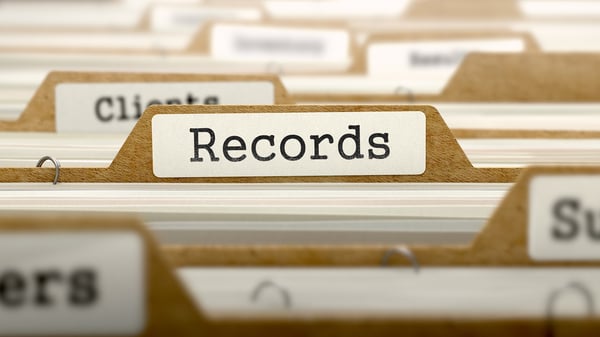 Here are my Paperwork Tips:
Save your receipts
If you have it in paper, get a file box and toss in all the gas, food, misc receipts paid by credit card. Make a note on the receipt. You have the receipt for backup. I remember a story where someone needed to prove where they were. Charges on the credit card statement weren't enough.
Make individual file folders
For your state taxes, quarterly payroll reports, W-2's, 1099's.
Other helpful folders are for your Bond, Liability Insurance, Worker's Comp Insurance, Tools, Office Equipment and Cell Phones. All the statements you may need to reference over and over again and Receipts with extended warranties.
Print a copy of the contract with your client
Electronic signature is fantastic. Use a service that will time and date stamp in case of a dispute or an issue arises. If all goes well, then The Signed Contract is just another piece of paper. I have heard stories of customers altering the contract, and the contractor did not double check. Magically things happen with software. Be sure what the client signs are the same copy of the contract you sent them and expected to be signed.
Take credit cards
Use multiple services if that is what is available. If you use a service to send your contracts for signature and they have a Merchant Services feature; then sign up for it. Everything that happens seamlessly is the best. Approval Now + Authorization of Payment means you have real money (their money) to start the job.

OPM (using Other Peoples Money – meaning you are using the Client's money to start, continue and finish the job). Build in the Merchant Services Fee into your pricing. Cost of doing business.

Many contractors lost money on Groupon Coupons as customers only do the One or Two Rooms as was prepaid on the coupon. (Example Carpet Cleaning – Drywall Patching)
Use an invoice built on Excel
Word is pretty and is needed for all the descriptions. But to properly get the money you expect to be paid, you need a form that adds up the money.
Do not call all the payments a Job Deposit all the way from beginning to end. Call it a Statement, Progress Invoice; once work is approved it is no longer an Estimate or a Work Order. If you are in a sales tax state (Washington State) and need to collect sales tax; then be sure to add sales tax to every invoice.

Customers have selective memory. Be sure to use "Plus Applicable Sales Tax" on the Estimate, Contact and all future billings. If sales tax increases you need to be able to pass the increases on to the customer.
Identify which job it is
Contractors who are doing remodel projects like to have job costing. To achieve basic job costing reports the accounting software needs to know what job the expenses should apply to.

Many contractors will create a single file folder and drop all of the individual receipts in it.
This is handy if they have outsourced their bookkeeping and needed to give their bookkeeping to others to enter into an accounting software (QuickBooks)

One simple way to add more detail for bookkeeping is to have accounts with the primary supplier. The person at the counter will ask you if you have a PO (Purchase Order). Purchase Order does not need to be complicated. Job Name and Job Address. Why both name and address? Because the name that pays the bill may not be the same as the nickname that you know your client as. Examples: Bob, Bobby, Rob, Robby, Robert or Bill, Billy, Will, William may be the same person to you but not to the bank or credit card company.

Always exciting when Spouse, Family member or good friend helps pay your invoice. From Accounting side; next week, next month, next year will you remember which job the individual receipts are tied to?
Keep good records
For larger projects – use a file folder for each invoice especially if you are billing Time & Material or Cost Plus.
Customers will randomly want to confirm the cost of some or all of the items.
Does your customer want copies of all receipts?
Does your customer want to nit pick the price of each 2x4, cost of temp, service and every dump fee?
Does your customer agree verbally to Change Orders but give excuses when asked to confirm changes on paper or by email?
Does your customer hide when you ask for payment?
Conclusion:
Remember, if your are sick and tired of doing administrative tasks such as handling your documents, we are here to remove your paperwork frustrations. Although a 100% paperless office is not the entire answer, we can certainly help you reduce most of it. In most cases, we can help contractors like you eliminate over 50% of your paperwork; the related savings and increased production more than pays for our services.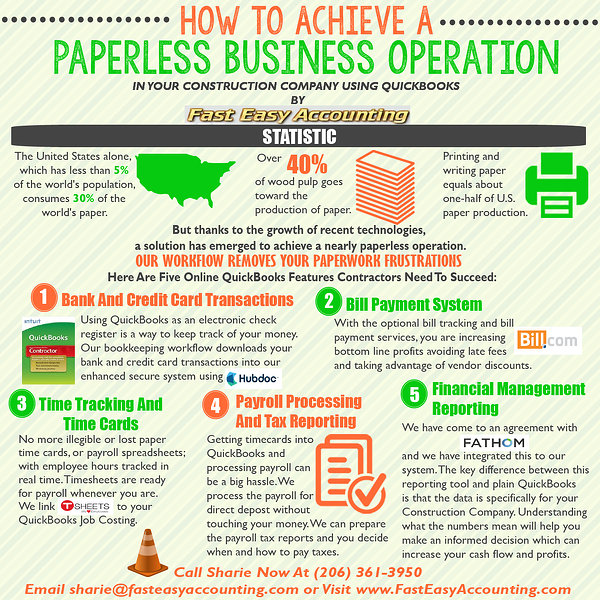 We help a little or a lot depending on your needs. I look forward to being able to assist you with any option that best fits your company.
Please feel free to download all the Free Forms and Resources that you find useful for your business.
About The Author:

Sharie DeHart, QPA is the co-founder of Business Consulting And Accounting in Lynnwood, Washington. She is the leading expert in managing outsourced construction bookkeeping and accounting services companies and cash management accounting for small construction companies across the USA. She encourages Contractors and Construction Company Owners to stay current on their tax obligations and offers insights on how to manage the remaining cash flow to operate and grow their construction company sales and profits so they can put more money in the bank. Call 206-361-3950 or sharie@fasteasyaccounting.com
---
Download the Contractors APP today

from the

App Store

or

Android Store
Access

Code: FEAHEROS
Click here to download the App on Android:
Click here to download the App on iOS:
Simply scan the QR code or search for 'MyAccountants' in the App Store and enter the Access code: FEAHEROS to utilize the powerful App features and capabilities, and benefit from having our Construction Accounting App at your fingertips, 24/7."
PS: Even if you are not a Construction Contractor you will find a plenty of benefits in the app so we invite you to download it too! It's Free so why not?
---
When You Become A Client - Then we can tap into our resources of knowledge and strategy banks. We use the reports hidden in your QuickBooks in order to diagnose and understand your construction business and develop plans and help you implement a path to success for you and you alone because every contractor has unique Strengths, Weaknesses, Opportunities and Threats (S.W.O.T. Analysis) that when understood can lead to a Strategic Roadmap which cannot help but make a lot of money.
We Remove Contractor's Unique Paperwork Frustrations
For Construction Company Owners who do not need the full power of a QuickBooks for contractors and want 24/7 online access we offer Xero Accounting Online, and we have a custom setup for construction companies. Click Here For More.
This Is One More Example of how Fast Easy Accounting is helping construction company owners all across the USA including Alaska and Hawaii put more money in the bank to operate and grow your construction company. Construction accounting is not rocket science; it is a lot harder than that, and a lot more valuable to people like you so stop missing out! Call Sharie 206-361-3950 or sharie.com and schedule your no charge one-hour consultation.
Profitable Contractors and Construction Company owners have known about the value of outsourced bookkeeping services and contractor coaching services like ours for a long time, and now you know about it too!
Thank You For Reading This Far, And I Hope You Understand we really do care about you and all contractors regardless of whether or not you ever hire our services.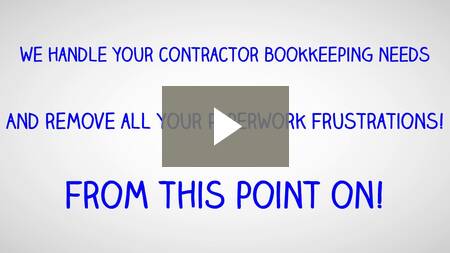 We Scan Your Receipts, And Invoices link the appropriate transactions to QuickBooks or Xero Accounting Online depending on the construction accounting service you are using and provide ongoing Cloud Based Contractors Bookkeeping Services by accountants who understand construction.

Thinking About Outsourcing Your Contractors Bookkeeping Services To Save Time And Money?
Click On The Button Below To Download A Free Guide
Need Help Now?
Call Sharie 206-361-3950
We Are Also Xero Accounting Experts Specializing In Construction Bookkeeping Services
---

Most Contractors Setup QuickBooks Desktop Version In One Of Three Ways:
#1 EZ Step Interview inside QuickBooks Setup
#2 Asked Their Tax Accountant To Setup QuickBooks
#3 They Attended A How To Setup QuickBooks Class Or Seminar
And QuickBooks Does Not Work The Way They Want It Too!
The Answer:
Download the Contractors APP today

from the App or Android store
---