Today's Guest Article Is From Kristin Savage
The construction industry offers a lot of opportunities. Entrepreneurs developing a construction business have an insatiable desire to grow and expand. Even though this domain offers a lot of opportunities, it brings also a lot of challenges in the same package. Therefore, when you decide to expand your construction company from local to regional, there are a lot of things you need to consider. This article is going to show which strategies you can apply to have a successful transition.
First, you should understand why you need to expand your construction in another city. Below you can find a list of questions you should answer before deciding if you are prepared for this move.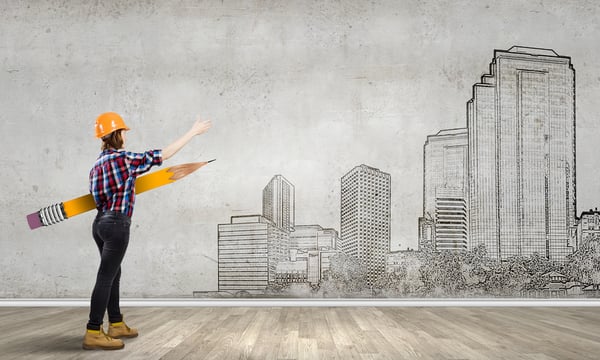 Steps to Follow Before Expanding on a Regional Level
What are your customers asking?
A successful construction business is the one that develops long-term relationships with its clients. When you start a business, one of the first steps is to determine your target audience and understand their requirements and expectations. Therefore, when your clients start asking you to deliver your services in other geographical areas, then it means that you need to expand regionally.
Is your market saturated?
Even though your clients are not asking you to collaborate with them in other areas, this doesn't mean that you cannot expand your construction business. Any local market has its competition, especially when we are talking about a productive industry like construction. Therefore, it is obvious that, no matter how big your business is, you won't be able to cover more than a certain percentage of the entire market. Thus, you will reach a moment when your market will be saturated. This is a clear sign that you need to think of an expansion strategy.
Will it help you to leverage your expertise?
If you want to be successful in the construction industry, you need to be innovative and unique. Whether you are using a different internal system, or your people have special skills, you need to stay ahead of your competition. Therefore, expanding your construction business to a regional level will be a great opportunity to leverage your expertise.
Will this expansion motivate your key employees?
One of the biggest difficulties construction companies face is motivating their key employees. What is more, it becomes even harder to find good people to work in this demanding environment. Therefore, once you find them, it is very important to keep them motivated. Thus, when you decide to move from local to regional, think also from your key employees' perspective. If this may represent a motivating factor for them, then this is a good reason to build your business in a different city as well.
Are you ready to fund your growth?
Even though your construction company is already making a nice profit, growth will always need an investment. For instance, you may need upfront capital to acquire an existing company. Or you may also need money to buy or rent new equipment to start big in the new location. Therefore, before jumping into expansion, you need to think carefully about how your strategy will look and be ready to fund your growth at a regional level.
Challenges to Overcome When Expanding a Construction Business
You can learn a lot from the mistakes other business owners do. So, if you don't want to repeat them, take a look at the pitfalls mentioned below and analyze your exposure before venturing into expanding your construction business.
Underestimating the efforts necessary to succeed
When you open a new branch in a different city, you need to be ready to invest a lot of time, energy, and money to make sure that you will be successful. Opening an office in a different city is a long-term investment. So, you need to be prepared for the entire process. Entrepreneurs should be ready to translate their marketing content and materials into different languages if they want to approach an expanded target audience. It is very important that people know about you and understands what you have to offer.
Underestimating your competitors
You may be the strongest construction company locally, but this doesn't mean that once you expand you will keep your top position. The power of the local competitors is usually underestimated by most business owners. But, they have a very important advantage. They know the market very well and have strong local connections. Therefore, even though your work processes and equipment are superior, you will need some time to make clients understand you are trustful, and you really bring something new on the market. Moreover, once you have discovered who your local competitors are, you can analyze their progress on the market and understand what they did wrong and what was good that placed them in this position. In addition, you also need to be prepared for a price drop. Your local competitors will have a primary interest to make you fail. So, they will most probably drop the prices to achieve this goal.
Hiring the wrong branch manager
When you open a branch in a different city, you need a very strong branch manager. You can choose either a local person who knows the market very well and is well-connected with the key stakeholders. But, you can also offer this opportunity to an existing employee who will find it very motivating and put all his efforts into making your business a success. Either option you choose, you need to be mindful in offering him or her an incentive to win. Your branch manager should treat this business as it was his. Thus, he will feel motivated to do everything he can to achieve your goals.
In conclusion
Construction is definitely not a game where you grow or die. Yes, growth can increase your profits and strengthen your brand on the market. But, if it is not done properly, growth can also kill your business as you might not be prepared for the investment and challenges which will come.
---
About The Author:

Kristin Savage has graduated from Columbia University where she was majoring in Germanic Languages. Besides English as her mother tongue, she also speaks German and Dutch fluently. Currently, Kristin is studying Spanish and planning to obtain her Ph.D. in Applied Linguistics since she is interested in how to use her practical knowledge of language processes in everyday life. She has been a writer at Pick Writers for a few years and is known for her thorough approach to all the tasks and aspiration to fulfill assignments with flying colors.
Recommended Reading: Like this post? Check our past blog posts related to this topic.
Access Code: FEAHEROS
Click here to download the App on Android:
Click here to download the App on iOS:
Simply scan the QR code or search for 'MyAccountants' in the App Store and enter the Access code: FEAHEROS to utilize the powerful App features and capabilities, and benefit from having our Construction Accounting App at your fingertips, 24/7."
PS: Even if you are not a Construction Contractor you will find a plenty of benefits in the app so we invite you to download it too! It's Free so why not?