If you've been considering making a move to a cloud-based accounting system, you're not alone. Cloud technology has impacted many business functions, including efficiently managing your business's financial aspects.
Cloud-based accounting moves your accounting from being hosted on your computer's hard drive to an online platform. Cloud-based platforms like QuickBooks and Xero offer important features that save you time and money, freeing you to focus on other essential construction business activities.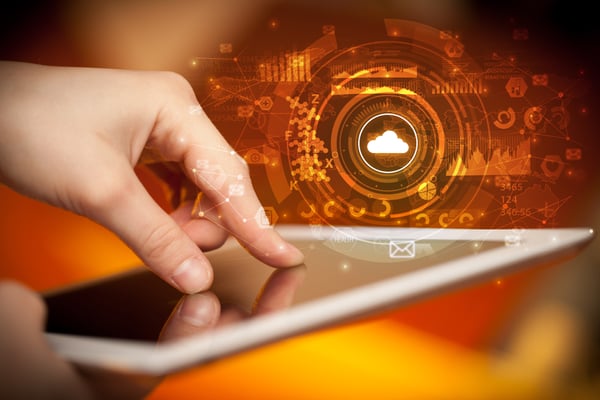 Here are four reasons to switch to a cloud-based accounting system.
1. Efficient invoicing
If your business relies heavily on invoicing, an online accounting system like QuickBooks or Xero makes invoicing incredibly efficient. You can email invoices to clients directly through your software and track how long it's been since the invoice went out.
Clients pay you through a link attached to the invoice, making the payment process easier for them, which increases the likelihood they'll pay you sooner. If they pay through the system, your platform will automatically mark the invoice as paid. If their payment is late, the system alerts you.
Further, you can set up your software to send automatic reminders about late payments. Taxes are automatically calculated for you, and you can set up recurring invoices and retainers to further automate your invoicing.
2. Paperless accounting
Managing your accounting through a cloud-based system enables you to move away from paper accounting. You don't have to worry about where or how to store years of paperwork and files because everything is securely stored in the cloud. Likewise, you don't have to go through boxes of files to find a receipt from two years ago; you can simply access the information through your computer.
It's easy for you to share your records with your accountant, bookkeeper, or anyone else who may need to collaborate on your finances. You don't have to mail them physical copies of your financial transactions and statements; you can email them the information or give them access to your software.
3. Accessibility
With a cloud-based accounting system like QuickBooks or Xero, you don't have to be in the office in front of your computer to access your financial information. You can see your ledgers and reports from anywhere, on any device. If you want to work from home one day or at your job site the next, you can log in to your software from your smartphone to send invoices, check your reports, or manage expenses.
4. Accurate reporting
A critical component of running your construction business is reporting. Accurate reporting enables you to manage your finances better and understand your profitability. It's vital for making informed decisions about your business.
Cloud accounting provides you with accurate reporting at the click of a button. Using systems like QuickBooks or Xero, you can easily access profitability reports, income and expense reports, and year-end reports.
The information is available to you automatically--you don't have to spend hours in front of a calculator going through every invoice to see your numbers. Simply by keeping your records in a cloud-based system, you can quickly generate accurate reports.
Which QuickBooks remote access option is best for contractors like you?
We recommend QuickBooks online when
your company is run like a hobby

you do not need full QuickBooks
your sole focus is saving money
basic simple reports are all you need
you have three employees or less
you enjoy doing everything yourself
you have a lot of time to learn a software
We recommend QuickBooks Desktop Version Cloud Computing when
you want to earn a profit

you need Job Costing Reports and solid Financial Reports

you need the power of the full QuickBooks Desktop version

you are focused on saving money with innovations and cost control

you are open to implementing a Business Plan designed to increase sales
Xero Accounting Online works best when
you need to get paid faster and easier

you have simple jobs you invoice individually

you need to invoice customers at the job site

you need Key Performance Indicator Financial Reports

you want professional Construction Accounting at lower costs
Final thoughts
If you're hosting your accounting information on your computer hard drive, it's worth looking into cloud-based accounting to see if you can benefit from the switch. Given the ease of invoicing and accurate record-keeping, combined with the accessibility of a paperless system, you may find cloud-based accounting software is the right plan for you.
We offer both Xero Accounting Online and QuickBooks bookkeeping services for construction contractors and have found that the dividing line is how you get paid. Reach out if you need help with starting a Cloud-based accounting system for your construction company.
About The Author:

Sharie DeHart, QPA is the co-founder of Business Consulting And Accounting in Lynnwood, Washington. She is the leading expert in managing outsourced construction bookkeeping and accounting services companies and cash management accounting for small construction companies across the USA. She encourages Contractors and Construction Company Owners to stay current on their tax obligations and offers insights on how to manage the remaining cash flow to operate and grow their construction company sales and profits so they can put more money in the bank. Call 1-800-361-1770 or sharie@fasteasyaccounting.com
Access Code: FEAHEROS
Click here to download the App on Android:
Click here to download the App on iOS:
Simply scan the QR code or search for 'MyAccountants' in the App Store and enter the Access code: FEAHEROS to utilize the powerful App features and capabilities, and benefit from having our Construction Accounting App at your fingertips, 24/7."
PS: Even if you are not a Construction Contractor you will find a plenty of benefits in the app so we invite you to download it too! It's Free so why not?