It's natural for small business owners to think that they won't be victims of

cyber attacks

. Most of the news surrounding hacking and data breaches involve large corporations, but that is because that's where a high number of victims are affected. Hackers may find they have an easier time going after small businesses and start-ups that aren't prepared for a security breach.
So while they might get less information from a small business, thieves will have an easier time accessing that information. If your construction company keeps any time-sensitive information on a computer network—whether that is personal information, credit card details, or other vital data—you need to ensure your cybersecurity is top-notch, so you, your business and your clients are fully protected.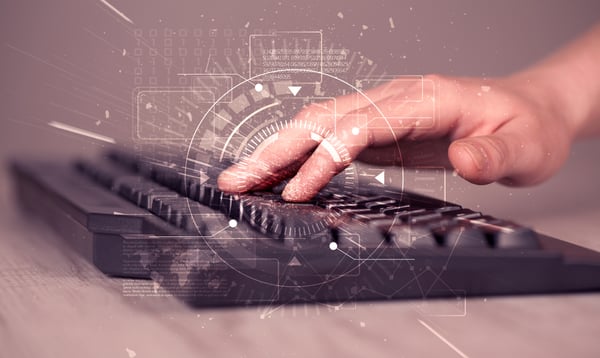 Here are some tips for enhancing your cybersecurity.
1. Keep your employees informed
The unfortunate truth is that human error is one of the portholes through which hackers can attack your business. Employees are always hooked up to your network, whether that's through email, company-provided computers, or working from home.
Make sure you have security protocols for accessing your network and ensure your employees are aware of them. Keep a checklist handy that your employees—and anyone who accesses your system—can reach. Regularly update your policies to reflect the new techniques cybercriminals develop.
Here are some questions to ask: Are there rules about when employees can be connected to your network or what they can do while connected? Do you have policies about password protection? Are employees allowed to take company laptops and tablets home with them? If so, what are the rules around doing so?
2. Update your network regularly
Your computers, network, and system should be updated periodically. These updates provide additional protection for your company. As developers become aware of new threats, they create programs designed to prevent the latest hacker techniques and spread those through updates. Old, outdated networks are easier for hackers to access.
In addition to updating your network, take the time to regularly inspect your system for weaknesses and take steps to address those vulnerabilities.
3. Be aware of information breaches
It isn't just credit card information that hackers are after. Personal details, passwords, and other sensitive data can be sold and used for fraudulent purposes. Your construction business may not collect credit card and additional payment information, but that doesn't mean you don't have documents that are valuable for hackers.
If you have any information that could be bought, used for fraud or identity theft, or used for extortion, you need to take steps to protect that information.
Once your network has been hacked, you risk losing your clients' trust. Once that trust is gone, it's hard to get it back.
4. Keep up-to-date on the latest scams and threats
Monitor the media and security sites to keep yourself informed about the latest techniques being used by scammers so that you'll be better able to identify them if they approach you. For example, phone calls to your business asking your staff for information, or that there is an issue with the company computers that the caller can help fix.
FEA Cybersecurity
As an accounting firm, our client's privacy and security remain our top priorities and are continually looking at ways to develop and evaluate our system to prevent a breach and network holes. We utilize 128-bit Secure Socket Layer encryption, which ensures that all data passed between the web server and browsers remain private and integral. There are two levels of restrictions, and passwords must be entered before you can get your data file.
At Fast Easy Accounting, Cloud Security is not an option- it is a fundamental requirement. We only use Intuit Approved Commercial Hosting Services. We have taken steps to select the best to ensure that your data is as secure as that found for online banking and financial institutions. Their Cloud Security rests on U.S. based servers, backups, data centers, and technical support. Not one aspect of our Cloud security relies on outsourced services or offshore locations.
Final thoughts
Don't make the mistake of assuming that just because you run a small business or don't collect payment information that your construction business is safe from hackers. There is a lot of private information available that hackers and thieves can use to make money from, and companies small and large are targets. Be aware of vulnerabilities in your system, and take steps to address them before it's too late.
Online Data Protection is critical to being able to provide you reliable and professional-grade outsourced contractors bookkeeping services. The cost of proper bookkeeping combined with secured cyber information is priceless. Having clean, up-to-date bookkeeping records, accurate financial reports, and protected data all make up for a good night's sleep. After all, security comes from setting up Structure and Systems in place, so your construction business will run smoothly.
About The Author:

Sharie DeHart, QPA is the co-founder of Business Consulting And Accounting in Lynnwood, Washington. She is the leading expert in managing outsourced construction bookkeeping and accounting services companies and cash management accounting for small construction companies across the USA. She encourages Contractors and Construction Company Owners to stay current on their tax obligations and offers insights on how to manage the remaining cash flow to operate and grow their construction company sales and profits so they can put more money in the bank. Call 1-800-361-1770 or sharie@fasteasyaccounting.com
Access Code: FEAHEROS
Click here to download the App on Android:
Click here to download the App on iOS:
Simply scan the QR code or search for 'MyAccountants' in the App Store and enter the Access code: FEAHEROS to utilize the powerful App features and capabilities, and benefit from having our Construction Accounting App at your fingertips, 24/7."
PS: Even if you are not a Construction Contractor you will find a plenty of benefits in the app so we invite you to download it too! It's Free so why not?