Excellent communication skills are part of any process, and by definition, it entails more than just talking. Today, it's the phone, emails, messaging, faxes, and it includes the flow of soft documents.
Of course, talking is a significant part of it. Most of us would be lost without our mobile phones. With internet access and a handful of applications, the newer smartphones replace the need for a traditional landline, fax machine, laptop, desktop computer or camera.
Many people already go to their bank, move money, pay bills, and pay for services. Banks have added the technology where you can stop going to the bank altogether, with the bank's app, you can now snap a picture of the check and deposit into your account from your customer's location.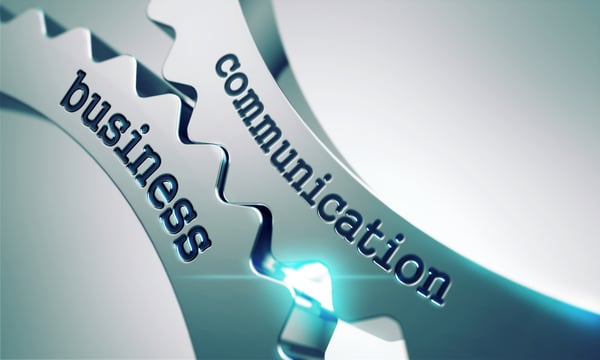 It's a mobile environment, and for construction contractors accessing their QuickBooks in the cloud is just an extension of technology that is already utilized. Seems like a new concept when a person can go to the office supply store, purchase a copy of QuickBooks that traditionally would be installed on your desktop, have your construction accountant (Fast Easy Accounting) loaded it on a remote server approved by Intuit and be able to access the file with the ease of going online to your bank.
Managing Reports
The principle applies to Outsourced Accounting. Clients want the reports and to know that all their paperwork has been handled. They do not find it necessary to manage every piece of paper. The Five Key Reports will answer the many questions a construction contractor will have about their business.
The questions and issues our clients call us about are much easier to solve with the proper tools that are available. Fast Easy Accounting is that extra piece of "thinking" management support for our construction contractor clients.
By using the Five Key Reports along with Cash Management processes, clients can keep on top of the operations side of their business. Several of our clients have embraced the "Outsourced Accounting" model. They review reports and make decisions all without entering any data into their QuickBooks file.
Clients come to our office and multi-task on their paperwork. They work on their Estimates, Customer Invoices, sorts their mail for new bills, receipts for Fast Easy Accounting to enter into QuickBooks. The client is working on the parts of the business that only they can do. At the same time, Fast Easy Accounting staff prints up the Five Key Reports.
Managing Accounts Payable
Client reviews, marks all the bills they would like to have paid, returns the report and computer checks back to staff to print checks.
Client reviews printed checks, signs, and staff will stuff envelopes and mail. The client continues working in his other office, making phone calls, and various tasks, until ready to move to his next job.
The client is in control. Leaves any new bills and receipts that need to be entered into QuickBooks and show up on the next Accounts Payable report. This process is repeated as often as a client wants to come in. Our office becomes part of a regular loop of business activities usually before or after going to the bank.
Why is it a necessary process? Construction Contractors always want to keep excellent subcontractors happy. Occasionally, what happens is an account payable check has been cut in the office and mailed; not knowing this the subcontractor asks for a check and receives a handwritten one in the field. It is much easier to find any duplicate payments when all vendor bills have been entered into QuickBooks as bills and paid from the accounts payable report.
For our clients who want to use handwritten checks or who are out of the local area, slight adjustments are made to the process. We recommend that all clients have access. Only if a remote client wants to print computer checks from within the QuickBooks file – then having online access to QuickBooks File is required. Otherwise, reports can are regularly generated.
Conclusion:
No matter what type of business you're in, effective communication is an essential part of your company strategy and proper documentation of your company's best practices to approach this in your accounting and bookkeeping tasks can be a good start. Effective communication skills lead to better accounting results and add profit dollars to your bottom line.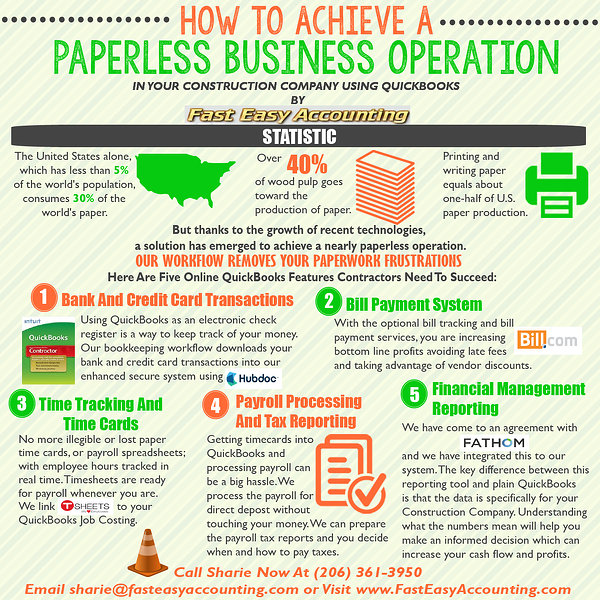 We help a little or a lot depending on your needs. I look forward to being able to assist you with any option that best fits your company.
Please feel free to download all the Free Forms and Resources that you find useful for your business.
About The Author:

Sharie DeHart, QPA is the co-founder of Business Consulting And Accounting in Lynnwood, Washington. She is the leading expert in managing outsourced construction bookkeeping and accounting services companies and cash management accounting for small construction companies across the USA. She encourages Contractors and Construction Company Owners to stay current on their tax obligations and offers insights on how to manage the remaining cash flow to operate and grow their construction company sales and profits so they can put more money in the bank. Call 206-361-3950 or sharie@fasteasyaccounting.com
---
Download the Contractors APP today

from the

App Store

or

Android Store
Access

Code: FEAHEROS
Click here to download the App on Android:
Click here to download the App on iOS:
Simply scan the QR code or search for 'MyAccountants' in the App Store and enter the Access code: FEAHEROS to utilize the powerful App features and capabilities, and benefit from having our Construction Accounting App at your fingertips, 24/7."
PS: Even if you are not a Construction Contractor you will find a plenty of benefits in the app so we invite you to download it too! It's Free so why not?
---
When You Become A Client - Then we can tap into our resources of knowledge and strategy banks. We use the reports hidden in your QuickBooks in order to diagnose and understand your construction business and develop plans and help you implement a path to success for you and you alone because every contractor has unique Strengths, Weaknesses, Opportunities and Threats (S.W.O.T. Analysis) that when understood can lead to a Strategic Roadmap which cannot help but make a lot of money.
We Remove Contractor's Unique Paperwork Frustrations
For Construction Company Owners who do not need the full power of a QuickBooks for contractors and want 24/7 online access we offer Xero Accounting Online, and we have a custom setup for construction companies. Click Here For More.
This Is One More Example of how Fast Easy Accounting is helping construction company owners all across the USA including Alaska and Hawaii put more money in the bank to operate and grow your construction company. Construction accounting is not rocket science; it is a lot harder than that, and a lot more valuable to people like you so stop missing out! Call Sharie 206-361-3950 or sharie.com and schedule your no charge one-hour consultation.
Profitable Contractors and Construction Company owners have known about the value of outsourced bookkeeping services and contractor coaching services like ours for a long time, and now you know about it too!
Thank You For Reading This Far, And I Hope You Understand we really do care about you and all contractors regardless of whether or not you ever hire our services.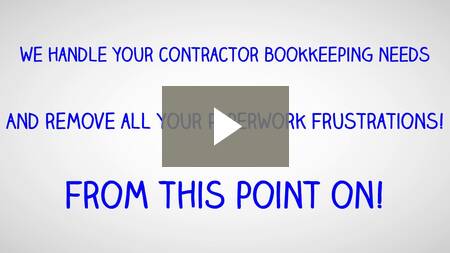 We Scan Your Receipts, And Invoices link the appropriate transactions to QuickBooks or Xero Accounting Online depending on the construction accounting service you are using and provide ongoing Cloud Based Contractors Bookkeeping Services by accountants who understand construction.

Thinking About Outsourcing Your Contractors Bookkeeping Services To Save Time And Money?
Click On The Button Below To Download A Free Guide
Need Help Now?
Call Sharie 206-361-3950
We Are Also Xero Accounting Experts Specializing In Construction Bookkeeping Services
---

Most Contractors Setup QuickBooks Desktop Version In One Of Three Ways:
#1 EZ Step Interview inside QuickBooks Setup
#2 Asked Their Tax Accountant To Setup QuickBooks
#3 They Attended A How To Setup QuickBooks Class Or Seminar
And QuickBooks Does Not Work The Way They Want It Too!
The Answer:
Download the Contractors APP today

from the App or Android store
---