Construction is a tough business, and people failure is common. Most of our clients have either failed or come very close. It doesn't matter how many times you are knocked down; it only matters that you learn your lessons, get up, and go again. Some lessons we already took note of years ago, having owned and operated our construction company. By building a system and gaining insight from us, you can pick up from our mistakes which you don't have to go through and can start avoiding before it comes crashing down.
We are deeply passionate and committed in the construction industry that we want to support you, our clients and readers, to achieve your definition of success. Whether you're a contractor, owner, spouse, a business professional, bookkeeper, or accountant; we understand your frustrations because we've been where you are now, and we're here to help.
Fast Easy Accounting's online learning platform is the answer you've been looking for. Through the self-paced courses taught by The Contractors' Accountant, Randal DeHart, you can focus your time and effort in gaining knowledge and understanding of construction accounting concepts particular to your needs.
We have proudly produced 12 classes in our initial launch with more to come in the following weeks. Each course was designed for QuickBooks users from all levels - Beginner to Experienced. Our goal is to provide the student with suitable and useful information to build a construction accounting system specific to their type of construction business and company role.
Click each course name to learn more/enroll:
Develop a cost library of work packages. Gain a competitive advantage by investing your time, energy, and resources to build and maintain one properly. Access to your job history can help you accurately calculate future jobs.
Analyze Work-In-Progress reports. Unforeseen cash flow issues can lead to construction delays, business, and personal bankruptcy. Make use of WIP schedule to keep track of your projects and percentage of completion.
The five reports you review at 5 PM for 5 minutes will help you assess your business performance. Start making informed decisions and optimize the future of your company through the KPI approach and best practices.
Set up cost codes and get rid of your poor Spec Home Builder Accounting system once and for all. Establish a breakdown using Labor, Material, Other Costs, and Subcontractors (LMOS).
Without proper tracking and matching of income and expenses, you'll never know if you made a profit until the job is over. With long business cycles, and huge construction expenditures, most land developers and spec home builders feel there is never enough money to cover the costs.
The chaos of day-to-day operations, economy change, compliance issues, new regulations, natural disasters, and several other factors that are beyond control are potential risks to one's business.
Start building a process-dependent system and set up your QuickBooks Desktop account to work for your Land Developer and Spec Home Builder Company.
Accurate bookkeeping matters. Your construction company's financial health relies on correctly recorded transactions and data.
A proper bookkeeping system can help you stay on top of your debts, figure out where your profits and losses are coming from, prepare you for tax season, and brace your company for potential growth.
Master the process of setting up, requesting, receiving, reporting, and applying Job Deposits in QuickBooks and take the stress out of generating a report to see who has deposits and balances. This class will teach you how fast and easy it is to set up Job Deposits in QuickBooks. Once your client signs the contract, you'll be empowered and confident to request for upfront payment.
QuickBooks needs to know a lot of things to produce the reports you need. Realizing what you don't know and want to know more about your business is the first step. A properly set up QuickBooks file is the key to generating useful and timely financial reports. Start by learning the basics and discover how easy it is to make more money with Job Costing.
Motivate your subcontractors to complete the project on time and within budget and give your clients peace of mind by preparing a retention plan for them. Quickly and easily manage your outstanding receivables by taking advantage of the Collections Center features in QuickBooks Desktop, make changes as needed, and send an email for balance dues.
Labor is hard to estimate. Contractors like you are not always aware of what you are giving away - and that includes Labor.
A correctly set up QuickBooks file is the key to generating useful and timely financial reports. Start by learning the basics and discover how easy it is to make more money with Job Costing by tracking the owner's time on jobs.
The pressures of owning and operating a construction company can be, at times, almost unbearable. Unlike any other business, there's no "one size fits all" solution in your toolbox that can fix your dilemma.
Improve your productivity and bring in more cash flow to your firm by finding wealth in what you do best. Work smarter, not harder! Discover how SWOT Analysis can give you the life and freedom you've dreamed of when you started your construction company.
Determine the cost of construction down to the granular level, run analysis, and know which Cost Code tasks can be done in-house (Labor) and which ones can be subcontracted (Subcontractors). The same concepts applied to (Other) costs like permits and getting materials to the job sites (Material).
Start incorporating LMOS to your accounting system and get a better understanding of your business. Take this class and set up your QuickBooks Desktop to work for your construction company.
As with every type of business, having the right tools can help you work efficiently and effectively. The key to your business profitability lies in the understanding of the critical concepts of construction accounting. Now that the tools are available online and accessible 24/7, it's now up to you to leverage the power of knowledge and put it into action.
Please feel free to download all the Free Forms and Resources that you find useful for your business.
About The Author:

Sharie DeHart, QPA is the co-founder of Business Consulting And Accounting in Lynnwood, Washington. She is the leading expert in managing outsourced construction bookkeeping and accounting services companies and cash management accounting for small construction companies across the USA. She encourages Contractors and Construction Company Owners to stay current on their tax obligations and offers insights on how to manage the remaining cash flow to operate and grow their construction company sales and profits so they can put more money in the bank. Call 206-361-3950 or sharie@fasteasyaccounting.com
---
Download the Contractors APP today

from the

App Store

or

Android Store
Access

Code: FEAHEROS
Click here to download the App on Android:
Click here to download the App on iOS:
Simply scan the QR code or search for 'MyAccountants' in the App Store and enter the Access code: FEAHEROS to utilize the powerful App features and capabilities, and benefit from having our Construction Accounting App at your fingertips, 24/7."
PS: Even if you are not a Construction Contractor you will find a plenty of benefits in the app so we invite you to download it too! It's Free so why not?
---
When You Become A Client - Then we can tap into our resources of knowledge and strategy banks. We use the reports hidden in your QuickBooks in order to diagnose and understand your construction business and develop plans and help you implement a path to success for you and you alone because every contractor has unique Strengths, Weaknesses, Opportunities and Threats (S.W.O.T. Analysis) that when understood can lead to a Strategic Roadmap which cannot help but make a lot of money.
We Remove Contractor's Unique Paperwork Frustrations
For Construction Company Owners who do not need the full power of a QuickBooks for contractors and want 24/7 online access we offer Xero Accounting Online, and we have a custom setup for construction companies. Click Here For More.
This Is One More Example of how Fast Easy Accounting is helping construction company owners all across the USA including Alaska and Hawaii put more money in the bank to operate and grow your construction company. Construction accounting is not rocket science; it is a lot harder than that, and a lot more valuable to people like you so stop missing out! Call Sharie 206-361-3950 or sharie.com and schedule your no charge one-hour consultation.
Profitable Contractors and Construction Company owners have known about the value of outsourced bookkeeping services and contractor coaching services like ours for a long time, and now you know about it too!
Thank You For Reading This Far, And I Hope You Understand we really do care about you and all contractors regardless of whether or not you ever hire our services.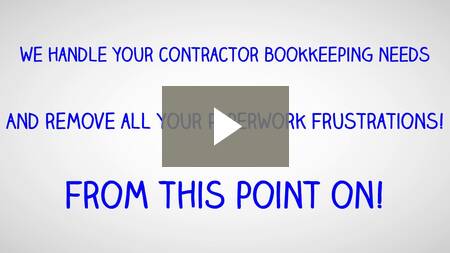 We Scan Your Receipts, And Invoices link the appropriate transactions to QuickBooks or Xero Accounting Online depending on the construction accounting service you are using and provide ongoing Cloud Based Contractors Bookkeeping Services by accountants who understand construction.

Thinking About Outsourcing Your Contractors Bookkeeping Services To Save Time And Money?
Click On The Button Below To Download A Free Guide
Need Help Now?
Call Sharie 206-361-3950
We Are Also Xero Accounting Experts Specializing In Construction Bookkeeping Services
---

Most Contractors Setup QuickBooks Desktop Version In One Of Three Ways:
#1 EZ Step Interview inside QuickBooks Setup
#2 Asked Their Tax Accountant To Setup QuickBooks
#3 They Attended A How To Setup QuickBooks Class Or Seminar
And QuickBooks Does Not Work The Way They Want It Too!
The Answer:
Download the Contractors APP today

from the App or Android store
---