---
Most articles about Job Costing are for large contractors with dozens of employees, doing millions of dollars in sales every year. This article is not about them it is about you!

I care deeply about all Contractors. However, since I have a limited time on this earth and it my mission to help small contractors like you become wealthy because you bring value to other people's lives!

Owners of small construction companies like you are the men and women who keep everything moving in the right direction. When the economy changes, you quickly adapt because you are a survivor, not a large giant behemoth dinosaur unable to respond quickly and dies in its tracks.
Job Costing In Its Simplest Terms
Job Costing links the money you spent on a job against the money you received to do a particular job.

In Construction Accounting, there are two types of Cost of Goods Sold (COGS) Direct Construction Costs and Indirect Construction Costs. Both are equally important to generating useful Job Costing Reports.
---
There Are Four Types Of Direct Job Costs L.M.O.S.
#1 Labor costs for your construction workers including your payroll
#2 Material you purchased for the job
#3 Other charges like permits, inspection fees, and utilities
#4 Subcontractors

There are several types of Indirect Construction Costs. Everything that is not Overhead or Other Income and Expense. For more on this ask your construction accountant.

Job Costing Reports can show you where you are making and losing money which is the foundation for finding out the answer to the most important question you need to know to grow your cash flow and profits "Who Is My Prime Client And Who Is Not?"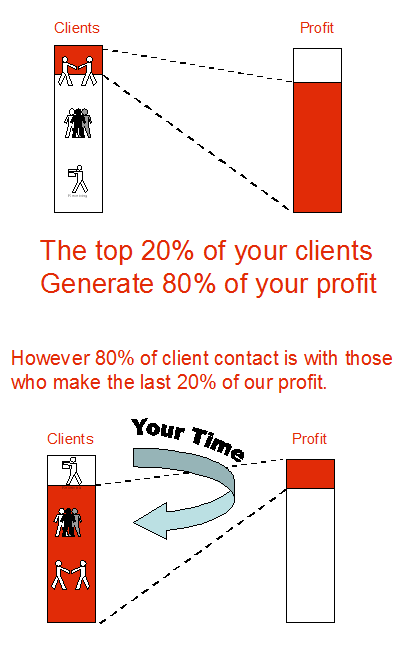 For purposes of clarity since most accounting software and other related marketing software uses the word "Customer" instead of "Client" which as many of you know is the term I prefer. For more on this click on Customer vs. Client.
Estimates vs. Actuals Report Compares These Key Metrics
#1 Money out, what you thought the job would cost and what it did cost.
#2 Money in, how much you collected.
#3 The difference between money in and money out
Weighted Average Of Indirect Costs And Overhead
Next, you need to calculate the weighted average of Indirect Costs and Overhead, ignore Indirect Income and Expense as it has no bearing on Job Cost Calculations, to determine a metric you can use to allocate those costs to find the fully burdened Job Cost.

Example Job 001
Money In $1,000
Money Out $500
Difference $500

Annual Sales $100,000
Annual Indirect Construction Costs $20,000
Annual Overhead $10,000

Job 001 = 1% Of Annual Indirect Construction Costs $200, ($20,000 X 1%)
Job 001 = 1% Of Annual Overhead $100, ($10,000 X 1%)
Job 001 = Burden $300 ($200 + $100)
Job 001 = Profit $200 (Money In $1,000 - Money Out $500 - Burden $300)

With this information, you can create more accurate quotes when you bid on future jobs. Job Costing will help you identify the most and least profitable areas of your Construction Company and most profitable customers and projects and outsource or subcontract the less productive aspects of your Contracting Company.

If your Construction Company is not paying you an owner's salary, what it would cost to replace you, and at least 15% return on your investment then you need to rethink the intrinsic value of your Construction Accounting System.
What Your Construction Accountant Needs To Generate Useful Job Costing Reports
#1 Uniform Naming Convention (UNC) establish a simple method for naming your customers.
> First Name, Last Name
> Last Name, First Name
> Company Name

#2 UNC to identify different jobs and projects using a numbering system or predetermined project titles 001 to 99999
> Remodel, Drain Cleaning, Replace Electrical Panel, etc.

#3 Every field worker's time card must have the Job Name, and preferably the task performed.

#4 Every expenditure for Labor, Material, Other Costs, and Subcontractor needs to have a Job Name on the document, no exceptions. Any document without a Job Name will be assigned to "zCustomer Unknown" or worse yet, no Job Name at all.
Job Costing Is A Lot Of Work And The Results Are Worth It!
Job Costing is a lot of work for contractors and field workers, and since most contractors do not see an immediate benefit they tend to slack off on providing the information their Construction Accountant needs. Later when the contractor begins to ask themselves why am I working so hard and earning so little do they begin to ask about Job Costing Reports, and that is when they understand why the "Bean Counters" Construction Accountants kept asking for Job Names on every document and accurate time cards.

I have used several construction accounting software products since the mid-1980's and tested dozens more accounting software programs in the years since, including QuickBooks Online. As of today, May 20, 2016, in my expert opinion, QuickBooks Desktop in the Cloud installed on an Intuit Approved Hosting Provider like the one we use is the only viable option for owners of a small construction company like the one you have.
You can save money in the short run by doing it yourself, hiring someone to work in your office or you can spend a bit more money in the beginning and outsource it to a company like ours Fast Easy Accounting, which specializes in Contractors Bookkeeping Services; the choice is yours. Just be forewarned to setup QuickBooks for your construction company, do the data entry, payroll, quarterly taxes, construction accounting and Job Costing and do it right will require substantial skill.

If you can find someone or preferably a team with each member having at least 10,000 hours combined training and practice in regular accounting and another 10,000 hours combined training and practice in Construction Accounting and provide them will all of the office equipment and software.
---
We Remove Contractor's Unique Paperwork Frustrations
For Construction Company Owners who do not need the full power of a QuickBooks for contractors and want 24/7 online access we offer Xero Accounting Online and we have custom setup for construction companies. Click Here For More.
This Is One More Example of how Fast Easy Accounting is helping construction company owners all across the USA including Alaska and Hawaii put more money in the bank to operate and grow your construction company. Construction accounting is not rocket science; it is a lot harder than that and a lot more valuable to people like you so stop missing out! Call Sharie 206-361-3950 or sharie@fasteasyaccounting.com and schedule your no charge one-hour consultation.
Profitable Contractors and Construction Company owners have known about the value of outsourced bookkeeping services and contractor coaching services like ours for a long time and now you know about it too!
Thank You For Reading This Far And I Hope You Understand we really do care about you and all contractors regardless of whether or not you ever hire our services.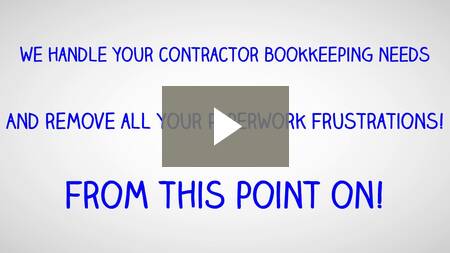 We Scan Your Receipts And Invoices link the appropriate transactions to QuickBooks or Xero Accounting Online depending on the construction accounting service you are using and provide ongoing Cloud Based Contractors Bookkeeping Services by accountants who understand construction.

Thinking About Outsourcing Your Contractors Bookkeeping Services To Save Time And Money?
Click On The Button Below To Download A Free Guide
Need Help Now?
Call Sharie 206-361-3950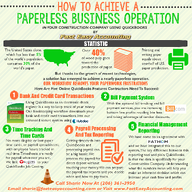 We Are Xero Accounting Experts Specializing In Construction Bookkeeping Services
About The Author:

Randal DeHart, PMP, QPA is the co-founder of Business Consulting And Accounting in Lynnwood Washington. He is the leading expert in outsourced construction bookkeeping and accounting services for small construction companies across the USA. He is experienced as a Contractor, Project Management Professional, Construction Accountant, Intuit ProAdvisor, QuickBooks For Contractors Expert and Xero Accounting Specialist. This combination of experience and skill sets provides a unique perspective which allows him to see the world through the eyes of a contractor, Project Manager, Accountant, and construction accountant. This quadruple understanding is what sets him apart from other Intuit ProAdvisors and Xero accountants to the benefit of all of the construction contractors he serves across the USA. Visit http://www.fasteasyaccounting.com/randal-dehart/ to learn more.
Our Co-Founder Randal DeHart - Is a Certified PMP (Project Management Professional) with several years of construction project management experience. His expertise is construction accounting systems engineering and process development. His exhaustive study of several leading experts including the work of Dr. W. Edward Deming, Michael Gerber, Walter A. Shewhart, James Lewis and dozens of others was the foundation upon which our Construction Bookkeeping System is based and continues to evolve and improve. Check out our Contractor Success Map Podcast on iTunes and Follow Randal on Google+
---