---
Plan Your Work Then Work Your Plan
But Who Has Time To Plan?
Do you know of a contracting company that runs smoother than yours? They have the same challenges you do:
Getting enough qualified leads to bid on and winning enough of them at a price that is profitable

Finding employees who will arrive on time, do the work and not steal time, materials or customer

Having enough cash to pay the bills before the end of the month and cash left over for the owner
In the past when you wanted a formal Business Plan it was more painful than a letting a dentist work on your teeth without using any painkiller! We found the answer. A simple financial forecasting tool that links to your Contractors QuickBooks file, does most of the work for you and it's...PAINLESS!
The Best Parts:
Cloud based so you can access it 24/7 from any web enabled device
Links to QuickBooks and updates automatically which means you never have to open QuickBooks
Financial Reports and forecasting help you lead your contracting company to success and prosperity
---
Business Planning The Old Way:
We have developed hundreds of Business Plans. Some for our internal use for our contracting companies when we had them and for our contractor clients as well as clients in other industries outside of construction.
Every Business Plan required an enormous amount of time, money, blood, sweat, tears, foul language, banging of fists on table, aspirin and gallons of coffee and several painstaking hours of research to find comparative data of similar companies in the geographic area of the client company.
The good news is all the Business Plans we finished and the contractors used ended up generating some very healthy cash flows and profits. Most of the Business Plan projects were abandoned because the contractor wanted instant results and would not work with the Law of Growth.
Every successful farmer lives by the Law of Growth: Plant Seeds / Nurture Them / Harvest Crops / Sell Them. When you think about it, most farmers work all year and may only see a few paydays; yet each one is like winning the lottery.
We started writing Business Plans on pads of paper with pencils in the 1970's, then in the 1980's started using computers, in 2004 we finally found a Business Planning software that actually worked as promised called Business Plan Pro by Palo Alto Software headquartered in Eugene Oregon.
Business Planning The Fast Easy Way:
We stuck with Business Plan Pro until we discovered something even better called LivePlan, which is also offered by Palo Alto Software as a replacement for the old Business Plan Pro. I met the requirements, attended the required classes and recently passed their rigorous exam to become an Expert Advisor Live Plan Certified.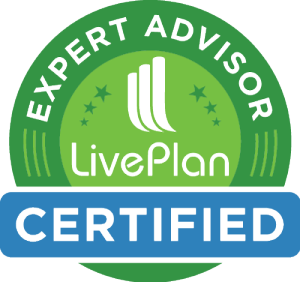 What This Means For Your Contracting Company:
LivePlan auto-magically links to QuickBooks and updates the data several times a day. The key is having accurate data in QuickBooks and since we only offer this service to our Outsoruced QuickBooks Contractor Clients you know your QuickBooks is up-to-date and ready to go! If you are not a client yet please contact Sharie 206-361-3950 or email sharie@fasteasyaccounting.com
Once we setup your LivePlan then all you do is login and review your reports, run "What If Scenarios", generate cash flow forecasts, Key Performance Indicator Reports and more.
---
Good News And Bad News:
If you or someone you know is a construction contractor, handyman, remodel contractor, sub-contractor or specialty contractor and located in the USA including Alaska and Hawaii then we can help because we have an team of professionals and a Contractors Bookkeeping System supporting you. If you or someone you know has any other type of company please contact the good people at LivePlan and tell them I recommended you.
You don't have to engage our services, LivePlan is available to everyone. The only thing we bring to the table is the foundation of QuickBooks Key Performance Indicator Reports designed for construction companies and QuickBooks Setup designed specifically for contractors like you!
---
We Remove Contractor's Unique Paperwork Frustrations
For Construction Company Owners who do not need the full power of QuickBooks for contractors and want 24/7 online access we offer Xero Accounting Online and we have custom setup for construction companies. Click Here For More.
This Is One More Example of how Fast Easy Accounting is helping construction company owners all across the USA including Alaska and Hawaii put more money in the bank to operate and grow your construction company. Construction accounting is not rocket science; it is a lot harder than that and a lot more valuable to people like you so stop missing out! Call Sharie 206-361-3950 or sharie@fasteasyaccounting.com and schedule your no charge one-hour consultation.
Profitable Contractors and Construction Company owners have known about the value of outsourced bookkeeping services and contractor coaching services like ours for a long time and now you know about it too!
We Scan Your Receipts And Invoices link the appropriate transactions to QuickBooks or Xero Accounting Online depending on the construction accounting service you are using and provide ongoing Cloud Based Contractors Bookkeeping Services by accountants who understand construction.

Thinking About Outsourcing Your Contractors Bookkeeping Services To Save Time And Money?
Click On The Button Below To Download A Free Guide
Need Help Now?
Call Sharie 206-361-3950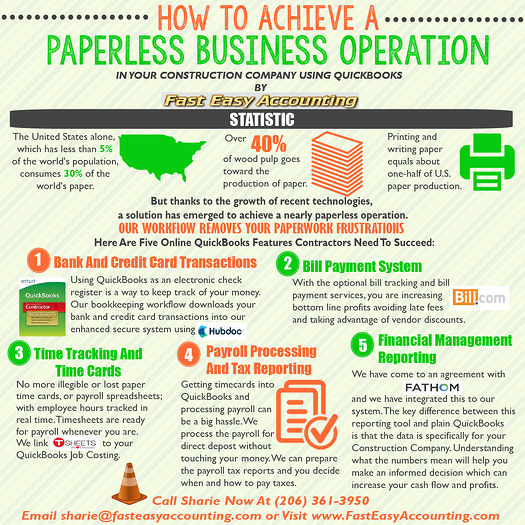 We Are Xero Accounting Experts Specializing In Construction Bookkeeping Services
About The Author:

Randal DeHart, PMP, QPA is the co-founder of Business Consulting And Accounting in Lynnwood Washington. He is the leading expert in outsourced construction bookkeeping and accounting services for small construction companies across the USA. He is experienced as a Contractor, Project Management Professional, Construction Accountant, Intuit ProAdvisor, QuickBooks For Contractors Expert and Xero Accounting Specialist. This combination of experience and skill sets provides a unique perspective which allows him to see the world through the eyes of a contractor, Project Manager, Accountant and construction accountant. This quadruple understanding is what sets him apart from other Intuit ProAdvisors and Xero accountants to the benefit of all of the construction contractors he serves across the USA. Visit http://www.fasteasyaccounting.com/randal-dehart/ to learn more.
Our Co-Founder Randal DeHart - Is a Certified PMP (Project Management Professional) with several years of construction project management experience. His expertise is construction accounting systems engineering and process development. His exhaustive study of several leading experts including the work of Dr. W. Edward Deming, Michael Gerber, Walter A. Shewhart, James Lewis and dozens of others was the foundation upon which our Construction Bookkeeping System is based and continues to evolve and improve. Check out our Contractor Success Map Podcast on iTunes and Follow Randal on Google+