---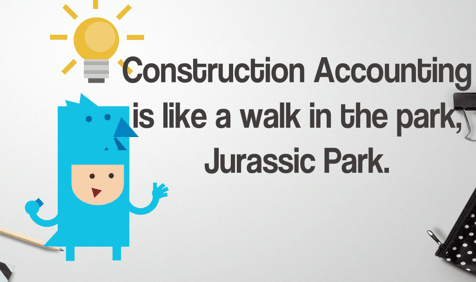 I have been working as a Webmaster at Fast Easy Accounting for over a year now and I can truthfully say, I enjoy my job. I have been exposed to researching and reading all about the construction industry and were given the right tools and resources to expand my skillset.


You, our visitors coming from this trade, must be thinking what do I know about this profession considering I am a web developer (if you haven't listened to Randal's podcast with me or would like to read my pilot blog post, please click here). Since my working hours are primarily dedicated to our online business presence - mainly website and social media, I took over our live online help for a couple of months. This experience, although not new to me, is something I look forward to and appreciate doing. It made me realized the purpose of my work in maintaining the website. I welcomed visitors and established a firsthand relationship with construction professionals in different parts of the world by responding to their queries or concerns in the chat box. Would you be interested to know what is the most recurring question in my everyday quick conversations I had with them?
It's about pricing, price quote, and the cost of our services. Of course, that is acceptable. It makes sense for you to take cautionary steps before diving in. We should all value our hard-earned money and if you prefer to look for better deals in order to save, by all means, do it.
Here is where I want you to keep an open mind. Prospective clients think that construction accounting is just like a walk in the park. What's so difficult about punching numbers and entering receipts? I can outsource a bookkeeper in Southeast Asia for a fraction of the cost. Or maybe my wife can handle that for free. Well, let me tell you a secret, that park is actually Jurassic Park. Yes, even for small business owners. You'd realize that soon enough when your kitchen island or dining table is filled with piles of paper while you're screaming from overwhelming administrative work. We can't emphasize it enough; Construction Accounting is different from Regular Accounting (as I've explained in my video below):
We understand that you are managing your own business and most of you work in the field as well. In doing so, you look for quick solutions and specific tools that are made for your trade and fits in your industry. Likewise, we would like to offer you services particular to what your company needs in consideration to your budget. Simply put, it would be hard for me to answer you right off the bat with overall cost or bookkeeping service charge. I won't be able to give you a specific number. That is the reason why we always say you only need to contact Sharie. You can set up a phone consultation with her to talk about your bookkeeping and accounting needs – at no cost. There you go, my answer is IT'S FREE! It's free to chat with Sharie.
Most of you have been in this trade long enough to identify tire-kickers from the real deal, I get that it's hard to decide and think straight when your mind is already occupied with other important company matters. But keep in mind, this is the financial department of your business, construction accounting is the heart of your organization. Your next best step is to call Sharie at (206) 361-3950 or email sharie@fasteasyaccounting.com to schedule your no-charge consultation.
---
Profitable Contractors and Construction Company owners have known about the value of outsourced bookkeeping services and contractor coaching services like ours for a long time and now you know about it too!
Thinking About Outsourcing Your Contractors Bookkeeping Services To Save Time And Money?
Click On The Button Below To Download A Free Guide
Contractors Bookkeeping Services Guide
Need Help Now?
Call Sharie 206-361-3950

Thank you for reading my blog post and listening to my podcast. Please know that we do care about you and your construction company regardless of whether you hire our services or not. For help with your accounting and bookkeeping needs please fill out the form on the right and we'll be in touch with you shortly.
---
About The Author:

Norhalma Verzosa is a Certified Construction Marketing Professional and works as the Webmaster of Fast Easy Accounting located in Lynnwood, WA. She has a Bachelor's Degree in Psychology and a Certified Internet Web Professional with a Site Development Associate and Google AdWords Search Advertising certifications. She manages the entire web presence of Fast Easy Accounting using a variety of SAAS tools including Hubspot, InfusionSoft, Shopify, and WordPress.