---
There will come a time when you will pass your construction company on to the next generation, sell it or simply close it down. If this is something, you are considering in the near future or perhaps several years down the road it is never too early to begin planning for it.
Prior Planning Prevents Poor Performance
Planning hurts! Because it involves "thinking" which is, some of the hardest work you will ever do and it is the most profitable in the long run. Just knowing the answers or at least having a strategy for finding answers can mean the difference between comfortable lifestyle and the all too common "Work-Till-You-Die" treadmill that far too many contractors are on.
Start by asking yourself two simple questions:
If your construction company were for sale, would you buy it?
How much would you be willing to pay for it?
---
Common Contractor Paradigms Of Mom And Dad Contractors
They are Dog And Pickup Truck or Salt Of The Earth Contractors and I love them all!
Construction Company frozen in time doing business the same way since they opened the doors
Worse yet there is an employee who is a Bad Bookkeeper, Incompetent Bookkeeper or and Embezzling Bookkeeper
Sons and Daughters grew up working in the family construction company and not allowed to initiate new ideas
The Paradigm that Sons and Daughters need to do everything themselves; just like they did. The "Joe Hardway Method"
Resistance to having websites, cloud services, online data storage and retrieval, old worn out office equipment
When Mom and Dad do let go they

want to take all of the money they have always taken plus more so they can travel
Please understand I love contractors because I have been blessed to grow up with a wonderful family that earned our daily bread as contractors. My Step-Father was one of the greatest men I have ever known was a "Salt Of The Earth Contractor" whom I did not really appreciate until I was married, living on my own. Once I discovered all of the things I took for granted, like food, clothing and shelter my eyes were opened. Thank goodness, he helped us make a smooth transition despite my youthful know-it-all arrogance, which quickly disappeared.
If you are considering passing your Construction Company to your heirs in the near future or perhaps several years down the road, it is never too early to begin planning for it. Here are four steps to get you started:
Step #1 - Your Story
Get a legal size pad of paper or open a word processor on your computer and write your story from the perspective of the future. Describe why you opened your contracting company, when it opened and describe some of the projects, good and bad you worked on. Tell what happened and which ones you had the most fun doing, most likely those are the ones you made the most money doing, and the ones that gave you the most trouble.
Step #2 - Lessons Learned
Write down what you would do different if you could start all over again. Which customers and projects would you avoid and which ones would you pursue? And list reasons why for each type?
Step #3 - Start Over
Remodel your current contracting company to be the one you would start if you could start over again. This may sound strange but it works. Just because you have done the same thing over does not mean you can never change. Change can be good! McDonalds started out to be a way for Ray Kroc to buy land and generate enough money to pay the mortgages and taxes. Now McDonalds has massive land holdings. Many people ended up doing something different from what they started after having discovered new and better paths and you can do it too!
Step #4 - Board Of Advisors
A Board of Advisors is NOT a Board of Directors. These are our Five Key People whom you are likely paying for their services, one way or another and not getting your money's worth. They are (1) Your Commercial Banker, (2) Your Construction Accountant, (3) Your Tax Preparer, (4) Your Commercial Attorney and (5) Your Financial Planner. They are less expensive in the long run than you can imagine and even a one person Handyman company can afford them. Learn more here...
---
Word To The Wise:
An old Maxim I like is "Early To Bed, Early To Rise, Know Your Numbers And Advertise". We have something similar Contractors Success M.A.P. in podcasts and webpages that I trust you will gain value from reading and listening too them. If you have questions or are interested in some guidance, please email Sharie@FastEasyAccounting.com or call her 206-361-3950
---
We Remove Contractor's Unique Paperwork Frustrations
For Construction Company Owners who do not need the full power of QuickBooks for contractors and want 24/7 online access we offer Xero Accounting Online and we have custom setup for construction companies. Click Here For More.
This Is One More Example of how Fast Easy Accounting is helping construction company owners all across the USA including Alaska and Hawaii put more money in the bank to operate and grow your construction company. Construction accounting is not rocket science; it is a lot harder than that and a lot more valuable to people like you so stop missing out! Call Sharie 206-361-3950 or sharie@fasteasyaccounting.com and schedule your no charge one-hour consultation.
Profitable Contractors and Construction Company owners have known about the value of outsourced bookkeeping services and contractor coaching services like ours for a long time and now you know about it too!
We Scan Your Receipts And Invoices link the appropriate transactions to QuickBooks or Xero Accounting Online depending on the construction accounting service you are using and provide ongoing Cloud Based Contractors Bookkeeping Services by accountants who understand construction.

Thinking About Outsourcing Your Contractors Bookkeeping Services To Save Time And Money?
Click On The Button Below To Download A Free Guide
Need Help Now?
Call Sharie 206-361-3950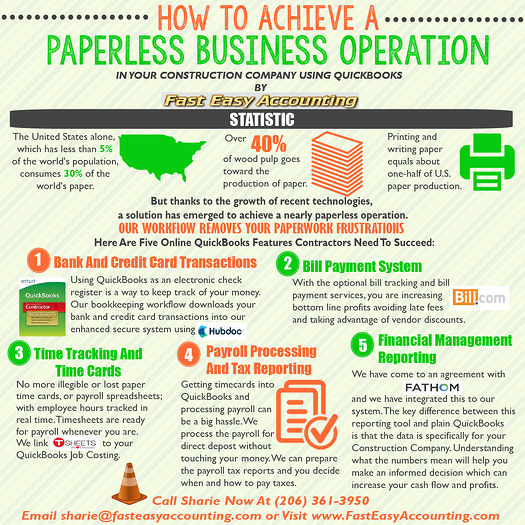 We Are Xero Accounting Experts Specializing In Construction Bookkeeping Services
About The Author:

Randal DeHart, PMP, QPA is the co-founder of Business Consulting And Accounting in Lynnwood Washington. He is the leading expert in outsourced construction bookkeeping and accounting services for small construction companies across the USA. He is experienced as a Contractor, Project Management Professional, Construction Accountant, Intuit ProAdvisor, QuickBooks For Contractors Expert and Xero Accounting Specialist. This combination of experience and skill sets provides a unique perspective which allows him to see the world through the eyes of a contractor, Project Manager, Accountant and construction accountant. This quadruple understanding is what sets him apart from other Intuit ProAdvisors and Xero accountants to the benefit of all of the construction contractors he serves across the USA. Visit http://www.fasteasyaccounting.com/randal-dehart/ to learn more.
Our Co-Founder Randal DeHart - Is a Certified PMP (Project Management Professional) with several years of construction project management experience. His expertise is construction accounting systems engineering and process development. His exhaustive study of several leading experts including the work of Dr. W. Edward Deming, Michael Gerber, Walter A. Shewhart, James Lewis and dozens of others was the foundation upon which our Construction Bookkeeping System is based and continues to evolve and improve. Check out our Contractor Success Map Podcast on iTunes and Follow Randal on Google+