Yes, I know, as a Web Content Developer and Fast Easy Accounting's resident Webmaster, this blog post could come quite a surprise to you but bear with me on this. I realized that writing about Online Marketing Trends and the power of Inbound Marketing doesn't obviously support a more traditional way of marketing, but I am taking this topic head on to bring you a different point of view. In this day and age, despite the steady growth of the web, still, about 10% of U.S. adults do not use the internet - that means not all your target clients are online. This is an opportunity for you to implement some offline marketing methods to add to your overall promotional strategy.
If you're just establishing your contracting business, have no office support or crew to assist you, and looking for ways to promote your company without spending a lot of money in advertising costs, then this could be the answer you're looking for. If you're a seasoned contractor and just want to do more networking in your spare time, this can also work for your company. Notice I mentioned "free" – however, this is going to cost you a bit (or more) of your time and effort (perhaps gas). Consider having a marketing budget if you want to take it up a notch and optimize your plan. For now, take out those box of business cards and shove it in your glove box and let's get rolling: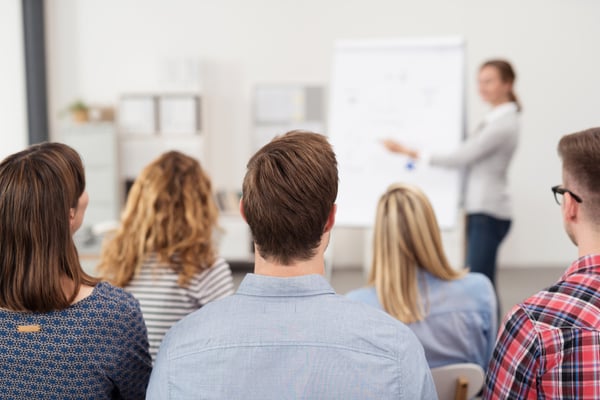 Start Local
Donate your service to silent auctions organized by your nearby elementary school. Participate in community events and church activities by doing volunteer tasks and complimentary work. You'll earn a favorable response from the locals, and there's a good chance you'll be their "(Insert-Service) Guy".
Attend Business Seminars/Conferences
Check your public library to see if they have any events and classes for small businesses and entrepreneurs. HubSpot has free in-person quarterly meetups that you can take advantage of even you're not a HubSpot user. Google is your friend, search for "free business workshop (class, event, seminar) in (insert city)." These meetings usually run for 2 to 3 hours, conferences can take up your whole day or days, but you'll learn a lot, gives you a chance to connect with like-minded people and offer cross promotions with local business owners. Win-win!
Referrals
Repeat clients that want to work with you are not just an excellent source of your regular revenue stream, they can also serve as reliable promoters that will advocate for your business. Encourage referrals and word-of-mouth testimonials from them by delivering exceptional service and share-worthy experience all the time. A simple phone call thanking your clients (or a direct-mail card) and contacts would go a long way in letting them know how much you value and appreciate their trust.
Coworking Place
Digital nomads are everywhere. I know because most of the professionals I work with, whether they're software vendors or freelance business owners, work whenever and wherever there's internet access. Coworking has become popular because it's not only about renting a physical place to do your work but establishing an affiliation. People who work remotely and in isolation now has an option to do their job alongside other professionals. So how does it relate to your networking endeavors? Search for a coworking place available in your city, call or email and schedule a time to visit (walk-ins are usually not a problem during business hours) although it cost money to rent a space or become a member, some offer a free trial so you can see if it's a good fit for you. Use that free hour/day to make your company known. Ask the manager if you could leave your business cards and exchange information from other patrons. Be authentic and show your interest.
Meet-ups
Clearly designed specifically to gather people in your community who share common interests. Meetup is a good source for mixers and groups and would be an excellent place to start exploring. Whether you want to participate in business discussions, join a movement, be in a book club, or practice a language, putting yourself out there to meet people through an activity you're passionate about is worthy of your time. As you get to know them, let them know about your business, too.
You might not consider this as a marketing strategy, but since all of the ideas requires a commitment to be seen and heard in person, I highly recommend joining a contractor/small business association. Although it costs money to register your company and become a member, being associated with a local trade industry group has its perks. For one thing, it gives your company credibility. What better way to reassure your clients that you're running a legitimate business than being part of a trustworthy contractor organization. Active involvement means you will gain valuable business insight and support from people who have walked the path you are treading, access to free training and workshops, and it will keep you up to date with your industry's code, standards, and best practices.
---
In conclusion:
The best part of offline marketing is being present in the moment. The ability to form a network and optimize opportunities as it comes will improve not only your business skills but also your interpersonal communication skills. Nothing compares to genuine human interaction. It fosters solid relationships and promotes personal connection. A well-organized offline marketing strategy integrated with your online advertising methods will build a strong and loyal client base for your brand-new contracting business.
---
Need Help Now?
Call Sharie 206-361-3950

Thank you for stopping by. Please know that we do care about you and your construction company regardless of whether you hire our services or not. For help with your accounting and bookkeeping needs please fill out the form on the right and we'll be in touch with you shortly.
---
About The Author:

Norhalma Verzosa is a Certified Construction Marketing Professional and works as the Webmaster of Fast Easy Accounting located in Lynnwood, WA. She has a Bachelor's Degree in Psychology and a Certified Internet Web Professional with a Site Development Associate, Google AdWords Search Advertising, and HubSpot Academy certifications. She manages the entire web presence of Fast Easy Accounting using a variety of SaaS tools including Hubspot, InfusionSoft, Shopify, and WordPress.