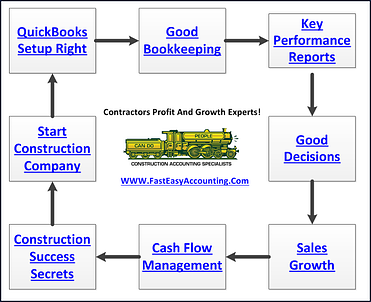 Stop Being - At the mercy of a bad bookkeeper! Now you can have a professional bookkeeper and access your QuickBooks anytime! One of the biggest "Ah-Ha Moments" our clients experience is when they discover they can access their QuickBooks file and the reports they need anytime day or night, including weekends and holidays 24 hours a day, 7 days a week!
We Are - Construction Bookkeeping And Accounting specialists highly skilled with QuickBooks For Contractors
Imagine Push One Button For Each KPI Report:
Before Personal Computers - Business owners relied on secretaries to type letters and a combination of Bad Bookkeepers and Professional Bookkeepers to generate reports.
Business Owners - And managers were at the mercy of staff members. Things got done when and if staff members were in the mood to work and if they were not performing in any drama scenes.
Early Word Processing - And spreadsheet tools were assigned to the secretaries and a combination of Bad Bookkeepers and Professional Bookkeepers to learn and use.
Early Adopter Businesses Owners - Earned more money than their competition because they harnessed the power of technology, understood the value of a Strategy and became less dependent on staff to get letters and reports generated. Those business owners and managers experienced tremendous increases in production and profits.
History is being repeated as CPA's Bad Bookkeepers and Tax Accountants tell business owners:
It is impossible for more than one person to be inside QuickBooks at a time!

Putting QuickBooks on a computer server is unreliable and expensive to setup and maintain!

#1 Is Disturbing - Because it is an attempt to control and manipulate business owners and managers into believing they need to rely on the "Grand PooBahs" to pass out reports when and if they deem them necessary. We believe knowledge is power and that you need 24/7 access to your QuickBooks and your Excel reports in order to make strategic decisions about the direction of your company.
#2 Is False - Because with a simple network in your office many people can be on QuickBooks at the same time. However, maintaining the stability of QuickBooks and having reliable backups could be a problem. As many business find out the hard way if QuickBooks is not backed up and a disaster occurs they are out of business quick.
#3 Is True - Because Intuit's QuickBooks Online it is not a fully functional desktop version which means it has very limited invoicing, payroll and reporting capabilities. If you are a construction firm operating in Washington State you may be experiencing some serious problems with DOR, SUI and L&I reporting. If you are using QuickBooks Online we can convert the data into our online desktop version for you...call Sharie at 206-361-3950
#4 Has Some Truth - Because computer servers are expensive to buy and maintain. And part of the maintenance is making sure the servers are in a secured location with armed guards, redundant electricity backups, offsite electricity in another part of the country away from the main facility in case of major catastrophes like floods, earthquakes, wild fires or terrorist attacks.
In my opinion there are four main reasons other services do not allow access to QuickBooks:
It's Serious - To suggest someone is hiding something; however, there is a lot that of going on all over the world and it is a huge problem in the construction industry
Test Your Bookkeeper - Ask for a Profit & Loss and a Balance Sheet that you can take to your banker or tax preparer.
If It Takes Longer Than - Ten minutes you have may have just uncovered a problem.
Get Serious About - One of the most important areas of your business; the contracctors accounting and bookkeeping system and hire us to help you achieve your definition of success
In Most Cases We Cost Less Than You Are Spending Now!

QuickBooks Expert Specializing In Construction Bookkeeping Services
About The Author:

Randal DeHart, PMP, QPA is the co-founder of Business Consulting And Accounting in Lynnwood Washington. He is the leading expert in outsourced construction bookkeeping and accounting services for small construction companies across the USA. He is experienced as a Contractor, Project Management Professional, Construction Accountant, Intuit ProAdvisor and QuickBooks For Contractors Expert. This combination of experience and skill sets provides a unique perspective which allows him to see the world through the eyes of a contractor, Project Manager, Accountant and construction accountant. This quadruple understanding is what sets him apart from other Intuit ProAdvisors and accountants to the benefit of all of the construction contractors he serves across the USA. Visit http://www.fasteasyaccounting.com/randal-dehart/ to learn more.