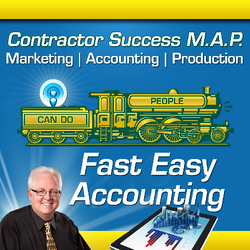 Most contractors are skilled technicians who learned their trade craft in an apprenticeship program taught by a Master Technician, by experience or a combination of these methods. There is a way to learn to operate your contracting company from a Master Contractor.
Over a course of time they developed a Paradigm, Mindset, Understanding, whatever word makes the most sense to you about how construction companies operate based upon their experiences.
In their experience production, getting work done is the most important part of the business because that is what they always did as an employee.
Since all learning is based upon connecting new things to things we already understand most contractors fall into a trap of only knowing what they know and not knowing what they don't know.
Learning to own and operate a successful construction company is very similar to learning a construction trade. There are only two ways to do it. Self-taught and learning from someone who is already mastered the skill.
Self-taught means making a lot of the same mistakes over and over and it takes a long time. Learning from a master is much faster and in the end allows the student the opportunity to go beyond the teachings of the master and have an even greater success.
In the best case scenario the student becomes a master and then continues the relationship with their master as a colleagues and both people form what Napoleon Hill referred to as a Master Mind and together the two of them become even more skilled than they would if the continued working independently.
Taken to the next level more masters are invited to become a part of the Master Mind Group and the net result is the Rising Tide Raises All Ships and everyone achieves more individual wealth in money, friendships and long term lasting relationships than anyone could have possibly imagined.
Let me ask you a few questions and you decide if M.A.P. is something you may be interested in discovering more about.
Are You Experiencing Any Of These "Symptoms" In Your Company?
▪ Totally overwhelmed by construction accounting and bookkeeping
▪ Confused about how to enter transactions into QuickBooks or whatever accounting system you are using
▪ Anxious about Quarterly Payroll Tax Returns / Sales Tax Returns / Workers Comp Tax Returns
▪ Frustrated with your accountant because they do not understand how construction works
▪ Unsure about whether to hire a bookkeeper or a bookkeeping services firm
▪ Baffled by webinars for QuickBooks setup that don't apply to construction
▪ Baffled by webinars on how to setup QuickBooks for your contracting company
▪ And then How to Systematize it all into a contracting company that runs smoothly without you having to constantly make decisions and solve problems
You're wondering, "Will I EVER figure this out and finally crack the code to my financial freedom?"
I'm here to tell you YES! Click Here To Sign up for your Complimentary CLARITY Strategy Session
It's your time and it's your time to Truly Shine and Create Your Ideal Contracting Company.
Click Here To Sign up for your Complimentary CLARITY Strategy Session with Sharie to assist you in focusing your energy and finding out the best path to success for your Contracting Company.
Profitable Construction - Companies have known about the value of outsourced bookkeeping services for a long time and now you know about it too!
We Scan Your Receipts And Invoices link them to your QuickBooks or Xero transactions where it is appropriate and give you back a CPA-ready packet for your tax return and we provide ongoing Cloud Based Contractors Bookkeeping Services by accountants who understand construction.
Thinking About Outsourcing Your Contractors Bookkeeping Services To Save Time And Money?
Click On The Button Below To Download A Free Guide

Need Help Now?
Call Sharie 206-361-3950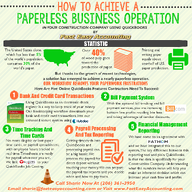 We Are Xero Accounting Experts Specializing In Construction Bookkeeping Services
About The Author:
Randal DeHart, PMP, QPA is the co-founder of Business Consulting And Accounting in Lynnwood Washington. He is the leading expert in outsourced construction bookkeeping and accounting services for small construction companies across the USA. He is experienced as a Contractor, Project Management Professional, Construction Accountant, Intuit ProAdvisor, QuickBooks For Contractors Expert and Xero Accounting Specialist. This combination of experience and skill sets provides a unique perspective which allows him to see the world through the eyes of a contractor, Project Manager, Accountant and construction accountant. This quadruple understanding is what sets him apart from other Intuit ProAdvisors and Xero accountants to the benefit of all of the construction contractors he serves across the USA. Visit http://www.fasteasyaccounting.com/randal-dehart/ to learn more.
Our Co-Founder Randal DeHart - Is a Certified PMP (Project Management Professional) with several years of construction project management experience. His expertise is construction accounting systems engineering and process development. His exhaustive study of several leading experts including the work of Dr. W. Edward Deming, Michael Gerber, Walter A. Shewhart, James Lewis and dozens of others was the foundation upon which our Construction Bookkeeping System is based and continues to evolve and improve. Follow Randal on Google+