Invoice Your Customer At The Jobsite With Smartphone Or Tablet And QuickBooks Desktop Version In The Cloud

The Old Way Contractors Invoiced was as much or more work than doing of the job itself. In the past you had to make notes, collect customer information, go to your office, open QuickBooks or whatever construction accounting software you are using, wait for everything to load up and then try to find the paperwork, open the invoice screen and fill it out and if you were lucky you could email it from QuickBooks to your customer. Then you waited for the check in the mail to arrive to get paid.
Save Time And Money By Invoicing With Smartphone And Bill.Com Linked To

QuickBooks Desktop Version In The Cloud



Three Things Contractors Need Cash, Cash And More Cash When you or your employee finishes a job you need to get paid and I mean the sooner the better! Use a smartphone, electronic tablet or web enabled device, create the invoice and email it! QuickBooks Desktop Version In The Cloud will have updated your Sales Report, Profit & Loss Report, Balance Sheet Report and a lot more reports before you finished reading this sentence.
The Key To Making QuickBooks Desktop Version In The Cloud Work For Construction Contractors is having it properly setup, linked to Bill.Com and maintained. Invest the money and let us do it for you, right, the first time! Don't be fooled into thinking just because it is somewhat easy for small retail companies that it will be easy for you to perform a QuickBooks setup for your construction company. The reason is simple; the difference between a construction accounting and regular accounting is similar to the difference between a shovel and a backhoe.
Thinking Anyone Can Do A QuickBooks Setup For Construction is like thinking anyone can get on a backhoe and run it. Especially if you have watched the professionals do it for several years as I have because they make it look so "Easy..." Famous last words....
In A Failed Attempt To "Save Money" I rented a backhoe, once, and ripped several underground utility lines out of the ground and caused a lot of damage in less than thirty minutes. The total cost of the job skyrocketed and let's just say I understand the value of professional services and should have known better...ah the "Halo Effect"...I am so good at construction accounting of course I can operate a backhoe...NOT!
Don't Try To Save Money On Construction Accounting because it is a lot harder than it looks. for more on this click on "Construction Accounting Vs. Regular Accounting" and read an article I wrote about it. A word to the wise could save you a lot more money than I lost trying to operate a backhoe.
If your QuickBooks Setup Is Not Working the way you want, no worries, we can help. Contact Sharie 206-361-3950 or sharie@fasteasyaccounting.com.
Do You Own A Small Construction Contracting Company?

Strategic Construction Bookkeeping Services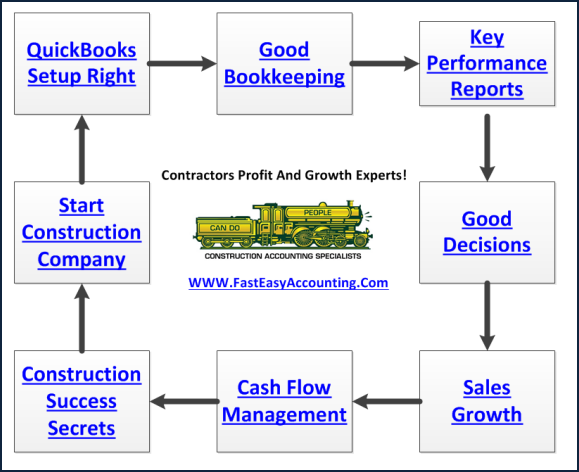 You May Be Able To have your bookkeeping done professionally by us for less than you are spending now!
Contractors Ask How - Can we save them $100's or even $1,000's dollar a year when they can do bookkeeping or hire a Cheap Bookkeeper? Read our article Cheap Bookkeepers
Our Contractor Bookkeeping System - is your solution. In 1991 we developed a Comprehensive Construction Bookkeeping System Bookkeeping system to add useful content to QuickBooks in order to make it work for construction companies. Since then we have made thousands of improvements and it is continuously being improved, updated, innovated and enhanced.
Having Worked With Contractors - And seen 100's of QuickBooks files, met with lots of bankers, bonding companies, commercial insurance brokers in addition to our own experiences owning and operating construction businesses we understand what is needed.
Having owned and operated - Several construction businesses over the past 30+ years we understand a thing or two about best practices when it comes to Construction Bookkeeping And Accounting and operating a profitable construction business.
One Key To Success - Is delegating stuff you don't like doing because you aren't doing it right anyway.
Our Contractor Bookkeeping System Delivers - Bookkeeping right and on time because we are not at the mercy of our bookkeeping staff.
What You Get With Our Strategic Bookkeeping Service:
Optional Job Costing Reporting Services Available Click Here For More...
Consistency Is The Key To An Effective And Efficient Construction Bookkeeping Operation
Our System Is An Assembly Line - Where bookkeeping tasks are divided into groups and assigned by skill level. And everything is reviewed by competent accountants who cost less and we pass the savings on to you!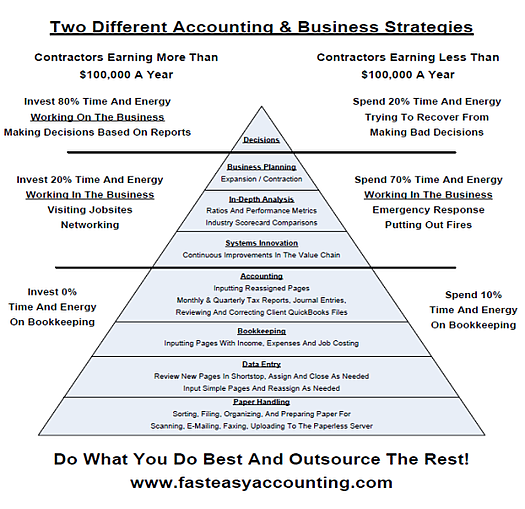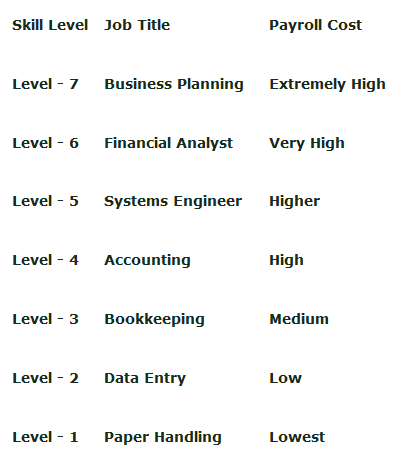 Do You Know What It Costs To Have A Regular Bookkeeper On Your Payroll? Roughly $25.29 Per Hour!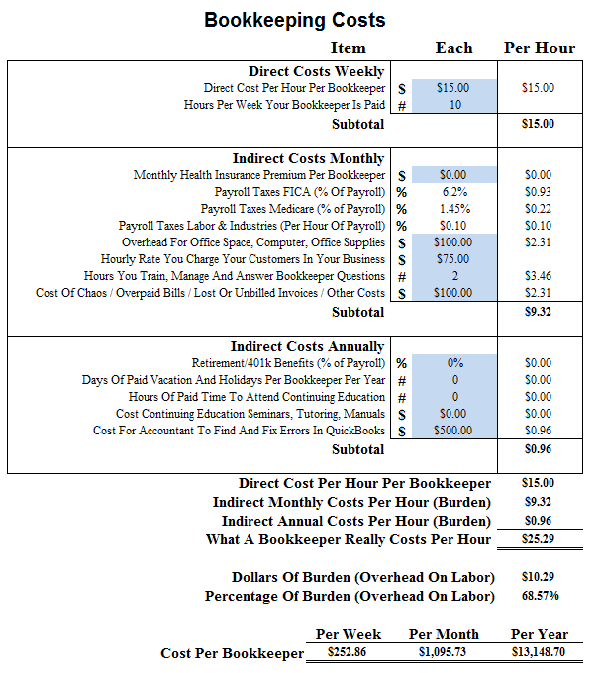 Don't Get Caught Between A Rock And A Hard Place
Overpaying Regular Bookkeepers When You Can
All Work Is Done In Lynnwood Washington
----------------------------------------------------------------------------
Cloud Based Internet Access To QuickBooks Desktop Version

Click On The Button Below
Imagine Being Able To Push One Button And Have:
Cash Report anytime YOU want it!

Receivables report anytime YOU want it!

Payables report anytime YOU want it!

Profit & Loss statement anytime YOU want it!

Balance Sheet report anytime YOU want it!

Job Costing report anytime YOU want it!

Estimates Vs. Actuals report anytime YOU want it



Here Is What Else You Get:
----------------------------------------------------------------------------
Screenshot Taken In Our Office In Lynnwood Washington
QuickBooks Runs On High-Speed Servers
In A Building With Armed Guards
And Highly Trained Technicians

English speaking, U.S. Based tech support for server support
We maintain and support your QuickBooks data file and reports
QuickBooks software maintenance updates are automatically applied
---------------------------------------------------------------------------------
Your QuickBooks Command And Control Dashboard!
Paperless document system for storing, retrieving, printing and emailing
Microsoft Word is loaded on the server for your use
Microsoft Excel is loaded on the server for your use
----------------------------------------------------------------------------


Profitable Construction - Companies have known about the value of outsourced bookkeeping services for a long time and now you know about it too!
For Construction Company Owners who do not need the full power of QuickBooks for contractors and want 24/7 online access we offer Xero Accounting Online and we have custom setup for construction companies. Click Here For More.
We Scan Your Receipts And Invoices link them to QuickBooks transactions where it is appropriate and give you back a CPA-ready packet for your tax return and we provide ongoing Cloud Based Contractors Bookkeeping Services by accountants who understand construction.
Need Help Now?
Call Sharie 206-361-3950
We Are QuickBooks Experts Specializing In Construction Bookkeeping Services
About The Author:
Randal DeHart, PMP, QPA is the co-founder of Business Consulting And Accounting in Lynnwood Washington. He is the leading expert in outsourced construction bookkeeping and accounting services for small construction companies across the USA. He is experienced as a Contractor, Project Management Professional, Construction Accountant, Intuit ProAdvisor, QuickBooks For Contractors Expert and Xero Accounting Specialist. This combination of experience and skill sets provides a unique perspective which allows him to see the world through the eyes of a contractor, Project Manager, Accountant and construction accountant. This quadruple understanding is what sets him apart from other Intuit ProAdvisors and Xero accountants to the benefit of all of the construction contractors he serves across the USA. Visit http://www.fasteasyaccounting.com/randal-dehart/ to learn more.
Our Co-Founder Randal DeHart - Is a Certified PMP (Project Management Professional) with several years of construction project management experience. His expertise is construction accounting systems engineering and process development. His exhaustive study of several leading experts including the work of Dr. W. Edward Deming, Michael Gerber, Walter A. Shewhart, James Lewis and dozens of others was the foundation upon which our Construction Bookkeeping System is based and continues to evolve and improve. Follow Randal on Google+