Let's Run The Numbers
Without Snacks And Beverages: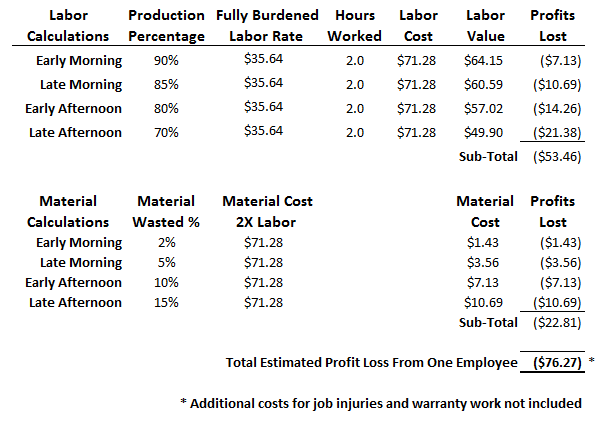 With Snacks And Beverages: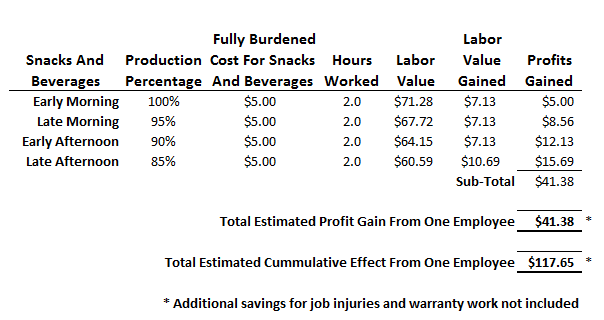 This Example Shows profits that could be slipping through your fingers and you didn't even know it. "Profits Are Made In The Office, Not In The Field" - Randalism
What You Don't Know - Can destroy profitability because it is hidden. If you don't know how to analyze your QuickBooks reports get someone that does, perhaps Fast Easy Accounting.
If you ever wonder how I discovered these ways to optimize profits in a construction company all I did was invest several decades learning, studying and analyzing the principles that all successful companies have in common.
Perhaps you would enjoy some light reading. Download the two e-Books below to get started:
Or if you simply contact us for a FREE one hour consultation to learn how we may be able to help you get control of your contractors bookkeeping services, earn more money and have a better financial future.
Most of our clients have 1 - 10 employees, one location, most operate from their house and have annual sales under $1,000,000. A few of our construction company clients are in the $1M to $5M and only a handful are over $5M in annual sales.
QuickBooks Expert Specializing In Contractors Bookkeeping Services
About The Author:

Randal DeHart, PMP, QPA is the co-founder of Business Consulting And Accounting in Lynnwood Washington. He is the leading expert in outsourced construction bookkeeping and accounting services for small construction companies across the USA. He is experienced as a Contractor, Project Management Professional, Construction Accountant, Intuit ProAdvisor and QuickBooks For Contractors Expert. This combination of experience and skill sets provides a unique perspective which allows him to see the world through the eyes of a contractor, Project Manager, Accountant and construction accountant. This quadruple understanding is what sets him apart from other Intuit ProAdvisors and accountants to the benefit of all of the construction contractors he serves across the USA. Visit http://www.fasteasyaccounting.com/randal-dehart/ to learn more.