QuickBooks Training

Live Instructor Led Webinar For General Business Private Training By Appointment

Contractors and other small business owners having nothing to do with construction have told us how frustrated they are about the amount of time, money and effort they are losing from bad bookkeeping and bad bookkeepers.
Because of your feedback we have decided to restart our QuickBooks Training Programs Desktop Versions. Our QuickBooks Training Programs are open to everyone not just contractors. We also offer these QuickBooks Training Programs in classroom setting at our headquarters in Lynnwood Washington.
Your Instructor
Randal DeHart, PMP, QPA is the co-founder of Business Consulting And Accounting in Lynnwood Washington. He is the leading expert in Outsourced Construction Bookkeeping and Construction Accounting Services for small construction companies across the USA. Certified as a Project Management Professional (PMP) and an Intuit QuickBooks ProAdvisor. He is a QuickBooks expert having used QuickBooks from its first release in DOS version in the early 1990's through the most current version.
His construction experience includes new construction, commercial tenant improvement, residential remodel, service and repair, Commercial Journeyman Plumber (PL01) and owner operator of several construction companies, Project Management Professional and construction accountant.
His background provides a unique perspective which allows him to see the world through the eyes of a contractor, project manager and accountant and most important a construction accountant. This quadruple understanding sets him apart from other Intuit QuickBooks ProAdvisors and accountants in the arena.
QuickBooks Training General Business Webinar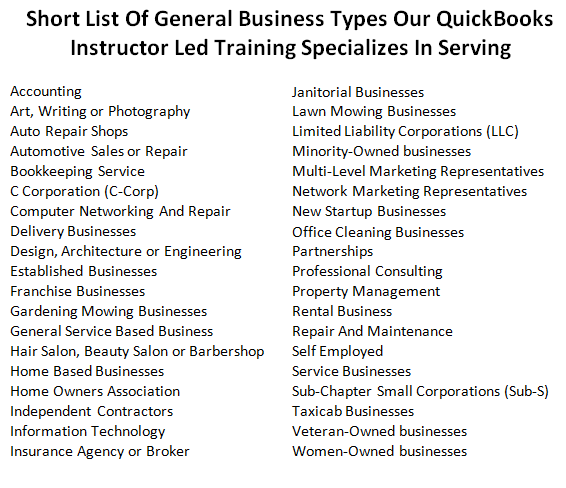 If you do not see your business listed please contact Sharie 206-361-3950 or sharie@fasteasyaccounting.com
QuickBooks Training

Program For General Business Details
QuickBooks Training Program For General Business Webinars - Will be offered using an online meeting service.

One To Ten People Can Attend - For the same low price. We encourage you to have everyone who will have anything to do with QuickBooks at the training session.
You Will Need High Speed Internet Access - If you have dial-up internet access, we strongly recommend that you get access to high-speed internet for your class.
You Will Need A Computer With - Speakers or headphone jack in order to hear the instructor via your computer. You'll be able to ask questions via chat or out loud if your computer is equipped with a microphone.
A Quiet Location Without Interruptions - To avoid distractions, we recommend you find a location where you won't be interrupted and can focus on the material.
Bring A List of Your QuickBooks Questions - This is your golden opportunity to have a QuickBooks expert to answer all of your QuickBooks questions except QuickBooks For Contractors or construction accounting. Make a list and bring it to class. Your instructor will do their best to answer all your questions.
Questions About QuickBooks For Contractors - And construction accounting issues are covered Private QuickBooks Training click here for more information.
QuickBooks File - We can train you by using your QuickBooks company file or one of our sample QuickBooks company files.
QuickBooks Versions And Years Supported:
QuickBooks Pro 2008 To Present Year
QuickBooks Premier 2008 To Present Year

QuickBooks Premier For Contractors 2008 To Present Year
QuickBooks Enterprise 2008 To Present Year

QuickBooks Enterprise For Contractors 2008 To Present Year
You Decide What - You want your private accounting instructor to train you on. Some business owners have found it helpful to have an outline like the one shown below to use as a menu to pick and choose. You are welcome to change direction and alter the course of your training as you see fit.
Most Popular

QuickBooks Training Modules:
Level I - Basic Bookkeeping For General Business
Lesson 01: Getting Started
Lesson 02: Setting up QuickBooks
Lesson 03: Working with Lists
Lesson 04: Working with Bank Accounts
Lesson 05: Using other Accounts in QuickBooks
Lesson 06: Entering Sales Information
Lesson 07: Receiving Payments and Making Deposits
Lesson 08: Entering and Paying Bills
Level II - Basic Bookkeeping For General Business
Lesson 09: Analyzing Financial Data
Lesson 10: Setting up Inventory
Lesson 11: Tracking and Paying Sales Taxes
Lesson 12: Doing Payroll with QuickBooks
Lesson 13: Estimating and Progress Invoicing
Lesson 14: Tracking Time
Lesson 15: Customizing Forms and Writing QuickBooks Letters
Lesson 16: Multi-Currency
Summary
Disclaimer Regarding Accounting: Mastering accounting and bookkeeping is a skill that requires a minimum of 10,000 hours of intense training and practice and many volumes of instruction manuals and workbooks.
Our Intent - Is to provide a brief overview of bookkeeping services. It is not to provide you with all of the skills to become a fully qualified QuickBooks accountant able to serve all of the businesses listed above but to provide you with training in order to handle most of the QuickBooks needs in your company.
Ongoing Support - We offer fee based ongoing support for QuickBooks and QuickBooks for contractors regardless of whether or not you have taken any of our QuickBooks Training Program For General Business or our QuickBooks Training Program For Construction Contractors.
For More Information Please Contact Sharie 206-361-3950 or sharie@fasteasyaccounting.com
Need Help Now?
Call Sharie 206-361-3950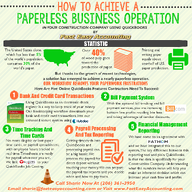 QuickBooks Expert Specializing In Construction Bookkeeping Services