Side Jobs Are Like The Weather
Everybody Talks About It And
Nobody Can Stop It 100%
I have been following some discussions on a variety of construction networking sites and came across this hot topic that I hope will benefit contractors who read it.
There Are Two Main Camps:
#1 Contractors who go to great lengths to stop it.
#2 Contractors who think it is O.K. under certain conditions or they just accept it.
My Primary Concern Is Helping Contractors Increase Cash Flow And Profits
Personally I do not believe it can be stopped, I don't like it. We have a set of processes and procedures to help our outsourced construction accounting clients identify and eliminate some of it; however rather than going into that let's instead let's turn our attention on how to manage some of the unforeseen risks that can destroy your construction company.
Most contractors have insurance to protect themselves and their construction company from catastrophic risks when something goes wrong. Yet there is one risk that no insurance carrier that I am aware of will protect contractors from and that is the "Monday Morning I Got Hurt On The Job And Somebody's Going To Pay" situation.
This happens rarely; however, when it does it can be financially devastating and the costs can easily escalate to just a little more than a contractor's personal and business net worth combined.
Here Is How It Works:
Step #1 Construction worker finishes the work week on Friday afternoon and spends part of the weekend on a "Side Job". It does not matter where the job, tools, equipment and material came from.
Step #2 While working on the side job they pull a muscle, injure their back or any number of other things.
Step #3 They use aspirin or some type of pain medication to manage the pain and mask any symptoms like limping, frowning or being hunched over so they can arrive at your jobsite on Monday morning.
Step #4 Sometime before lunch they appear to have suffered an injury that will require a doctor's care, possibly some therapy and perhaps even some paid leave.
Please understand I empathize with the hard life of a construction worker having spent a number of years as a licensed journeyman plumber and later as a contractor before going back to construction accounting.
The process described is not academic, it is from first hand observation and from seeing it occur to some of our outsourced construction accounting services clients. In a few cases we were able to help contractors avoid financial harm and in other cases the contractor simply did not want to believe their construction workers would do such a thing. Read more about construction worker thinking patterns in our Construction Psychology Section.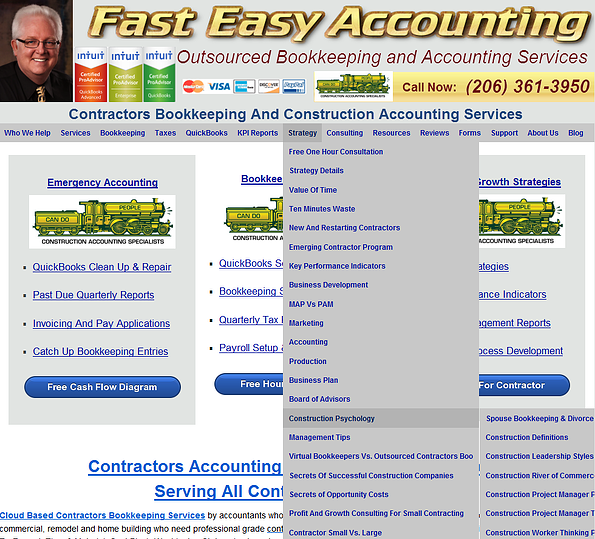 I empathize with a construction worker who needs to make money on the side in some cases just to put food on the table and take care of a family.
I also empathize with the contractor who suffers financially from a "Monday morning injury". In a few rare cases a chain of events has been set in motion which has led construction company owners to decide to reduce work staff or close down completely if lawyers get involved. Enough said.
QuickBooks Expert Specializing In Construction Bookkeeping Services
About The Author:

Randal DeHart, PMP, QPA is the co-founder of Business Consulting And Accounting in Lynnwood Washington. He is the leading expert in outsourced construction bookkeeping and accounting services for small construction companies across the USA. He is experienced as a Contractor, Project Management Professional and Construction Accountant and Intuit ProAdvisor. This combination of experience and skillsets provides a unique perspective which allows him to see the world through the eyes of a contractor, Project Manager, Accountant and construction accountant. This quadruple understanding is what sets him apart from other Intuit ProAdvisors and accountants to the benefit of all of the construction contractors he serves across the USA. Visit http://www.fasteasyaccounting.com/randal-dehart/ to learn more.