During QuickBooks setup and especially QuickBooks for contractors one of the most dangerous and difficult steps is setting the Chart of Accounts.
Get this one thing right and your QuickBooks for contractors has a good chance of generating useful financial reports and job costing reports. Get it wrong and no matter who handles your contractors bookkeeping services needs you will never get useful reports - in fact, the reports you do get could lead you to make decisions based upon bad information that could cripple or destroy your entire construction company.
I Trust You Will Use This Checklist And That It Helps You!
Step One - Which of the Four Types of Contractors best describe your construction company. Dog and Pickup Truck, Salt of The Earth, Professional or Enterprise? For a full description of each one click here.
Step Two - What type of construction is your construction company involved with? Land developer, spec home builder, custom home builder, general contractor, remodel contractor, specialty trade contractor, subcontractor, handyman contractor, commercial tenant improvement contractor or another type of contractor?
Step Three - Invoicing issues related to how you are being paid. Are you doing large projects requiring a schedule of values related to percentage of completion and change order management with progress invoicing and payment applications? Are you getting job deposits? Is there retention being withheld and are you withholding retention? Are there any back charge issues to be tracked?
Sample Chart of Accounts Groups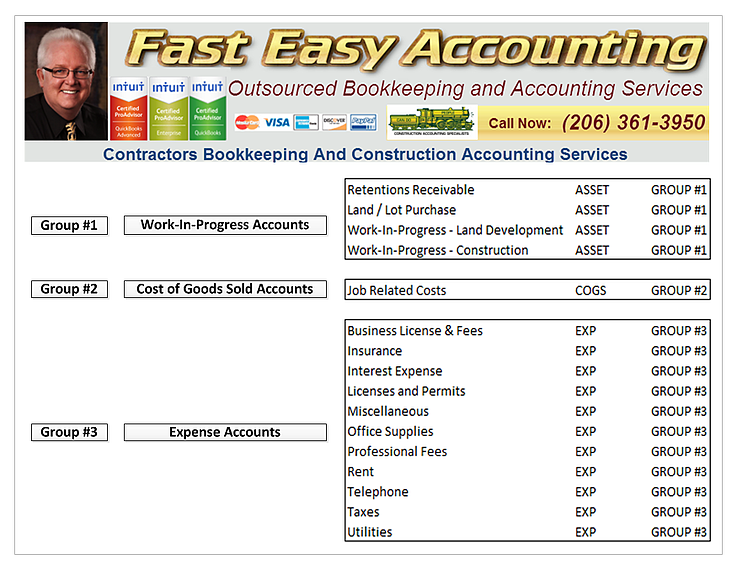 Land Developers And Home Builders - Will need work-in-progress accounts from group #1 to keep track of all of the costs being accumulated and cost of goods sold accounts group #2 when it is time to record the sale of lots, land and finished homes and finally expense accounts from group #3 to keep track of expenses.
Contractors Working Under Percentage Of Completion - May need the same accounts as land developers and home builders depending on several variables including the need to report over and under billing.
All Other Contractors - Will normally only need accounts from group #2 and #3.
Contractors Who Benefit From Professional QuickBooks Setup

New Construction Speculative - Land developers, home builders and light commercial builders. These are the contractors who build something in hopes a buyer will emerge during or shortly after the building is built
New Construction Custom - Builders of residential and light commercial buildings who build something specific for a client.
Remodel Contractors - Residential And Light Commercial Tenant Improvement Contractors
Trade contractors - Plumbers, Electricians, HVAC, Flooring, Sheetrock, Painters, Landscapers and others.
Service and Repair Contractors - companies like drain cleaners, emergency service electricians etc.
A lot of information was covered in a short space and believe it or not I actually condensed it down to the most important points. If you are a contractor I sincerely encourage you to contact us about QuickBooks setup, QuickBooks cleanup, QuickBooks catch up and general contractor bookkeeping services. You will be glad you did!
Profitable Construction - Companies have known about the value of outsourced bookkeeping services for a long time and now you know about it too!
We Scan Your Receipts And Invoices link the appropriate transactions to QuickBooks or Xero Accounting Online depending on the construction accounting service you are using and provide ongoing Cloud Based Contractors Bookkeeping Services by accountants who understand construction.
Thinking About Outsourcing Your Contractors Bookkeeping Services?
Click On The Button Below To Download A Free Guide

Fill

Out The Form And Get The Help You Need!
Need Help Now?
Call Sharie 206-361-3950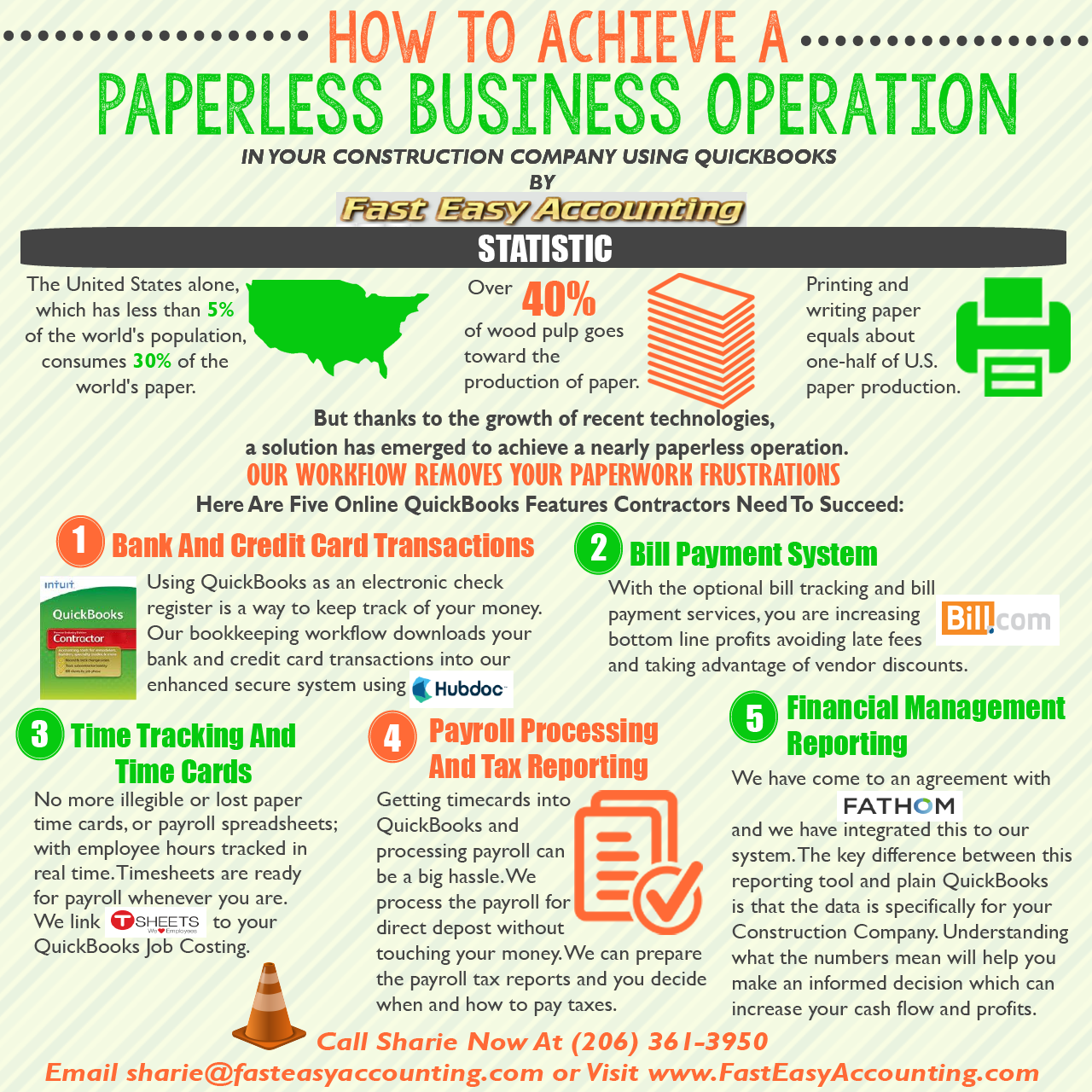 About The Author:
Randal DeHart, PMP, QPA is the co-founder of Business Consulting And Accounting in Lynnwood Washington. He is the leading expert in outsourced construction bookkeeping and accounting services for small construction companies across the USA. He is experienced as a Contractor, Project Management Professional, Construction Accountant, Intuit ProAdvisor, QuickBooks For Contractors Expert and Xero Accounting Specialist and Bill.Com Certified Guru. This combination of experience and skill sets provides a unique perspective which allows him to see the world through the eyes of a contractor, Project Manager, Accountant and construction accountant. This quadruple understanding is what sets him apart from other Intuit ProAdvisors and Xero accountants to the benefit of all of the construction contractors he serves across the USA. Visit http://www.fasteasyaccounting.com/randal-dehart/ to learn more.
Our Co-Founder Randal DeHart - Is a Certified PMP (Project Management Professional) with several years of construction project management experience. His expertise is construction accounting systems engineering and process development. His exhaustive study of several leading experts including the work of Dr. W. Edward Deming, Michael Gerber, Walter A. Shewhart, James Lewis and dozens of others was the foundation upon which our Construction Bookkeeping System is based and continues to evolve and improve. Follow Randal on Google+