Apprentices are one of my favorite groups of construction workers because they provide a never ending supply of good clean humor. For the record I have a deep respect and sincerely appreciate all apprentices everywhere for they are the men and women who continually replenish the supply of skilled Journeymen and are vital members of the greatest industry on earth.
Having served an apprenticeship in plumbing and passed the Washington State Journeyman Plumber Exam PLO1 in 1981 this article comes from the heart of someone who understands the good times while serving an apprenticeship.
After becoming a Journeyman I spent several wonderful years in the trades as a construction worker and later as a contractor. So these observations are from first-hand experience. All things considered I have fond memories of the good times spent on a variety of residential and commercial jobsites.
Over the next ten years I paid my dues to the trade by mentoring several apprentices and most of them went on to become phenomenal Journeymen and enjoyed long and profitable careers.
The diagrams and information presented here are from journals and notebooks of my own experiences as an apprentice and my observations of the behavioral traits of construction workers, contractors, engineers, architects and other people who are involved in construction.
All apprenticeship programs regardless of the industry have one thing in common the Four Levels Of Learning.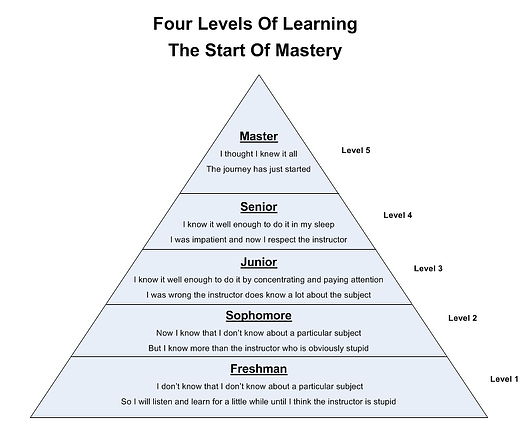 Being an apprentice is an interesting phenomenon where otherwise intelligent people regress into a mental state just above plant life because they are allowing massive amounts of information to pass by their amygdala and go directly into their cerebral cortex to be stored in long term memory.
While in training mode the apprentice's muscle memory is being altered at the cellular level to do things that do not make sense at the time. If they stick with the process they will come out the other side very intelligent and highly skilled Journeymen or they will quit and go into something less stressful like bomb disposal.
Every apprentice, me included, has experienced everything listed below. This is a sample taken from several hundred observations and personal experiences.
Ten Signs You Might Be An Apprentice:
You are very enthusiastic about learning a skilled trade

You dress in blue jeans, plaid shirt, work boots and baseball hat

You have a dazed look on your face when the Journeyman explains something

You are asked what color is the sky on your home planet and reminded earth is full, go home

You are told to wait in the truck while the Journeyman and the contractor talk and start wandering around the jobsite

You are told not to do something and do it anyway just to see what will happen

You have a listening problem so the Journeyman does not talk, he shouts at you

You are asked if you are ambivalent and you reply without thinking "Well yes and no"

You are like a cross-eyed discus thrower, never setting any new records but keeping everyone's attention

QuickBooks Expert Specializing In Construction Bookkeeping Services

About The Author:

Randal DeHart, PMP, QPA is the co-founder of Business Consulting And Accounting in Lynnwood Washington. He is the leading expert in outsourced construction bookkeeping and accounting services for small construction companies across the USA. He is experienced as a Contractor, Project Management Professional and Construction Accountant and Intuit ProAdvisor. This combination of experience and skillsets provides a unique perspective which allows him to see the world through the eyes of a contractor, Project Manager, Accountant and construction accountant. This quadruple understanding is what sets him apart from other Intuit ProAdvisors and accountants to the benefit of all of the construction contractors he serves across the USA. Visit http://www.fasteasyaccounting.com/randal-dehart/ to learn more.