Grow By The Inch Is A Cinch, Grow By The Yard Is Hard
The First Place to start is an understanding the real profit in any construction is made in the office, not in the field because hard work in the field cannot overcome bad strategy from the office. To prove it learn about a painless you may be able to earn 36% Return on Investment by changing one simple thing your contractors bookkeeping system.
"If hard work made contractors rich there would be a lot more of them" - Randalism

It is heartbreaking to see so many good men and women work hard all their lives, miss out on children's events, working weekends and holidays and having their wives and girlfriends working at a job to help pay the bills paid and provide health benefits for the family.
No matter what else you may believe about anything or anyone just know that everyone here at Fast Easy Accounting and our parent company Business Consulting and Accounting care about you, your family and your employees and will do everything we can to help you Level Up regardless if you ever become a client or not. We are in this together and we are pulling for you.
One of the keys to long term success in contracting is a deep understanding how the 80/20 Rule applies to your construction company and it is not just in your client mix as shown below, there is a lot more to it.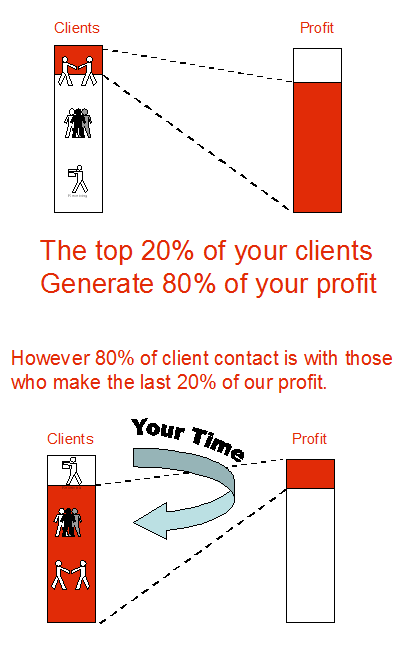 To paraphrase Dr. Deming 97% of all problems are common causes that when management understands and fixes them profits can double and triple almost immediately. It sounds crazy but look around you some of your competitors are laughing all the way to the bank and you can too!
"If you know the answers the questions will not bother you" - Randalism
Some Contractors believe in maximizing production by driving everyone from the laborers to the Project Managers to work harder, longer, faster, hustle and run. And if they are giving less than 110% to the company they are not doing enough.
Some Contractors like to make sure everybody knows they can be replaced at any time day or night which makes people uncomfortable and likely to search for another job elsewhere. If someone wastes just ten minutes a day on your payroll click here to see what it could be costing you!
When Contractors treat their tax preparer, banker, construction accountant, suppliers, construction attorney, financial planner (what should have been his Board of Advisors) vendors, bookkeeper and everyone they come in contact with like an enemy they are likely to lose money due to bookkeeping errors, slow service and general lost time.
If Your Profits averaged over the past five years are less than 10% you may want to contact us for a no-charge one hour consultation we may be able to help. In addition you may want to look at the Business Strategy Program.
We Have Hundreds of fast, easy and safe ways that can increase your company profits and put more money in the bank to operate and grow your business. It is all about having a Strategy That Works!
The Key To Maximizing Profits is finding the right mix of production and resources. One of the tools we use in Profit and Growth Coaching For Contractors is doing a Cost vs. Benefit Analysis including Risk Assessments on a given factor of production.
Maximize



For Example Overstock Your Truck with every tool you think you may need and loading it to the sky with all the parts and inventory you think you may need and drive hard and fast you are maximizing that resource and that is not a good thing.
Benefit: Hopefully fewer trips to the supply house, Lowes, Home depot or other places which will save you a little bit of time and money.
Cost: You will end up spending more money for each mile you drive because you use more fuel, your brakes will wear out faster from having to stop with more weight. Your tires will wear down quicker and your vehicle suspension parts will need to be replaced sooner rather than later. You will have money that is tied up in tools, equipment and inventory that could be invested elsewhere and make more money for you. Even worse, if you have any credit card debt or loans that money could be used to pay them down and reduce your interest expense.
Risk: If you involved in a traffic collision and the investigation reveals that you have exceeded the Gross Vehicle Weight Rating (GVWR) of your truck or van then it is likely your insurance may not cover the damages. In addition you may be liable for negligence charges. We recommend you contact your insurance agent and your attorney for their advice.
Optimize

Stock Your Truck wisely by having a strategy that serves a niche market and uses the 80/20 Rule and you will not need so many tools, parts and equipment. Another money saving tip is to only keep the items on board that are used every week to reduce your vehicle weight which will in turn save money every mile you drive.
Benefit: Since there is no profit in chaos keeping your truck organized and serving a niche market means fewer visits to your supplier which will save you even more time and money. Not wasting time hunting for something in your truck will add even more profit to your bottom line. When you understand What Ten Minutes Cost Your Company and develop your Business Strategy your profits will grow and be flying high like an eagle!
I trust you will gain something from this short article that you can use to increase your construction company profits and cash flow.
For Construction Company Owners who do not need the full power of QuickBooks for contractors and want 24/7 online access we offer Xero Accounting Online and we have custom setup for construction companies. Click Here For More.
This Is One More Example of how Fast Easy Accounting is helping construction company owners just like you put more money in the bank to operate and grow your construction company. Construction accounting is not rocket science; it is a lot harder than that and a lot more valuable to people like you and me so stop missing out! Call Sharie 206-361-3950 or sharie@fasteasyaccounting.com and schedule your no charge one-hour consultation
Profitable Contractors and Construction Company owners have known about the value of outsourced bookkeeping services and contractor coaching services like ours for a long time and now you know about it too!
We Scan Your Receipts And Invoices link the appropriate transactions to QuickBooks or Xero Accounting Online depending on the construction accounting service you are using and provide ongoing Cloud Based Contractors Bookkeeping Services by accountants who understand construction.
Thinking About Outsourcing Your Contractors Bookkeeping Services To Save Time And Money?
Click On The Button Below To Download A Free Guide

Need Help Now?
Call Sharie 206-361-3950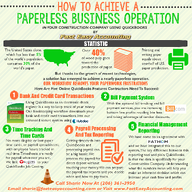 We Are Xero Accounting Experts Specializing In Construction Bookkeeping Services
About The Author:
Randal DeHart, PMP, QPA is the co-founder of Business Consulting And Accounting in Lynnwood Washington. He is the leading expert in outsourced construction bookkeeping and accounting services for small construction companies across the USA. He is experienced as a Contractor, Project Management Professional, Construction Accountant, Intuit ProAdvisor, QuickBooks For Contractors Expert and Xero Accounting Specialist. This combination of experience and skill sets provides a unique perspective which allows him to see the world through the eyes of a contractor, Project Manager, Accountant and construction accountant. This quadruple understanding is what sets him apart from other Intuit ProAdvisors and Xero accountants to the benefit of all of the construction contractors he serves across the USA. Visit http://www.fasteasyaccounting.com/randal-dehart/ to learn more.
Our Co-Founder Randal DeHart - Is a Certified PMP (Project Management Professional) with several years of construction project management experience. His expertise is construction accounting systems engineering and process development. His exhaustive study of several leading experts including the work of Dr. W. Edward Deming, Michael Gerber, Walter A. Shewhart, James Lewis and dozens of others was the foundation upon which our Construction Bookkeeping System is based and continues to evolve and improve. Check out our Contractor Success Map Podcast on iTunes and Follow Randal on Google+