Start With QuickBooks Job Profitability Report Shown Below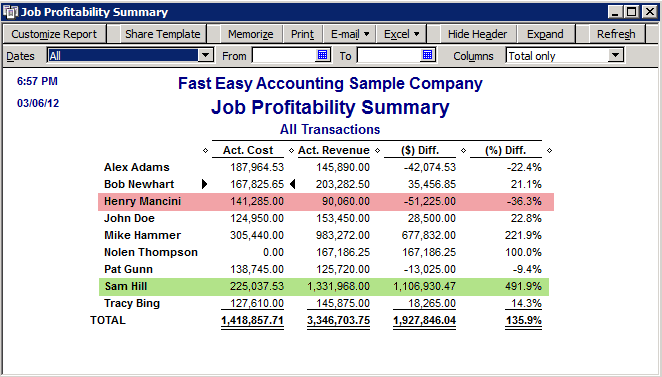 This Report Is Fast And Easy - If your QuickBooks is setup properly. If not contact Sharie at 206-361-3950 or email her sharie@fasteasyaccounting.com.
The Video Below Shows - You how to generate this type report inside your QuickBooks.
Every Report Tells A Story - All you have to do is Listen, Look and Learn! This report is saying that working for Henry Mancini is not profitable. In fact it costs you money, cash, dollars, profit, coins, food, clothing, shelter, retirement, vacation whatever makes sense to you to keep working for him.
Why Would Any Contractor - In their right mind do that? I have asked the same question thousands of times and it usually comes down to one thing. The contractor does not understand the concept of Leveling and the fact that "Henry is my friend!"
When Your Friend Henry - Sells his house; the one you put a lot of time, money, energy and sweat equity into, and helped raise the value of it, do you think Henry will call you up and say: "I know you did not charge me enough to cover the cost for all the work you did on my house over the years and I want to make it up to you. Come over to my new house and pick up a check". Not likely!
How Do I Know This - I am your guide on this trip and I have been down this road many times as a contractor and as a mentor to other contractors.
Sam Hill On The Other Hand - Generates lots of profit for your company and if you were to replace Henry Mancini with another Sam Hill it is likely your profits could double or even triple!
There is a River of Commerce - That every construction business has to navigate. Some do it well and make a lot of money, others starve. Strategy or lack thereof makes all the difference and one of the most important Strategies is The 80/20 Rule.
Large Profitable Construction - Companies have known about and used these principles and more for so long they have become Standard Operating Procedure (S.O.P.) and when any of those contractors have tried to share some of this knowledge with lesser successful contractors it is met with disbelief, and arguments.
Have Faith Because - The fact you are reading this suggest you are either a very successful contractor or on your way to becoming one.

Profitable Construction - Companies have known about the value of outsourced bookkeeping services for a long time and now you know about it too!
Click Here To Start Your Business Process Management Strategy
QuickBooks Expert Specializing In Construction Bookkeeping Services
About The Author:

Randal DeHart, PMP, QPA is the co-founder of Business Consulting And Accounting in Lynnwood Washington. He is the leading expert in outsourced construction bookkeeping and accounting services for small construction companies across the USA. He is experienced as a Contractor, Project Management Professional and Construction Accountant and Intuit ProAdvisor. This combination of experience and skillsets provides a unique perspective which allows him to see the world through the eyes of a contractor, Project Manager, Accountant and construction accountant. This quadruple understanding is what sets him apart from other Intuit ProAdvisors and accountants to the benefit of all of the construction contractors he serves across the USA. http://www.fasteasyaccounting.com/randal-dehart/ to learn more.