80% Produces More Profit Than 110%
We owned and operated several construction companies before moving full time into outsourced accounting for construction company owners which means we have a unique perspective to share with you.
Our new construction plumbing company specialized in low-rise mixed use residential and commercial buildings. Buildings with retail stores on the ground floor and apartments or condominiums above similar to the one shown below.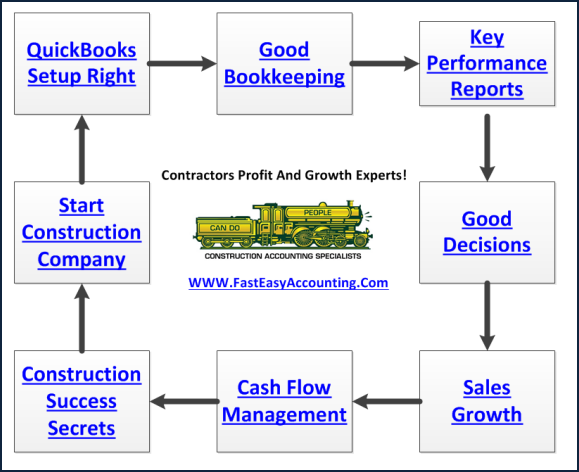 We used a variety of project planning tools and relied heavily on Work-Break-Down Structure (WBS), Gantt Charts and Earned Value Reports (EVR) on Excel for forecasting and planning for labor, material and equipment that needed to be onsite each day.
By studying the production reports from QuickBooks and our How Ten Minutes Can Kill Your Company Profits Reports a pattern emerged based upon the 80-20 rule which we called Maximize vs. Optimize.
It simply meant we earned more bottom line profit by reducing the workload we demanded from our plumbing crew from 100% to 80% of their capacity.
The WBS tasks were produced at the end of each day and printed for distribution the following day. At the start of each workday we held a brief safety meeting and discussed assigned tasks to each crew member broken down into half day increment.
Each plumber and apprentice knew exactly what was expected of them before and after lunch and the foreman would fill out a report at the end of the day for the office to make adjustments prepare the WBS tasks for the next workday.
There were fewer burned out plumbers, rework and repairs dropped significantly and everyone was much happier, especially the company officers and owners because the bottom line profits were amazing.
This went against the commonly held belief in running a construction company that construction workers need to be pushed and bullied to give the 110%.
The result is burnout, massive rework, repairs and jobsite injuries all of which combine to destroy bottom line profits with a vengeance.
It is a vicious circle of self-inflicted construction company suicide by the installment plan and when combined with a lack of a Construction Business Process Management Strategy (BPM) brings ultimate defeat and tragedy to far too many construction company owners.
The answer is simple; let's have a conversation and find out if we are a good fit to be your personal and private Construction Profit And Growth Coachto help you develop your construction company into a peaceful, predictable money machine that can generate enough cash and profits to take care of you and your loved ones for a lifetime and beyond.
QuickBooks Expert Specializing In Construction Bookkeeping Services
About The Author:

Randal DeHart, PMP, QPA is the co-founder of Business Consulting And Accounting in Lynnwood Washington. He is the leading expert in outsourced construction bookkeeping and accounting services for small construction companies across the USA. He is experienced as a Contractor, Project Management Professional, Construction Accountant, Intuit ProAdvisor and QuickBooks For Contractors Expert. This combination of experience and skillsets provides a unique perspective which allows him to see the world through the eyes of a contractor, Project Manager, Accountant and construction accountant. This quadruple understanding is what sets him apart from other Intuit ProAdvisors and accountants to the benefit of all of the construction contractors he serves across the USA. Visit http://www.fasteasyaccounting.com/randal-dehart/ to learn more.