QuickBooks ProAdvisor For Your Construction Company Outsourced Accounting Needs
Many QuickBooks customers say their experience with QuickBooks is better when they work closely with a QuickBooks ProAdvisor who is also a QuickBooks expert.
Construction company owners have found having a QuickBooks ProAdvisor that is also a QuickBooks expert in outsourced construction accounting services and outsourced construction bookkeeping services are able to help them with Job Costing, WIP, Retention and everything related to construction.
Certified QuickBooks ProAdvisors are typically accountants, small business advisors or consultants who have been tested and certified on QuickBooks.
QuickBooks ProAdvisors help Construction Company owners like you with QuickBooks setup for your Construction Company and to customize QuickBooks for your Construction Company because construction companies have unique contractor bookkeeping needs.
QuickBooks ProAdvisors skilled in construction accounting are also a great resource if you run into trouble with QuickBooks setup, have emergency accounting problems or just need general QuickBooks help.
QuickBooks ProAdvisor fees are typically reasonable and many construction company owners feel the investment is valuable.
It is to your advantage to select a QuickBooks ProAdvisor that specializes in your industry because they understand you, your language and your day-to-day challenges.
We specialize in providing contractors bookkeeping and accounting services
Profitable Construction - Companies have known about the value of outsourced bookkeeping services for a long time and now you know about it too!
There A Better Way To Run Your Construction Business And You Found It!
Fill Out The Form And Get The Help You Need!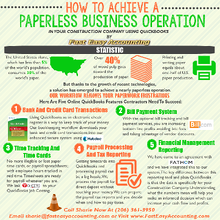 QuickBooks Expert Specializing In Construction Bookkeeping Services
About The Author:

Randal DeHart, PMP, QPA is the co-founder of Business Consulting And Accounting in Lynnwood Washington. He is the leading expert in outsourced construction bookkeeping and accounting services for small construction companies across the USA. He is experienced as a Contractor, Project Management Professional, Construction Accountant, Intuit ProAdvisor and QuickBooks For Contractors Expert. This combination of experience and skillsets provides a unique perspective which allows him to see the world through the eyes of a contractor, Project Manager, Accountant and construction accountant. This quadruple understanding is what sets him apart from other Intuit ProAdvisors and accountants to the benefit of all of the construction contractors he serves across the USA. Visit http://www.fasteasyaccounting.com/randal-dehart/ to learn more.