Downloading from the bank is easy and saves time; however, it does not allocate the transactions for accurate Job Costing Reports. The two main reasons highly profitable construction contractors use Job Costing Reports:
In Your Construction Company Every Bookkeeping Transaction Needs To Be Filtered
And Input With A Clear Understanding Of Money In And Money Out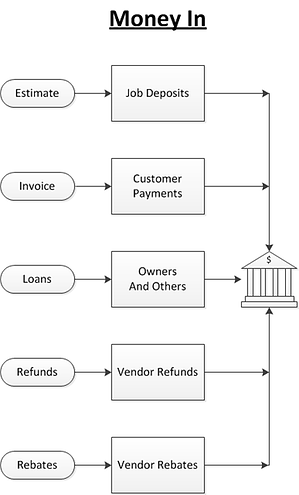 Some transactions will need to be split into parts for example a loan payment may have part of the money assigned to Principle and the rest to Interest. Bank feeds and downloading from the bank works great for roughly 80% of the businesses and the other 20% like construction it causes major disasters which will go unnoticed until the contractor wakes up in a panic and asks the all important question every contractor asks:
"I need to know where I am making and losing money

And I need to know

RIGHT NOW!"
Bank feeds and bank downloads are something the banks hate because of all the technical support and angry customers they have to deal with after the disaster hits. They offer it anyway to satisfy their customers and just hope the fallout is not too terrible.
Most of the time every transaction is dumped into a random account in the Chart of Accounts. The first time you downloaded a purchase from Home Depot it went into material the next time it was a tool and that went into material the next time it was office supplies and went into materials the next time...who knows where the wild goose goes?
Tax preparation folks love bank downloads and bank feeds because it makes their job easy and if you get audited or pay more income tax than you should, oh well.
Sign In Motorcycle Shop...
"If You Have A $10.00 Head Buy A $10.00 Helmet"
In the mid 1960's something profound occurred in a bike shop near Greenlake in Seattle, Washington while I was shopping for a bike helmet I asked the clerk for a "cheap helmet" because in my mind all bike helmet were the same and I was not about to be ripped off. He had a profoundly simple answer: "If You Have A $10 Head Buy A $10 Helmet"

He said it with a deadpan face, no expression and he acted as if he could not care less about what helmet I purchased.

I remembered something my Step-Father used to say "Buy the best you can afford and cry once, rather than buying the cheapest and crying about it not doing what it was intend to do forever." He was a simple man without a lot of formal education and yet one of the wisest men I have ever known.

I purchased the most expensive helmet I could afford and it saved me from experiencing several injuries over the next few years.
Recently a roofing contractor contacted and said his tax accountant charges $200 a month to download from the bank into some kind of program, could be excel, quicken, QB who knows what; but the financial and job costing reports don't make any sense. He wanted someone to take over the contractor bookkeeping services and do it right for less than $200 a month.
We said yes we can do it right, but not for $200 a month. In the long run and we might be able to reduce the amount he pays in taxes and increase his roofing company's cash flow and profits which could mean that our services could pay for themselves put more money in his bank to operate and grow his roofing company.
We Remove Contractor's Unique Paperwork Frustrations
For Construction Company Owners who do not need the full power of QuickBooks for contractors and want 24/7 online access we offer Xero Accounting Online and we have custom setup for construction companies. Click Here For More.
This Is One More Example of how Fast Easy Accounting is helping construction company owners all across the USA including Alaska and Hawaii put more money in the bank to operate and grow your construction company. Construction accounting is not rocket science; it is a lot harder than that and a lot more valuable to people like you so stop missing out! Call Sharie 206-361-3950 or sharie@fasteasyaccounting.com and schedule your no charge one-hour consultation.
Profitable Contractors and Construction Company owners have known about the value of outsourced bookkeeping services and contractor coaching services like ours for a long time and now you know about it too!
We Scan Your Receipts And Invoices link the appropriate transactions to QuickBooks or Xero Accounting Online depending on the construction accounting service you are using and provide ongoing Cloud Based Contractors Bookkeeping Services by accountants who understand construction.

Thinking About Outsourcing Your Contractors Bookkeeping Services To Save Time And Money?
Click On The Button Below To Download A Free Guide
Need Help Now?
Call Sharie 206-361-3950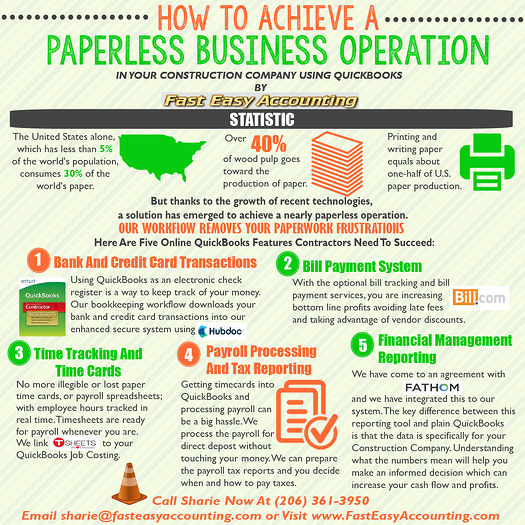 We Are Xero Accounting Experts Specializing In Construction Bookkeeping Services
About The Author:

Randal DeHart, PMP, QPA is the co-founder of Business Consulting And Accounting in Lynnwood Washington. He is the leading expert in outsourced construction bookkeeping and accounting services for small construction companies across the USA. He is experienced as a Contractor, Project Management Professional, Construction Accountant, Intuit ProAdvisor, QuickBooks For Contractors Expert and Xero Accounting Specialist. This combination of experience and skill sets provides a unique perspective which allows him to see the world through the eyes of a contractor, Project Manager, Accountant and construction accountant. This quadruple understanding is what sets him apart from other Intuit ProAdvisors and Xero accountants to the benefit of all of the construction contractors he serves across the USA. Visit http://www.fasteasyaccounting.com/randal-dehart/ to learn more.
Our Co-Founder Randal DeHart - Is a Certified PMP (Project Management Professional) with several years of construction project management experience. His expertise is construction accounting systems engineering and process development. His exhaustive study of several leading experts including the work of Dr. W. Edward Deming, Michael Gerber, Walter A. Shewhart, James Lewis and dozens of others was the foundation upon which our Construction Bookkeeping System is based and continues to evolve and improve. Check out our Contractor Success Map Podcast on iTunes and Follow Randal on Google+