Software developer, Payment Collect LLC, offers unique payment solutions for companies using QuickBooks. Companies wanting to spend less time managing their accounts receivable and more time creating sales and managing accounts are turning to Payment Collect. Now, with one click, all invoices are available for instant payment through a number of available gateways. Once payment has been received, Payment Collect sends payment for processing and then updates the QuickBooks company file upon confirmation from merchant services.
Software developer, Payment Collect LLC, introduces new software solutions for all companies using QuickBooks in need of a complete and fully integrated solution for accepting credit cards and checks. With Payment Collect, payments are received and processed utilizing secure PCI complaint servers, insuring that customers' vitals are secure. The ability to work with a company's existing merchant account allows Payment Collect to install seamlessly with a company's current system while introducing a magnitude of efficiency and functionality. Payment Collect allows for one click simplicity when it comes to managing a company's account receivables and eliminates countless hours of data entry by automating all bookkeeping tasks to record the receipt of payment.
Payment Collect differentiates itself from other intuit merchant services through the utilization of a proven IVR (Interactive Voice Response) System that expands the capabilities from not only a web based payment processing portal, but a feature rich telecommunications based solution. With the customizable IVR Platform, QuickBooks based businesses can now allow field technicians to create invoices and receive instant payments, provide for a means of receiving payments from customers who do not have internet access, and reduce the time it takes to clear open invoices.
Companies currently using Payment Collect have marveled at the one-click simplicity of the QuickBooks integration. By using the intuitive Payment Collect screen, launched by clicking a button on the Windows task bar, business owners can now instantly synchronize all invoices and payments, no matter which payment gateway their customers utilize, and reduce the time spent entering transaction details and correcting data entry errors.
If your company has been searching for a better way of integrating a payment solution with your QuickBooks company files, the search is over. Visit Payment Collect at http://www.paymentcollect.com or by calling 888-PAY-CLCT to get started immediately saving time and getting payments in on time.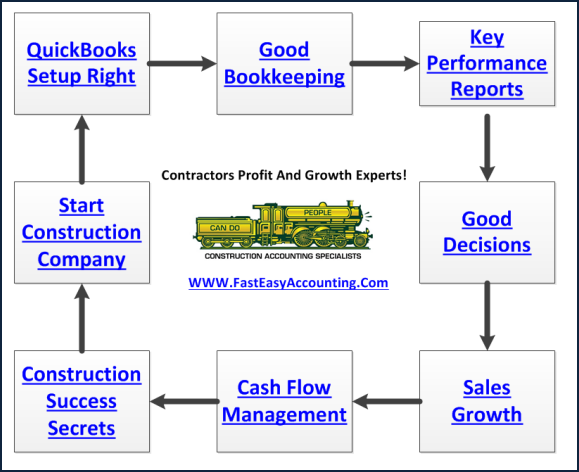 QuickBooks Expert Specializing In Construction Bookkeeping Services
About The Author:

Randal DeHart, PMP, QPA is the co-founder of Business Consulting And Accounting in Lynnwood Washington. He is the leading expert in outsourced construction bookkeeping and accounting services for small construction companies across the USA. He is experienced as a Contractor, Project Management Professional, Construction Accountant, Intuit ProAdvisor and QuickBooks For Contractors Expert. This combination of experience and skillsets provides a unique perspective which allows him to see the world through the eyes of a contractor, Project Manager, Accountant and construction accountant. This quadruple understanding is what sets him apart from other Intuit ProAdvisors and accountants to the benefit of all of the construction contractors he serves across the USA. Visit http://www.fasteasyaccounting.com/randal-dehart/ to learn more.