Other People's Money O.P.M.
Construction Working Capital - Definitions are fairly complex and can take a lot of room to explain and since we are primarily concerned about helping small construction companies like yours to make a lot of money I will keep it simple and easy.
Construction Companies - Need short term liquid working capital such as cash, lines of credit, loans, owner financing, credit cards, supplier accounts and other forms of money to conduct daily operations.
Small Construction Companies - With annual sales volume less than $10,000,000 and other requirements enjoy some benefits that are not always available to larger firms. Likewise larger firms can leverage economies of scale
The Larger Your Construction - Business grows the more likely you could end up operating like a bank without the hundreds of ways to generate revenues from fee income and interest calculation that banks use.
The Most Popular Method - Designed by investors and developers and shrewd business people who understand the concept of divide and conquer is for contractors to get little or no down payment for a construction project, do all the work, including change orders and then try to collect their money.
What Often Happens - Is that contractors hate paperwork preferring to keep everything in their head. Then when it comes time to collect their money they find themselves having to re-sell the job and talk their customer into parting with their money. It is similar to the old bartender joke.
No Deposits And Progress Payments? - Man Goes Into A Bar: "Hey bartender, hurry up and pour me a double before the trouble starts" and the bartender does. The man drinks it. The man repeats the scenario several times and soon the bartender says "Hey there have been a number of drinks crossing the bar and no money coming back" to which the man replies "Uh-oh! The trouble is about to start!" This is similar to a contractor who does a lot of work without getting deposits and progress payments.
Its Been Said: "The value of services rapidly diminish after the services have been performed" which is why highly profitable companies like McDonalds gets your money before they deliver your meal. Compare the success and profitability of a McDonalds franchise to most restaurants.
The Least Popular Method - Is getting work orders and contracts signed and deposit checks before starting the project because most of us were conditioned from childhood through adulthood and beyond not to ask for money.
Contracts With Clear Simple Language - All Change Orders will be documented with a scope of work and be Paid In Advance before the work begins. Again we recommend you hire a good construction attorney and have that person write your contracts.
Contractors That Finance - Working capital with their own money and whatever they can borrow will earn less profit and put themselves at higher risk of failure than contractors who use Other People's Money (O.P.M.). It is a given that to start your construction business you need working capital and we have formulas that can work with you to estimate how much you will need and assist you the calculations in our Business Plan section.
In The Example Below - There are two fictional contractors that started at the same time and each one had $10,000 working capital between cash in the bank, room on their credit cards and supplier accounts.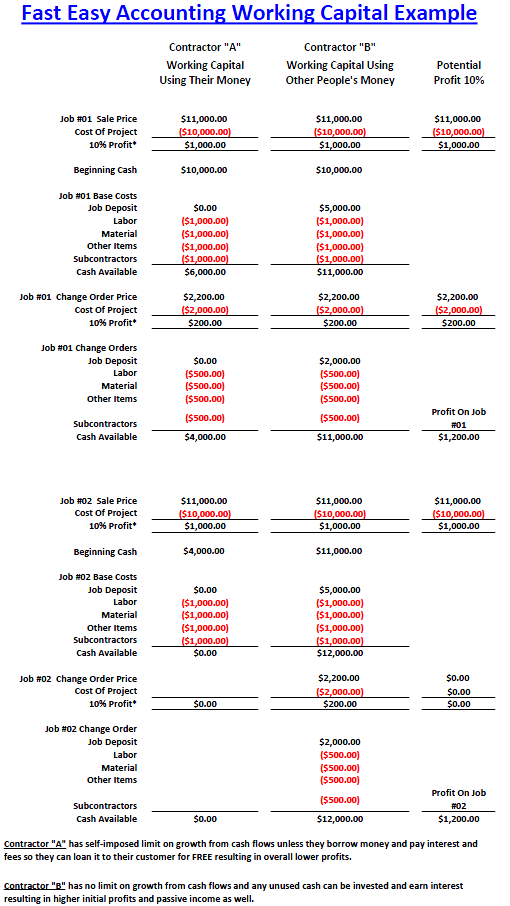 There Are Risks - In doing this the most important is understanding the money you have from your customers and clients that has not been used to perform work is a liability to the company and needs to be reflected properly in your bookkeeping system and you should never use any unearned dollars to buy anything frivolous like a new F-350 Pickup truck or a vacation.
Bookkeeper Theft - Is another risk to be aware of because Bad Bookkeepers and Incompetent Bookkeepers have been known to re-distribute your wealth if they believe you are earning too much money.
We Have No Issue - With contractors earning lots and lots of money. Our bookkeeping system is setup so that we NEVER HAVE ACCESS TO YOUR MONEY. We simply do your bookkeeping.
Your Construction Accountant - Is a valuable key component in setting up QuickBooks to help you keep track of it all. And as needed we can help with ongoing bookkeeping services and Strategic Management Process Development.
QuickBooks Expert Specializing In Construction Bookkeeping Services
About The Author:

Randal DeHart, PMP, QPA is the co-founder of Business Consulting And Accounting in Lynnwood Washington. He is the leading expert in outsourced construction bookkeeping and accounting services for small construction companies across the USA. He is experienced as a Contractor, Project Management Professional, Construction Accountant, Intuit ProAdvisor and QuickBooks For Contractors Expert. This combination of experience and skillsets provides a unique perspective which allows him to see the world through the eyes of a contractor, Project Manager, Accountant and construction accountant. This quadruple understanding is what sets him apart from other Intuit ProAdvisors and accountants to the benefit of all of the construction contractors he serves across the USA. Visit http://www.fasteasyaccounting.com/randal-dehart/ to learn more.