Did You Setup QuickBooks or Did You Hire Someone To Do It?
A Lot of Construction Business Owners - Are unhappy with how their QuickBooks is setup and I would like to hear from you. Are you happy or unhappy and why? Would you like us to review it with you? You can leave a comment, email me randal@fasteasyaccounting.com or call my office 206-361-3950. (If I am not available please leave a message and I will return your call)
Most of The Time QuickBooks - Is setup using the built in template guides inside QuickBooks which is designed for a very simple construction business with only a few customers and little or no need to invoice their customers. In fact you could say it is an electronic checkbook which for some contractors is all they need.
We Have Found The QuickBooks Template - Is not very useful for a construction company with employees and more than a few jobs a month. For home builders and commercial contractors who need to produce bank draws from a Schedule of Values or a set of CSI Codes that it simply will not work without major revisions on the Chart of Accounts, Items, Preferences...basically open it up and tear it apart and rebuild it.
Spec Home Builders - Need to accumulate costs as Assets and convert them to Cost of Goods Sold from the closing documents including the HUD-1 Statement which means a whole lot of special revisions on the Chart of Accounts and Item list.
Commercial Tenant Improvement (T.I.) Contractors - And residential remodel contractors need to produce a Pay Application for each draw using a G702 / G703 format or something similar which lists the Schedule of Values, Job Deposits, Percentage Complete, Work-In-Progress (WIP) Summary, Change Order Summary, Previous Payments and a cover sheet. See below for an example: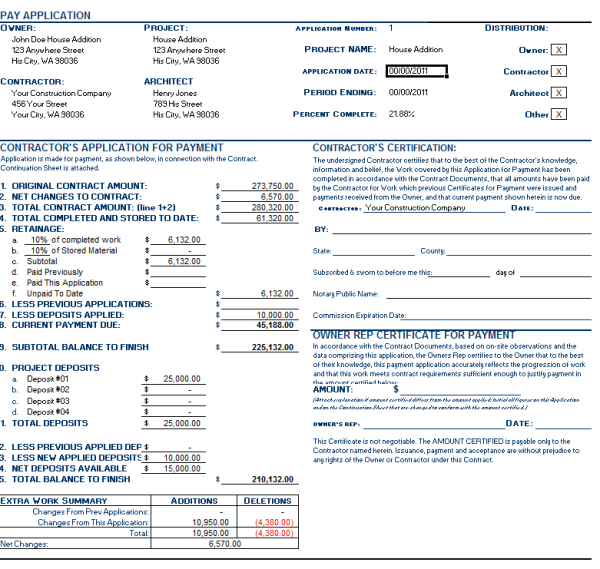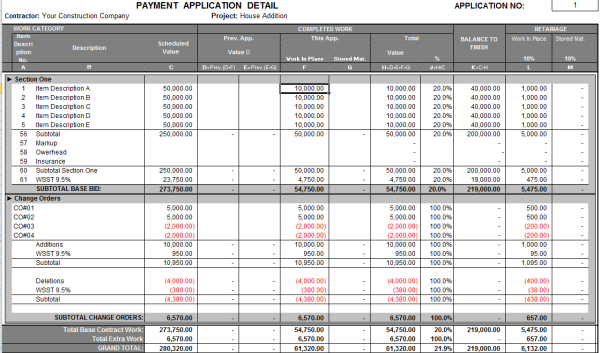 From 1991 To 2003 - We set up custom QuickBooks files for all types of contractors, home services companies, architects, designers, remodelers, handymen and home builders. Each one was a custom work of art developed for a specific construction company.
In 2003 After Reading "The E-Myth" - For the twenty something time I had a "Blinding flash of the obvious", to paraphrase Tom Peters in his book "In Search of Excellence", to develop a Master QuickBooks Setup Template that could work for any construction company; new, established, small, medium sized, spec or custom home builders, commercial T.I. contractors, handyman, carpet cleaners, pest control, plumbers, electricians and all other specialty trades.
After Many Years And Thousands - Of revisions we had something that worked well enough that we began installing it on our existing clients and beta testing it on new clients.
With A Few Hundred More Tweaks - It even worked for contractors who build, repair and remodel during the week and bought, fixed and sold homes on the weekends (construction accounting there is similar to spec home building, so blending the two methods took a while to get it to work)
The Template Had To Work For Contractors - With simple or complex bookkeeping and Invoicing needs, (Simple Invoices, Flat-Rate, NTE, T&M, Cost Plus), and keep current on all of the Washington State Sales Tax changes, payroll, payroll reports, job deposits, WIP, retention, pay applications, insurance audits or business processes. We knew what it needed to be able to do...the challenge making QuickBooks do it!
We Issued Many Updates To Existing Clients - Who had previously purchased the template at no additional cost and working remotely on their desktop or scheduling a time to meet at their office was a nightmare for everyone. Now it is fast and easy to install updates because our client's Desktop Version of QuickBooks is being hosted on a remote server that they have access to from any internet connection which means as a new update is developed we can install it without disturbing anyone.
Now We Issue Roughly 25 Updates - Annually including the Washington State Sales Tax rate changes. All the feedback from our clients and from their bankers, bonding agents and folks who prepare the annual tax returns is very positive.
This Has Been A Lot Of Information - And I appreciate your getting through it. Please let me know what you think because I would sincerely like to hear from you. Are you happy or unhappy and why? Would you like us to review it with you? You can leave a comment, email sharie@fasteasyaccounting.com or call 206-361-3950.
We Remove Contractor's Unique Paperwork Frustrations
For Construction Company Owners who do not need the full power of QuickBooks for contractors and want 24/7 online access we offer Xero Accounting Online and we have custom setup for construction companies. Click Here For More.
This Is One More Example of how Fast Easy Accounting is helping construction company owners all across the USA including Alaska and Hawaii put more money in the bank to operate and grow your construction company. Construction accounting is not rocket science; it is a lot harder than that and a lot more valuable to people like you so stop missing out! Call Sharie 206-361-3950 or sharie@fasteasyaccounting.com and schedule your no charge one-hour consultation.
Profitable Contractors and Construction Company owners have known about the value of outsourced bookkeeping services and contractor coaching services like ours for a long time and now you know about it too!
We Scan Your Receipts And Invoices link the appropriate transactions to QuickBooks or Xero Accounting Online depending on the construction accounting service you are using and provide ongoing Cloud Based Contractors Bookkeeping Services by accountants who understand construction.

Thinking About Outsourcing Your Contractors Bookkeeping Services To Save Time And Money?
Click On The Button Below To Download A Free Guide

Need Help Now?
Call Sharie 206-361-3950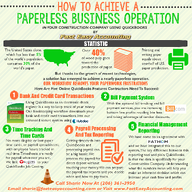 We Are Xero Accounting Experts Specializing In Construction Bookkeeping Services
About The Author:

Randal DeHart, PMP, QPA is the co-founder of Business Consulting And Accounting in Lynnwood Washington. He is the leading expert in outsourced construction bookkeeping and accounting services for small construction companies across the USA. He is experienced as a Contractor, Project Management Professional, Construction Accountant, Intuit ProAdvisor, QuickBooks For Contractors Expert and Xero Accounting Specialist. This combination of experience and skill sets provides a unique perspective which allows him to see the world through the eyes of a contractor, Project Manager, Accountant and construction accountant. This quadruple understanding is what sets him apart from other Intuit ProAdvisors and Xero accountants to the benefit of all of the construction contractors he serves across the USA. Visit http://www.fasteasyaccounting.com/randal-dehart/ to learn more.
Our Co-Founder Randal DeHart - Is a Certified PMP (Project Management Professional) with several years of construction project management experience. His expertise is construction accounting systems engineering and process development. His exhaustive study of several leading experts including the work of Dr. W. Edward Deming, Michael Gerber, Walter A. Shewhart, James Lewis and dozens of others was the foundation upon which our Construction Bookkeeping System is based and continues to evolve and improve. Check out our Contractor Success Map Podcast on iTunes and Follow Randal on Google+