Job Status Report - Lists information for each active customer and job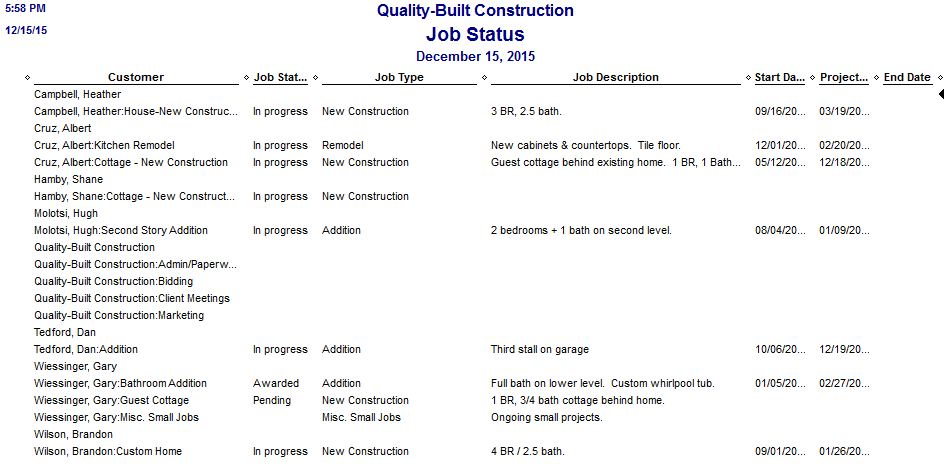 This QuickBooks Report - Provides information regarding each active customer and job / project.
It Provides An Overview - Progress status of all jobs or Work-In-Process, WIP.
For Example - It may be useful to know which jobs / projects are:
Pending

Awarded

In Progress

Closed

Not Awarded

No Progress Assigned
This QuickBooks Report - Can be modified to display jobs of one type, for example only the jobs that are in progress.
This QuickBooks Report - Pull information from the Job status tab of your Customers & Jobs list.
This QuickBooks Report - Has each job / project:
Start date

Projected End Date

Actual End Date
To See The Full Dates - You may simply widen the date columns. In order to change a column width, drag the small diamond to the right of the column title as much as needed.

Click Here To Start Your Business Process Management Strategy
QuickBooks Expert Specializing In Construction Bookkeeping Services
About The Author:

Randal DeHart, PMP, QPA is the co-founder of Business Consulting And Accounting in Lynnwood Washington. He is the leading expert in outsourced construction bookkeeping and accounting services for small construction companies across the USA. He is experienced as a Contractor, Project Management Professional, Construction Accountant, Intuit ProAdvisor and QuickBooks For Contractors Expert. This combination of experience and skill sets provides a unique perspective which allows him to see the world through the eyes of a contractor, Project Manager, Accountant and construction accountant. This quadruple understanding is what sets him apart from other Intuit ProAdvisors and accountants to the benefit of all of the construction contractors he serves across the USA. Visit http://www.fasteasyaccounting.com/randal-dehart/ to learn more.