Today I Am Shining The Spotlight - On one of my dearest friends and a true champion in the service industry.
Steve Borcherdt - The founder of A Fresh Clean Look, one of the premier carpet cleaning, preservation and maintenance firms in Western Washington.
His Company Is Based - In Mount Lake Terrace, Washington and can be reached at 425-754-2600.

Our Marketing Program - Is constantly engaged and Steve was on the list and received our direct mail advertisements, phone calls, network invitations, social media, Biznik, Facebook, twitter, Linked In, Merchant Circle, Yelp, chambers of commerce, magazine, newspaper ad, and press release marketing campaigns designed to attract new clients. We believe in taking a proactive approach to everything we do including marketing. It is part of the M.A.P. Program we teach our clients.
After A While - Steve contacted us and we began a relationship where we assist each other with doing the things we love and giving each other the thing we don't enjoy so much. From the first meeting with Steve it was like we had been friends for many years; perhaps you have experienced something similar in your life.
The Work He Does - Is physical and demanding, yet he keeps to his schedule (time off for vacations and emergencies), does every job with excellence.
He Maintains The Carpets - And floors our office in Lynnwood and does what he says he will do, every time, all the time! We never have to "Think About Clean Carpets." As a business owner I have enough to "Think About" and whenever I find someone that I can outsource a part of our operations and they perform on time and it gets done right I hire them right now!
Steve Is A Champion - And a credit to his profession. We appreciate him and his services I highly recommend Steve to all home and commercial clients who want to have your carpets maintained by a professional and you will have one less thing to "Think About" and I say Kudos To An Unsung Hero - Steve Borcherdt.
To Schedule An Appointment With Steve Click Here
We Remove Contractor's Unique Paperwork Frustrations
For Construction Company Owners who do not need the full power of QuickBooks for contractors and want 24/7 online access we offer Xero Accounting Online and we have custom setup for construction companies. Click Here For More.
This Is One More Example of how Fast Easy Accounting is helping construction company owners all across the USA including Alaska and Hawaii put more money in the bank to operate and grow your construction company. Construction accounting is not rocket science; it is a lot harder than that and a lot more valuable to people like you so stop missing out! Call Sharie 206-361-3950 or sharie@fasteasyaccounting.com and schedule your no charge one-hour consultation.
Profitable Contractors and Construction Company owners have known about the value of outsourced bookkeeping services and contractor coaching services like ours for a long time and now you know about it too!
We Scan Your Receipts And Invoices link the appropriate transactions to QuickBooks or Xero Accounting Online depending on the construction accounting service you are using and provide ongoing Cloud Based Contractors Bookkeeping Services by accountants who understand construction.

Thinking About Outsourcing Your Contractors Bookkeeping Services To Save Time And Money?
Click On The Button Below To Download A Free Guide

Need Help Now?
Call Sharie 206-361-3950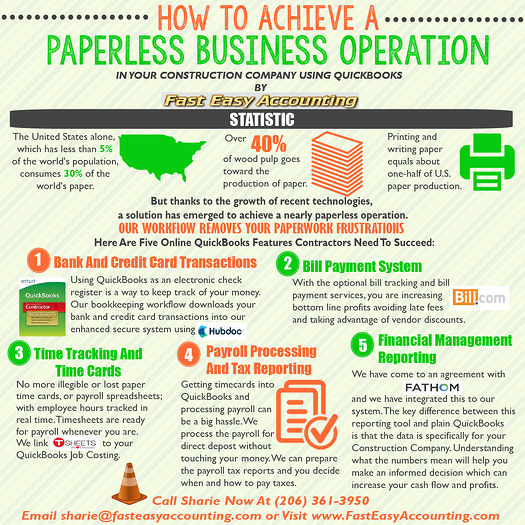 We Are Xero Accounting Experts Specializing In Construction Bookkeeping Services
About The Author:

Randal DeHart, PMP, QPA is the co-founder of Business Consulting And Accounting in Lynnwood Washington. He is the leading expert in outsourced construction bookkeeping and accounting services for small construction companies across the USA. He is experienced as a Contractor, Project Management Professional, Construction Accountant, Intuit ProAdvisor, QuickBooks For Contractors Expert and Xero Accounting Specialist. This combination of experience and skill sets provides a unique perspective which allows him to see the world through the eyes of a contractor, Project Manager, Accountant and construction accountant. This quadruple understanding is what sets him apart from other Intuit ProAdvisors and Xero accountants to the benefit of all of the construction contractors he serves across the USA. Visit http://www.fasteasyaccounting.com/randal-dehart/ to learn more.
Our Co-Founder Randal DeHart - Is a Certified PMP (Project Management Professional) with several years of construction project management experience. His expertise is construction accounting systems engineering and process development. His exhaustive study of several leading experts including the work of Dr. W. Edward Deming, Michael Gerber, Walter A. Shewhart, James Lewis and dozens of others was the foundation upon which our Construction Bookkeeping System is based and continues to evolve and improve. Check out our Contractor Success Map Podcast on iTunes and Follow Randal on Google+