Rule #1 Never Hire The Low Bidder!
The Sweetness Of Low Price Fades Quickly
While The Bitterness Of Poor Quality Lingers On
Whenever someone decides to have some work done they get several bids from competing contractors because that is what they heard someone say a long time ago. There are two problems to consider:
#1 The Low Bidder
Good / Fast / Cheap - Choose Cheap & Fast or Cheap & Slow! Expect the project to Late and over budget!

Base costs - Taxes, fuel, cell phones, nails, glue and small parts are the same for all contractors; no savings here

Labor - Cheap labor makes mistakes and causes damage because they are learning, by experience, on your project!

Material - Price is King! So they buy and install cheap material!
Tools - Cheap tools take more time and the finished product may be hard on the eyes but they have to cut costs!

Trucks - Rickety old trucks and vans may break down which means the job may take longer but costs have to be cut!
Office - They work out of their house or truck; so called no-overhead
Cheap Construction Manager - Biggest baddest construction worker. Also the bill collector. Also acting as a "Working Project Manager" which means the company is attempting to save money in the short run and ends up losing money in the long run. Assembling parts and building something takes a "Tactile" mindset. Running a project is "Strategic". Put another way no man can serve to masters as he will hate one and love the other and the inevitable outcome is the Peter Principle which leads to a construction train wreck.

Invoices - Make no sense, total cost may exceed the bid and you will pay the contractor to avoid violence!

Warranty - Cheap contractors cannot afford warranty work because they are "One-Hit-Wonders" never to return
#2 The Other Bidders
Good / Fast / Cheap - Choose Good & Fast or Good & Slow! Expect the project done on-time and on budget!

Base costs - Taxes, fuel, cell phones, nails, glue and small hardware are the same for all contractors

Labor - Skilled labor costs more, produces more work faster with fewer mistakes which means a quality project

Material - Quality and reputation are King! Skilled labor can install quality material faster than cheap material

Tools - Quality tools and equipment cost more and will produce a product that is easy on the eyes and lasts longer

Trucks - Reliable trucks and vans means the job is done quicker and with fewer delivery issues

Office - Skilled staff and office equipment provides for effective communication

Qualified Construction Manager - Has construction background and formal training in project management. Most professional construction companies with good reputations will have people with credentials like PMP assigned to oversee projects.

Invoices - Are Pay Applications that make sense because they show a history of costs and payments made
Warranty Work - Is a marketing cost because the first project is the beginning of a relationship
When Hiring A Contractor Discard The Low Bidder Because You Will Get What You Pay For And Sometimes Less!
We Remove Contractor's Unique Paperwork Frustrations
For Construction Company Owners who do not need the full power of QuickBooks for contractors and want 24/7 online access we offer Xero Accounting Online and we have custom setup for construction companies. Click Here For More.
This Is One More Example of how Fast Easy Accounting is helping construction company owners all across the USA including Alaska and Hawaii put more money in the bank to operate and grow your construction company. Construction accounting is not rocket science; it is a lot harder than that and a lot more valuable to people like you so stop missing out! Call Sharie 206-361-3950 or sharie@fasteasyaccounting.com and schedule your no charge one-hour consultation.
Profitable Contractors and Construction Company owners have known about the value of outsourced bookkeeping services and contractor coaching services like ours for a long time and now you know about it too!
We Scan Your Receipts And Invoices link the appropriate transactions to QuickBooks or Xero Accounting Online depending on the construction accounting service you are using and provide ongoing Cloud Based Contractors Bookkeeping Services by accountants who understand construction.

Thinking About Outsourcing Your Contractors Bookkeeping Services To Save Time And Money?
Click On The Button Below To Download A Free Guide

Need Help Now?
Call Sharie 206-361-3950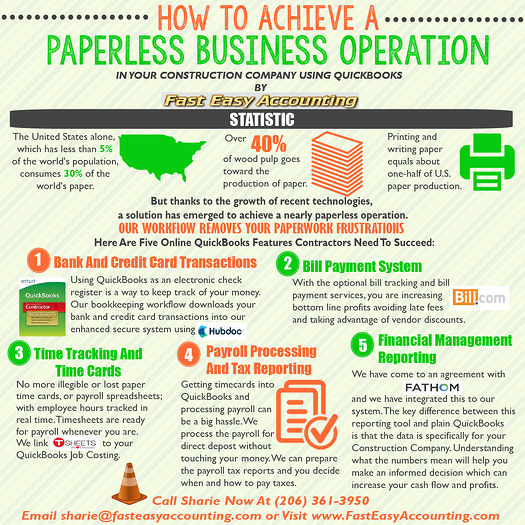 We Are Xero Accounting Experts Specializing In Construction Bookkeeping Services
About The Author:

Randal DeHart, PMP, QPA is the co-founder of Business Consulting And Accounting in Lynnwood Washington. He is the leading expert in outsourced construction bookkeeping and accounting services for small construction companies across the USA. He is experienced as a Contractor, Project Management Professional, Construction Accountant, Intuit ProAdvisor, QuickBooks For Contractors Expert and Xero Accounting Specialist. This combination of experience and skill sets provides a unique perspective which allows him to see the world through the eyes of a contractor, Project Manager, Accountant and construction accountant. This quadruple understanding is what sets him apart from other Intuit ProAdvisors and Xero accountants to the benefit of all of the construction contractors he serves across the USA. Visit http://www.fasteasyaccounting.com/randal-dehart/ to learn more.
Our Co-Founder Randal DeHart - Is a Certified PMP (Project Management Professional) with several years of construction project management experience. His expertise is construction accounting systems engineering and process development. His exhaustive study of several leading experts including the work of Dr. W. Edward Deming, Michael Gerber, Walter A. Shewhart, James Lewis and dozens of others was the foundation upon which our Construction Bookkeeping System is based and continues to evolve and improve. Check out our Contractor Success Map Podcast on iTunes and Follow Randal on Google+