Thank You For Asking About Our Services - This is a quick overview about Business Consulting And Accounting / Fast Easy Accounting.
How We Work: The Phone Call
It's the starting point of the relationship. I may receive an initial request of information by email (which I am happy to receive) In the end - everybody gets to chat with me once / twice / even three times before making any kind of decision about our services. Initially we are chatting very informally over the phone. The Next Step for those who are local –Setting an appointment for an in-person visit at our office.
Hands On Approach
What is our Hands-On Approach – Between phones, email, PDF files, and the mail we can get all of the information we need. Clients are welcome to drop by. You – as our client without ever leaving your vehicle you can be parked in our parking lot and connect with us.. Most of us receive / send most things electronically. Today it is totally optional to actually go into your bank, come into the office to see your accountant or even have the need to go your own mailbox. We love to meet new people and chat with everyone in person. We like lots of paper (or soft copy) plus we want to see / talk to our clients often.
Never Too Small
There is no such thing as ever being "Too Small" Many of our clients are One – Man / Woman Bands – with an idea and the desire to be in business for themselves. Clients include busy professionals and independent contractors who want someone else to deal with the paperwork so they can do "The Fun Stuff" which is what they do best. Our niche is Construction Accounting and Bookkeeping Services For Contractors; as businesses in the construction industry have many of the special needs outlined below.
Who Is Our Ideal Client?
New and Seasoned, Small Contractors in Service and Repair, Residential, Commercial, Remodel and Home Building Who Need Bookkeeping, Invoicing (Flat-Rate, NTE, T&M, Cost Plus), Sales Tax, Payroll, Payroll Reports, Job Deposits, WIP, Retention, Pay Applications, Insurance Audits or Business Processes. We know What to Do!
For the "Best Value" We Practice "Flat Rate" Pricing Whenever Possible.
QuickBooks - We believe all contractors should have access to their QuickBooks file. It is good business practice Note - QuickBooks Desktop Version used online and QuickBooks Online are two different products. The software we use is QuickBooks (Desktop Version) in an online (hosted) environment. Desktop QuickBooks: http://www.fasteasyaccounting.com/quickbooks-desktop-online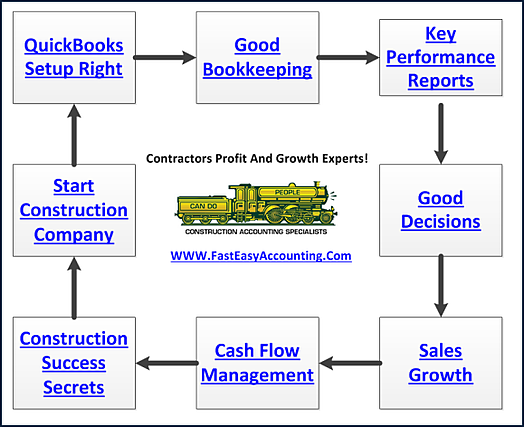 How We Work: The Beginning Of The Process
Please call me when you get a chance for a quick chat. We like to communicate via the phone in addition to emails. I look forward to discussing how we can be of assistance. I can be reached at 206-361-3950
Sincerely,
Sharie DeHart, QPA
Business Consulting And Accounting
19909 64th Ave West, Lynnwood, WA 98036

View Larger Map
About The Author:
Sharie DeHart, QPA is the co-founder of Business Consulting And Accounting in Lynnwood Washington. She is the leading expert in managing outsourced construction bookkeeping and accounting services companies and cash management accounting for small construction companies across the USA. She encourages Contractors and Construction Company Owners to stay current on their tax obligations and offers insights on how to manage the remaining cash flow to operate and grow their construction company sales and profits so they can put more money in the bank. http://www.fasteasyaccounting.com/sharie-dehart/