When Someone Says "Virtual" (_____) – What they mean is a real person or activity that exists in a remote location. The internet is real somewhere out in space and time that we can't exactly touch; but we can connect to it.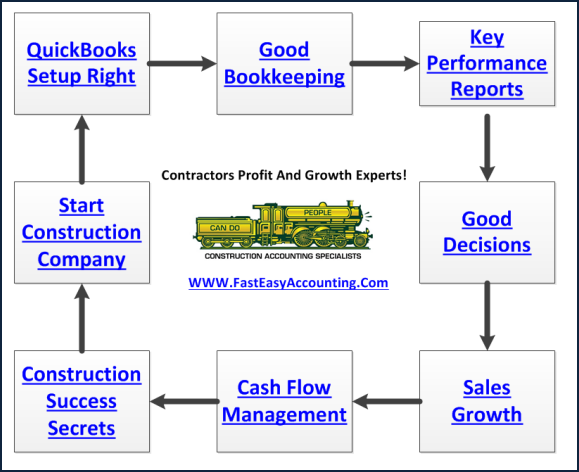 People Use It Every Day - At home and work; for some it more important than coffee. They say: "I NEED to surf The Net, check my Email, read newswire reports, and check a zillion other things."
If We Need Something – The first thing we think of is there is an app for that; the app can be accessed from our cell phone so we are never out of touch. If I miss a call, an app generates an email, with goes to my cell phone, which I always have with me. With an app – I'm virtually at my desk all of the time.
When Someone Says I Want A "Virtual Assistant" Or "Virtual Bookkeeper" - What they are really saying is that they want to "outsource" their back office support tasks or bookkeeping needs.
Why Do They Want To? - Because they are thinking. I'm a solo entrepreneur; I work out of my house and I don't want someone here / I'm hiring a 1099 Independent Contractor – not an employee with all those taxes / I'm too small / It will be cheaper because I need to have done will only take a few minutes of their time.
What does Virtual mean to you? - For us it is providing Cloud Based Construction Bookkeeping Services. It is common for someone to access their banking from their cell phone, desktop, laptop or mobile device.
From The Company's Side - It is called "Cloud Based Services". For some the term "Cloud Based Services" becomes a "scary thing" that happens on the internet; but really it's just a larger app. Using cloud services (an app) I am able to access the internet from my desktop or laptop instead of my cell phone. Playing on the internet is easy to read on a Big Screen TV and a lot more fun from the comfort of my couch.
For Example We use a Commercial Hosting Service - Which has been reviewed, inspected and certified by Intuit, the maker of QuickBooks. This allows us and our clients to work with the Desktop versions of QuickBooks in the cloud.
This Is The Exact Same Version Of QuickBooks - Which can be purchased from your local office supply store or online. Because the QuickBooks file is "In The Cloud" we automatically become a "Virtual Bookkeeper" providing "Virtual Construction Bookkeeping Services"
What is our Hands-On Approach – Between phones, email, PDF files, and the Mail we can get all of the information we need. Clients are welcome to drop by leave paperwork or without ever leaving your vehicle you can be parked in our parking lot and connect with us through our high speed WIFI.
Most Of Us Receive And Send Things Electronically - Today it is totally optional to actually go into your bank, come into the office to see your accountant or even have the need to go your own mailbox. We love to meet new people and chat with everyone in person. We like lots of paper (or soft copy) plus we want to see / talk to our clients often.
There is no such thing as ever being "Too Small" - Many of our clients are one man or woman businesses with an idea and the desire to be in business for themselves. Our clients include busy professionals and independent contractors who want someone else to deal with the paperwork so they can do "The Fun Stuff" which is what they do best.
Our Niche Is Construction - Accounting and bookkeeping services For contractors as businesses in the construction industry have many of the special needs outlined below.
Who Is Our Ideal Client?
New And Seasoned - Small Contractors in Service and Repair, Residential, Commercial, Remodel and Home Building Who Need Bookkeeping, Invoicing (Flat-Rate, NTE, T&M, Cost Plus), Needing Sales Tax, Payroll, Payroll Reports, Job Deposits, WIP, Retention, Pay Applications, Insurance Audits or Business Processes. We know What to Do!
This Is One More Example of how Fast Easy Accounting is helping construction company owners just like you put more money in the bank to operate and grow your construction company. Construction accounting is not rocket science; it is a lot harder than that and a lot more valuable to people like you and me so stop missing out! Call Sharie 206-361-3950 or sharie@fasteasyaccounting.com and schedule your no charge one-hour consultation
Profitable Contractors and Construction Company owners have known about the value of outsourced bookkeeping services and contractor coaching services like ours for a long time and now you know about it too!
We Scan Your Receipts And Invoices link the appropriate transactions to QuickBooks or Xero Accounting Online depending on the construction accounting service you are using and provide ongoing Cloud Based Contractors Bookkeeping Services by accountants who understand construction.


Thinking About Outsourcing Your Contractors Bookkeeping Services?
Click On The Button Below To Download A Free Guide
Fill

Out The Form And Get The Help You Need!
Need Help Now?
Call Sharie 206-361-3950206-361-3950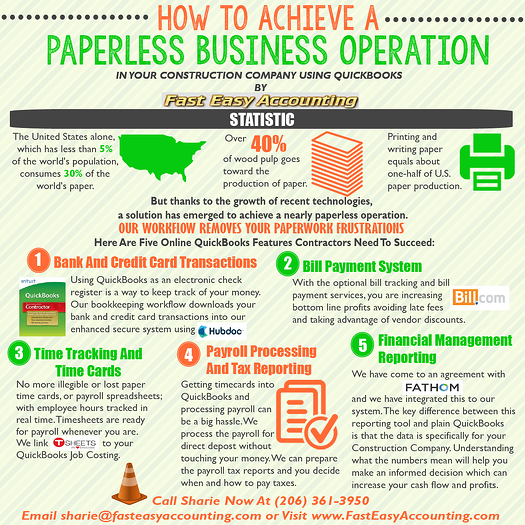 We Are QuickBooks Experts Specializing In Construction Bookkeeping Services
About The Author:
Sharie DeHart, QPA is the co-founder of Business Consulting And Accounting in Lynnwood Washington. She is the leading expert in managing outsourced construction bookkeeping and accounting services companies and cash management accounting for small construction companies across the USA. She encourages Contractors and Construction Company Owners to stay current on their tax obligations and offers insights on how to manage the remaining cash flow to operate and grow their construction company sales and profits so they can put more money in the bank. http://www.fasteasyaccounting.com/sharie-dehart/