When Homeowners Decide To Remodel - Their living space they tend to dream about how it will look and feel when it is done and they have no idea what an emotional roller coaster is in store for them.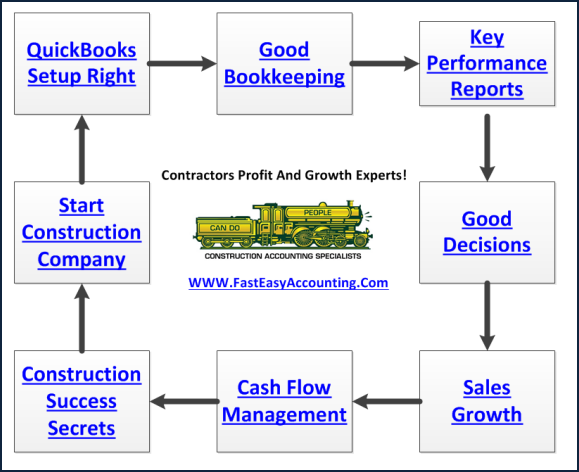 Highly Profitable Remodel Contractors - Understand this and have processes in place to deal with it. Surprises were great when you were a child because you were conditioned to believe that surprises meant you were going to get something good! As adults you have been conditioned that surprises are not always pleasant.
Fear On Both Sides - Contractors without financial reporting systems they can trust to generate accurate Key Performance Indicators and Reliable Job Cost Reports do not know if they are making or losing money from day to day which leads to doubt which leads to stress and they end result is they tend to work faster and harder. Their frantic behavior raises everyone's stress level.
Contractors In This Situation - Feel like they are driving down the freeway, at midnight, wearing a blind fold hoping for the best and fearing the worst.
A Comprehensive Bookkeeping - And financial reporting system in can reduce or remove the feeling of being out of control.
A Simple Easy To Understand - Remodel Invoicing System to keep track of the following:
Original Contract Price
Change Orders
Job Deposits
Advance Payments
Each Progress Payment
Running Balances Showing What Is Done
Running Balance For What Is Still Unbilled
Percentage Of Completion On Each Major Section
Fast Easy Accounting Sample Pay Application We Prepare For Our Clients Using QuickBooks Reports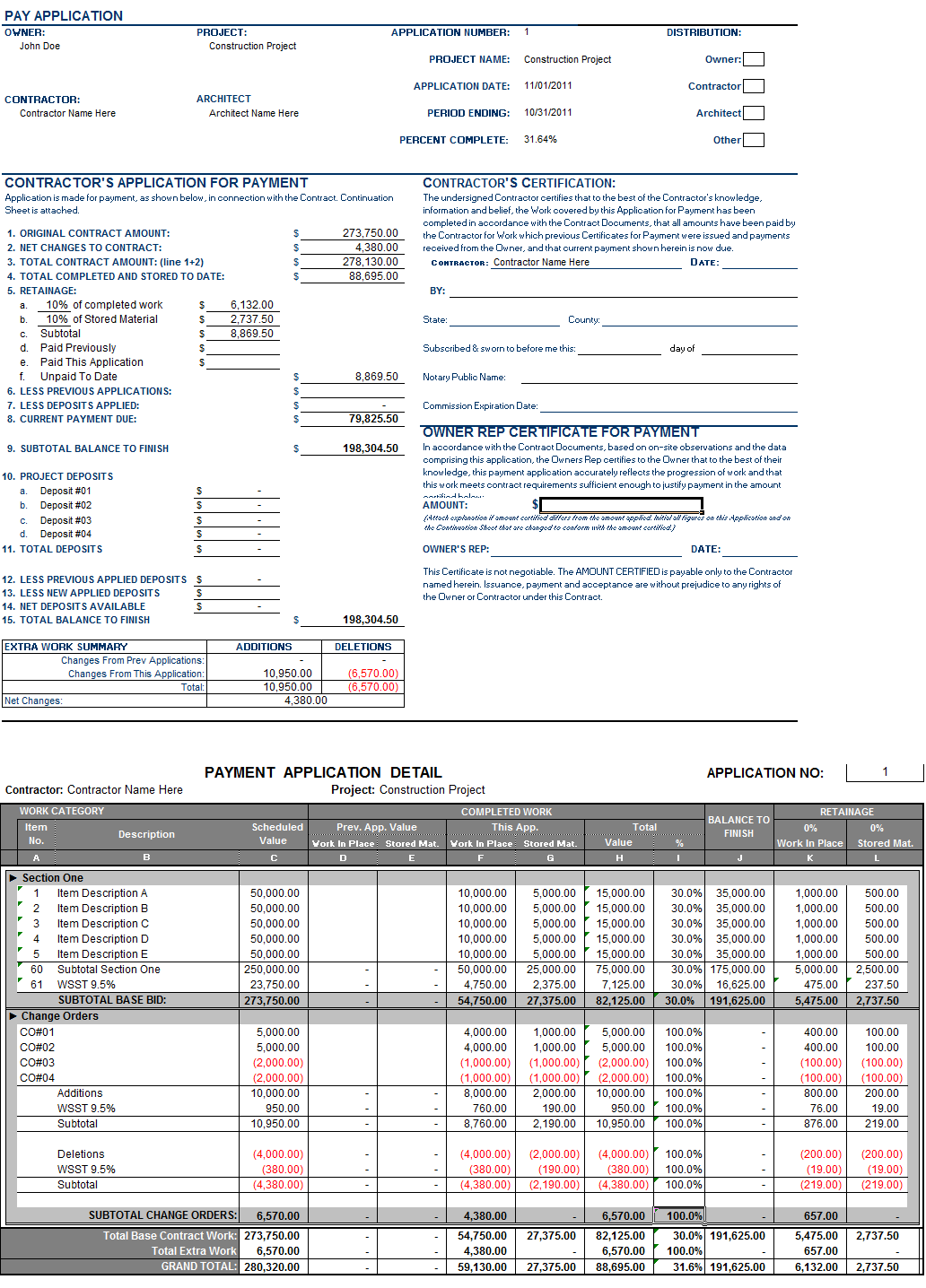 ---Invoicing Residential RemodelThis System - Needs to be in place before starting any remodeling project. It will save you and your remodel client a lot of grief and your cash flow and profits will soar. We work with contractors like you to develop strategies to deal with these issues and more.

Homeowners Expecting Their Home - To be improved suddenly find themselves under siege from a group of cavemen who are ripping and tearing their living quarters apart and they panic. Some of them consider calling 911 but they don't because they would be laughed at and perhaps irritate the contractor. Some homeowners will let you know they are very unhappy some will say nothing having decided to get even with you once the job is done by withholding final payment!
It Is Your Responsibility - As a contractor to understand the fears and concerns of your customer or client and have a communication plan in place as part of the overall project plan.
We Recommend - David Lupberger's eBook and Video Training "Managing the Emotional Homeowner" as a great place to start.
We Remove Contractor's Unique Paperwork Frustrations
For Construction Company Owners who do not need the full power of QuickBooks for contractors and want 24/7 online access we offer Xero Accounting Online and we have custom setup for construction companies. Click Here For More.
This Is One More Example of how Fast Easy Accounting is helping construction company owners all across the USA including Alaska and Hawaii put more money in the bank to operate and grow your construction company. Construction accounting is not rocket science; it is a lot harder than that and a lot more valuable to people like you so stop missing out! Call Sharie 206-361-3950 or sharie@fasteasyaccounting.com and schedule your no charge one-hour consultation.
Profitable Contractors and Construction Company owners have known about the value of outsourced bookkeeping services and contractor coaching services like ours for a long time and now you know about it too!
We Scan Your Receipts And Invoices link the appropriate transactions to QuickBooks or Xero Accounting Online depending on the construction accounting service you are using and provide ongoing Cloud Based Contractors Bookkeeping Services by accountants who understand construction.

Thinking About Outsourcing Your Contractors Bookkeeping Services To Save Time And Money?
Click On The Button Below To Download A Free Guide

Need Help Now?
Call Sharie 206-361-3950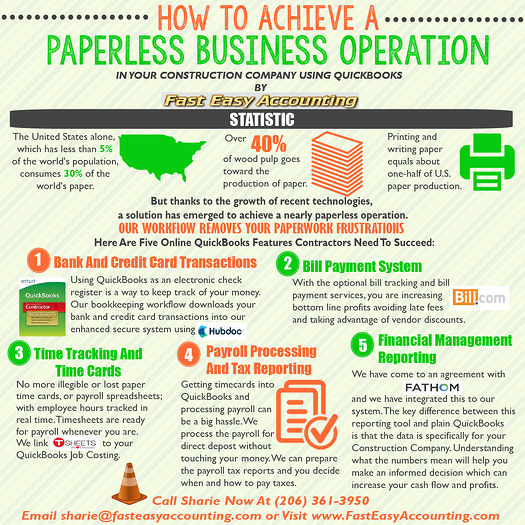 We Are Xero Accounting Experts Specializing In Construction Bookkeeping Services
About The Author:

Randal DeHart, PMP, QPA is the co-founder of Business Consulting And Accounting in Lynnwood Washington. He is the leading expert in outsourced construction bookkeeping and accounting services for small construction companies across the USA. He is experienced as a Contractor, Project Management Professional, Construction Accountant, Intuit ProAdvisor, QuickBooks For Contractors Expert and Xero Accounting Specialist. This combination of experience and skill sets provides a unique perspective which allows him to see the world through the eyes of a contractor, Project Manager, Accountant and construction accountant. This quadruple understanding is what sets him apart from other Intuit ProAdvisors and Xero accountants to the benefit of all of the construction contractors he serves across the USA. Visit http://www.fasteasyaccounting.com/randal-dehart/ to learn more.
Our Co-Founder Randal DeHart - Is a Certified PMP (Project Management Professional) with several years of construction project management experience. His expertise is construction accounting systems engineering and process development. His exhaustive study of several leading experts including the work of Dr. W. Edward Deming, Michael Gerber, Walter A. Shewhart, James Lewis and dozens of others was the foundation upon which our Construction Bookkeeping System is based and continues to evolve and improve. Check out our Contractor Success Map Podcast on iTunes and Follow Randal on Google+