And It Is Still The Best Construction Software On The Market!
Do You Ever Sit And Stare - At QuickBooks on your computer screen and asked yourselft how can a program that is supposed to be so easy get off track so fast?
80% Of The Problem - Can be traced back to how QuickBooks was setup in the beginning.
20% Of The Problem - Can be traced back to the person or persons doing the bookkeeping.
Professional Bookkeepers - Working in a construction accounting office with a team of accounting professionals and everyone uses a highly sophisticated Bookkeeping System which is part of our internal Business Process Management (BPM) System. Simply put, Professional Bookkeepers have the tools, equipment and resources to do the job Fast and Easy.
Cheap Bookkeepers - Typically work alone, using junk equipment, very limited training, no system, repeating the same mistakes over and over and taking up to ten times longer to do the work than our staff.
These Two Things - Can be the Tipping Point between success and failure in your construction business.
Understand You Cannot - Outwork your competition forever. In time you will grow old and tired and there will always be someone else who is newer, younger and works cheaper than you can.
Profit And Loss - Is made and lost in your office, not in the field and is directly related to M.A.P.
I Have Used QuickBooks - Beginning with the very first version in DOS that was released in the early 1990's and can assure you I have crashed it, rolled it over in the ditch, stomped on the box it came in, tore up some 3 1/2" floppy discs, yelled at it, said a few bad words, banged my fist on the desk, drop kicked the computer, slammed a few laptops on the ground and generally had a Love-Hate relationship with it.
Before QuickBooks - We were using something at least ten times worse and that was after trying several other software packages that were about a useful as using a tea cup to bail water out of a sinking ocean liner, in the dark, while wearing dark sunglasses, with one arm tied behind your back, dragging a ten pound lead weight with your left foot and using crutches because your right foot is in a cast.
The Good News Is - QuickBooks For Contractors is hands down, the best, number one, Grand Prize Winner, our first choice for construction companies like yours with annual sales under $10,000,000.
When QuickBooks - Is setup correctly it is pure pleasure, a joy to use, the most fun you can have with your clothes on, better than a vacation in Hawaii (almost), like riding the Merry-Go-Round at the amusement park.
It Is A Masterpiece - That will save you so much money that if you use is as intended and don't attempt to "tweak it" it will pay for itself within six months and continue paying dividends for years to come. Both in time savings for your bookkeeper and in the custom reports that show you where you are making and losing money. See What Is Ten Minutes Costing Your Company and the 80/20 Rule
And Don't Use The "Easy Step Interview" - Inside QuickBooks because it is put together by a "Committee" of folks with the best intentions who did the best they could to make a generic one-size-fits-all template. As you may know a "Camel" is a "Horse" put together by a committee.
If You Already Did - The Easy Step Interview it is not too late, no matter how long ago it was done, we can fix it. call Sharie at 206-361-3950 or email her at sharie@fasteasyaccounting.com
When QuickBooks Is Setup - By qualified Construction Accountants who know what they are doing, not some well-meaning, good hearted bookkeeper or tax accountant who does all kinds of bookkeeping and accounting including point of sale, restaurants, gas stations, attorneys, dentists, lemonade stands, manufacturing and anybody else who walks in the door or calls them on their cell phone, you have something that actually works like you wanted.
You Can Go Cheap - And find someone who does the same thing for less; however consider this "Quality is like buying oats. If you want nice, clean, fresh oats, you must pay a fair price. However, if you can be satisfied with oats that have already been through the horse ... that comes a little cheaper." - Author Unknown.
We Remove Contractor's Unique Paperwork Frustrations
For Construction Company Owners who do not need the full power of QuickBooks for contractors and want 24/7 online access we offer Xero Accounting Online and we have custom setup for construction companies. Click Here For More.
This Is One More Example of how Fast Easy Accounting is helping construction company owners all across the USA including Alaska and Hawaii put more money in the bank to operate and grow your construction company. Construction accounting is not rocket science; it is a lot harder than that and a lot more valuable to people like you so stop missing out! Call Sharie 206-361-3950 or sharie@fasteasyaccounting.com and schedule your no charge one-hour consultation.
Profitable Contractors and Construction Company owners have known about the value of outsourced bookkeeping services and contractor coaching services like ours for a long time and now you know about it too!
We Scan Your Receipts And Invoices link the appropriate transactions to QuickBooks or Xero Accounting Online depending on the construction accounting service you are using and provide ongoing Cloud Based Contractors Bookkeeping Services by accountants who understand construction.

Thinking About Outsourcing Your Contractors Bookkeeping Services To Save Time And Money?
Click On The Button Below To Download A Free Guide

Need Help Now?
Call Sharie 206-361-3950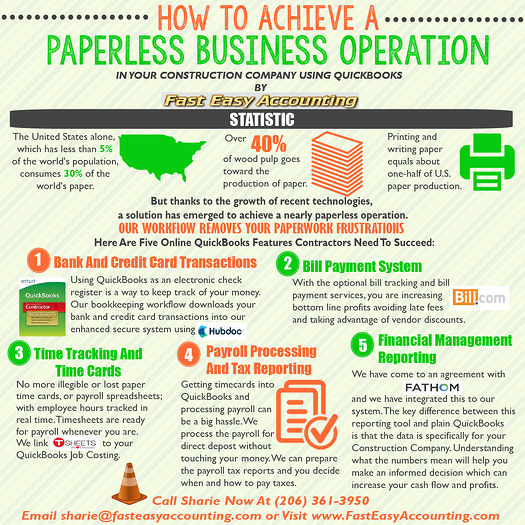 We Are Xero Accounting Experts Specializing In Construction Bookkeeping Services
About The Author:

Randal DeHart, PMP, QPA is the co-founder of Business Consulting And Accounting in Lynnwood Washington. He is the leading expert in outsourced construction bookkeeping and accounting services for small construction companies across the USA. He is experienced as a Contractor, Project Management Professional, Construction Accountant, Intuit ProAdvisor, QuickBooks For Contractors Expert and Xero Accounting Specialist. This combination of experience and skill sets provides a unique perspective which allows him to see the world through the eyes of a contractor, Project Manager, Accountant and construction accountant. This quadruple understanding is what sets him apart from other Intuit ProAdvisors and Xero accountants to the benefit of all of the construction contractors he serves across the USA. Visit http://www.fasteasyaccounting.com/randal-dehart/ to learn more.
Our Co-Founder Randal DeHart - Is a Certified PMP (Project Management Professional) with several years of construction project management experience. His expertise is construction accounting systems engineering and process development. His exhaustive study of several leading experts including the work of Dr. W. Edward Deming, Michael Gerber, Walter A. Shewhart, James Lewis and dozens of others was the foundation upon which our Construction Bookkeeping System is based and continues to evolve and improve. Check out our Contractor Success Map Podcast on iTunes and Follow Randal on Google+