It's ok with me – If you only want to have one way communication! One More App – That's The Answer! Looking For Results - Most of us are trying to get the best "Bang-For-Our-Buck". Create a little more efficiency in our business by adding an app. for that / buying software / delegating some of our workload to others.
What Are The Toothpaste Cap's - In your business? What is a "Toothpaste Cap?" One definition is – The little annoyances that add up one by one. By themselves they each are no big deal. When several are put together it can become a big thing……Almost Always Discussed Loudly – because the other person is NOT listening.
A Management Seminar - Described it in reference to newlyweds…..One spouse is very tidy at all times. The other would leave the toothpaste cap off with the tube and cap both laying on the bathroom sink counter….Towel in hamper or towel on floor…..A few episodes ago on "Blue Bloods" – Danny left his bowl and spoon on the counter instead of putting it in the dishwasher. It was a Pet Peeve that on any other day was only a Toothpaste Cap.
Everyone Has Their Own Rules - About Toothpaste Caps and Pet Peeves. When and what triggers the transition from one category to the other. Once anything is big enough to move from a Toothpaste Cap to a Pet Peeve – everyone knows about it. Anyone been around a new baby – it teaches us that - No one likes to suffer quietly.
The First Few Times - Is a casual annoyance (Toothpaste Cap). After it grows and grows and grows it turns into another word - more commonly known as "Pet Peeves." The net result is couple have divorced and business partnerships have ended over what started out as a few "Toothpaste Caps" that got out of hand.
How Does This Relate - To your business? – One example is our previous blog on The Communication Tree
Budgets And Money – do you have enough each month? How much of your marketing budget is being wasted? Why – Marketing is another form of communication.
Communication - Here a few Pet Peeves I experience on a weekly basis.
I Like Newsletters! - I want to see your Flyer / Newsletter / Emails – I like business! Even if I don't need your services I might be able send someone your way that does. Tell Me Again - Why did you send it?
Newsletters / Emails Going To Spam.
Eye Catching Headlines – Are Good! So why did my email provider "Spam It".
Filters review - The send to and from email address…….Did you send out the email yourself? Use a Professional Service? / Hire Aunt Suzy? / Kid Next Door / Or A Friend Who Really, Really, Really Needed A Job?
Any Or All - Might be perfect for your business – If you are not making it to the "In Box" spam filters think you are the spammer. Why you may have this weird / off the wall / non –related email as your return email address that doesn't relate in anyway to your business name or services.
It's Ok With Me – If You Only Want To Have One Way Communication (Outgoing)

Phone Calls - The Old Fashioned Way. More and more calls are being sent from auto dialers. This may be one of the reasons why the 30 & under have only a cell phone; trend is that they use lots of text messaging and do not want to answer the phone unless it's someone they know. Is this efficient based on your type of business and effective business model? Results: Is it Working For You?
My Top Prize Goes The Autodial - That when I picked up the phone the second ring will respond with: "Thank you for answering the phone…..you have not answered in time and therefore we will have to call you back" – Click! – Nothing useful in that message. I am assuming a real company with a real service wanted to acquire a new customer. A company allocated money in a budget to make the call.
Was The Provider Paid - To reach someone or just answer the phone? What did we all do before email / text messaging – We left a detailed message! Result: It's ok with me – If you only want to have one way communication (outgoing)
Why Have - Businesses and individuals embraced technology? The Toothpaste Caps became Pet Peeves! Snail mail was the norm for decades. Now the Post office is looking to ways to balance their budget. Some areas have cancelled their Saturday delivery and consolidated some of the other days of the week based on volume.
The Fax Machine - Happiness was purchasing our first multi-function Ricoh fax machine. It was huge and cost over $5,000.00 and it had a function button we needed! – The Transmission Report which included a detailed image of the first page sent.
In The 1980's - We were working on new construction projects and the "General Contractor" had a problem about receiving subcontractor bills to add to that month's draw. In Service and Repair plumbing a few larger property managers ignored the invoice left at the time of service. So we followed up with a QuickBooks Invoice in the snail mail / QuickBooks Month End Statement snail mailed. And sometimes we sent a copy of the detailed transmission report (time / date stamped) to help us get paid.
I'm All About Cash Flow - And cash management and helping small contractors and brand new business owners. We have provided several types of invoices to assist you in getting paid from simple to complex. Some larger general contactor's also have embraced new technology and require their vendors to submit a specific pay application in paper or online format. We can help in the filling out / submitting the forms.
Our Business Philosophy: We Are Easy To Do Business With
Please Contact Us By / Fax / Email / Chat / Meet Discuss Your Issues / We Want To Be Of Help
Some people are embarrassed about the condition of their paper; the number of past due notices.
It's ok – all that I ask is that you to bring it all in. We know what To Do With Once We Have It
You do not need to explain it or watch us. You have handled it enough!
We Remove Contractor's Unique Paperwork Frustrations
For Construction Company Owners who do not need the full power of QuickBooks for contractors and want 24/7 online access we offer Xero Accounting Online and we have custom setup for construction companies. Click Here For More.
This Is One More Example of how Fast Easy Accounting is helping construction company owners all across the USA including Alaska and Hawaii put more money in the bank to operate and grow your construction company. Construction accounting is not rocket science; it is a lot harder than that and a lot more valuable to people like you so stop missing out! Call Sharie 206-361-3950 or sharie@fasteasyaccounting.com and schedule your no charge one-hour consultation.
Profitable Contractors and Construction Company owners have known about the value of outsourced bookkeeping services and contractor coaching services like ours for a long time and now you know about it too!
We Scan Your Receipts And Invoices link the appropriate transactions to QuickBooks or Xero Accounting Online depending on the construction accounting service you are using and provide ongoing Cloud Based Contractors Bookkeeping Services by accountants who understand construction.

Thinking About Outsourcing Your Contractors Bookkeeping Services To Save Time And Money?
Click On The Button Below To Download A Free Guide

Need Help Now?
Call Sharie 206-361-3950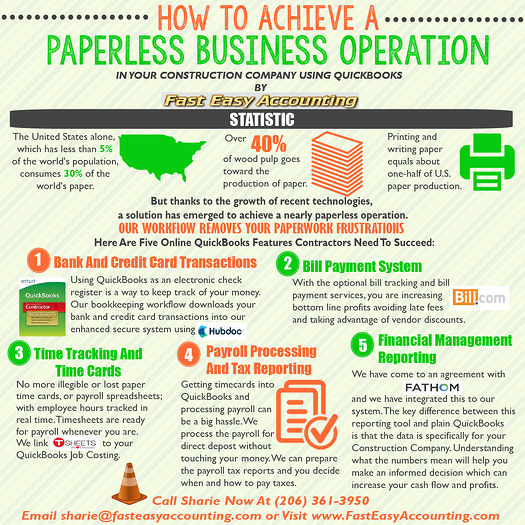 We Are Xero Accounting Experts Specializing In Construction Bookkeeping Services
About The Author:
Sharie DeHart, QPA is the co-founder of Business Consulting And Accounting in Lynnwood Washington. She is the leading expert in managing outsourced construction bookkeeping and accounting services companies and cash management accounting for small construction companies across the USA. She encourages Contractors and Construction Company Owners to stay current on their tax obligations and offers insights on how to manage the remaining cash flow to operate and grow their construction company sales and profits so they can put more money in the bank. http://www.fasteasyaccounting.com/sharie-dehart/