---
One of the biggest concerns contractors have about outsourcing their contractors bookkeeping to a cloud based contractor accounting service like ours is they think it means sending jobs off-shore rather than keeping your dollars in America where they can help other Americans. In too many cases that is exactly what occurs.
Understanding the differences between Outsourced, Offshore and Freelance Bookkeepers is the key.

Outsourced Contr

actor Bookkeeping Services Like Us Have Pros And Cons:
Pros
We specialize in construction accounting and working with contractors across the USA including Alaska and Hawaii*
All work is done in our commercial office in Lynnwood Washington which is open to the public
We care about contractors who want long term relationships and we will always "go the extra mile"
We operate as a fully functional team with multiple skill levels to handle any construction accounting issue
Nobody takes work home or out of the office for any reason in order to keep your records confidential
We offer Flat Rate pricing, no surprises, no heartache, no regrets, no long term contracts, month to month, cancel anytime
Everyone working on your contractors bookkeeping here has real world field experience working on construction sites
Our construction bookkeepers and construction accountants have a minimum of 10,000 hours of practice in construction accounting
Live phone support is available support during normal business hours
Your QuickBooks is backed up every night on secured servers
Our staff is fully trained, supported and we provided continuing education programs
We have QuickBooks setup templates to accommadate over 100 different types of contractors and can custom build for over 10,000 combinations
With hundreds of construction company clients we have unique insights to share with you what successful contractors do that makes them money
We have a fully functional tested and working contractors bookkeeping services system
Cons
We are not the low price leader
We are not a good fit for contractors who like to control everything
We are not a good fit If all of your construction company contracts exceed $100,000 or if you have more than $10M in annual sales
We are not good "negotiators" and do not tolerate anybody who takes pride in "grinding down" their suppliers and trusted advisors
Off-Shore Accountants Have Pros And Cons:
Pros
Offshore bookkeepers have better training than most American freelance bookkeepers
They work cheap
Cons
Language barrier can be very frustrating to contractors like you

Possible identity theft because the weakness of international laws

Transactions put into the wrong account can distort all your Job Costing Reports including the Profit and Loss By Job Report

Forget trying to train them on construction accounting in a way that works for your particular contracting company
Local Free Lance Bookkeepers Have Pros And Cons:
Pros
They may come to your office
They work cheap
Cons
They work alone and therefore have little or no support staff to help with low level administrative duties

They spend very little time and money on initial training let alone paying for continuing education

They typically serve every business and industry on the planet because they cannot afford to turn business away

They do not understand construction or construction accounting which can be very frustrating to contractors like you

Working from home means your sensitive financial records are at risk of being reviewed by your competitors


Possible identity theft because the weakness of internal controls

Transactions put into the wrong account can distort all your Job Costing Reports including the Profit and Loss By Job Report

Forget trying to train them on construction accounting in a way that works for your particular contracting company
All three groups have Pros and Cons and it is up to you to decide what is best for your construction contracting company. Listed below are just a few of the construction company types we serve:

Short List Of Construction Contractors We Serve

Brand New Construction Companies

Handyman Contractors

Cabinet Installers

Handywoman Contractors

Carpentry Construction Companies

HVAC Contractors

Carpet Installers

Insulation Contractors

Commercial Tenant Improvement Contractors

Interior Designers

Concrete Contractors

Land Development Contractors

Construction Companies

Landscape Contractors

Construction Managers

Masonry Contractors

Contracting Companies

Mold Remediation Companies

Contractors

Moss Removal Companies

Custom Deck Contractors

Painting Contractors

Custom Home Builders

Plumbing Contractors

Demolition Contractors

Pressure Washing Companies

Drywall Contractors

Remodel Contractors

Electrical Contractors

Renovation Contractors

Emerging Contractors

Restoration Contractors

Excavation Contractors

Roofing Contractors

Finish Millwork Contractors

Spec Home Builders

Flipper House Contractors

Specialty Contractors

Flooring Contractors

Subcontractors

Framing Contractors

Sub-Contractors

General Contractors

Trade Contractors

Glass Installation Contractors

Underground Contractors

Gutter Installation Contractors

Utility Contractors
---
This Is Only The Tip - Of the Iceberg. Everything we publish in our blog posts, articles in other websites, and anything you can find on the web is nothing compared to what is available to you as our client. We show only the basic tools to open your mind to the possibilities that are available to you. The best finish carpentry tools in the hands of a golf professional without proper carpentry training will not produce anything near to what a skilled finish carpenter can. The same can be said about the best construction business consulting and accounting tools in the hands of a skilled finish carpenter. And I say that with respect and admiration for everyone in construction.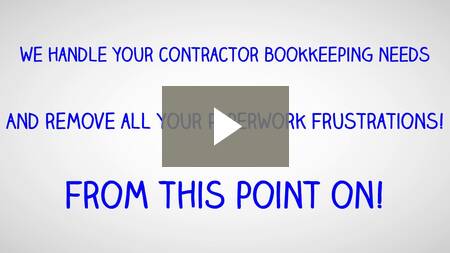 When You Become A Client - Then we can tap into our resources of knowledge and strategy banks. We use the reports hidden in your QuickBooks in order to diagnose and understand your construction business and develop plans and help you implement a path to success for you and you alone because every contractor has unique Strengths, Weaknesses, Opportunities and Threats (S.W.O.T. Analysis) that when understood can lead to a Strategic Roadmap which cannot help but make a lot of money.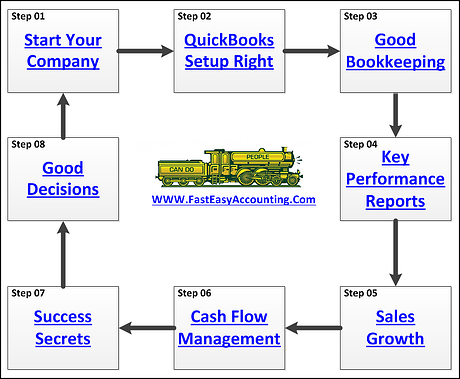 If You Are A Contractor You Deserve To Be Wealthy
Because You Bring Value To Other People's Lives!
This Is One More Example of how Fast Easy Accounting is helping construction company owners just like you put more money in the bank to operate and grow your construction company. Construction accounting is not rocket science; it is a lot harder than that and a lot more valuable to people like you and me so stop missing out! Call Sharie 206-361-3950 or sharie@fasteasyaccounting.com and schedule your no charge one-hour consultation.
Profitable Contractors and Construction Company owners have known about the value of outsourced bookkeeping services and contractor coaching services like ours for a long time and now you know about it too!
We Scan Your Receipts And Invoices link the appropriate transactions to QuickBooks or Xero Accounting Online depending on the construction accounting service you are using and provide ongoing Cloud Based Contractors Bookkeeping Services by accountants who understand construction.
Thinking About Outsourcing Your Contractors Bookkeeping Services?
Click On The Button Below To
Download A Free Guide

Need Help Now?
Call Sharie 206-361-3950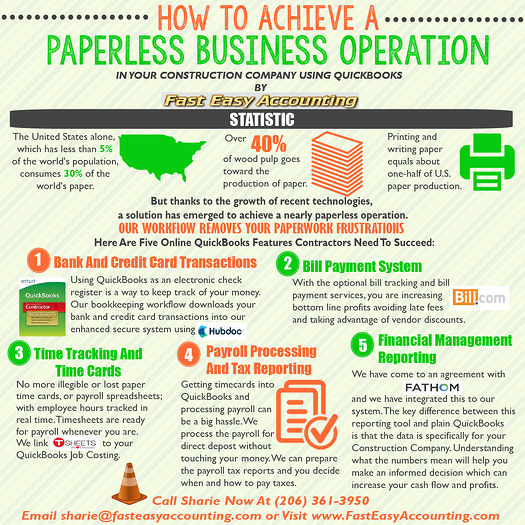 We Are Construction Accounting Experts Specializing In Construction Bookkeeping Services For Contractors All Across The USA Including Alaska And Hawaii
About The Author:

Randal DeHart, PMP, QPA is the co-founder of Business Consulting And Accounting in Lynnwood Washington. He is the leading expert in outsourced construction bookkeeping and accounting services for small construction companies across the USA. He is experienced as a Contractor, Project Management Professional, Construction Accountant, Intuit ProAdvisor, QuickBooks For Contractors Expert and Xero Accounting Specialist and Bill.Com Certified Guru. This combination of experience and skill sets provides a unique perspective which allows him to see the world through the eyes of a contractor, Project Manager, Accountant and construction accountant. This quadruple understanding is what sets him apart from other Intuit ProAdvisors and Xero accountants to the benefit of all of the construction contractors he serves across the USA. Visit http://www.fasteasyaccounting.com/randal-dehart/ to learn more.
Our Co-Founder Randal DeHart - Is a Certified PMP (Project Management Professional) with several years of construction project management experience. His expertise is construction accounting systems engineering and process development. His exhaustive study of several leading experts including the work of Dr. W. Edward Deming, Michael Gerber, Walter A. Shewhart, James Lewis and dozens of others was the foundation upon which our Construction Bookkeeping System is based and continues to evolve and improve. Follow Randal on Google+