Today's Guest Article Is From Freddie Tubbs
As a contractor, you probably have some former clients you want to stay in contact with and a need to bring the new customers in. The ideal way is to communicate with both of these groups in a timely, consistent manner and let them know what you are up to.
Since most people use email to communicate, this could be an excellent opportunity for you to catch their attention and build a good relationship. It gives you complete control over who sees your messages and you can be sure that your emails will go to everyone on your list. Social media is, in contrast, quite fickle and sometimes people will miss your posts unintentionally. This is why well-written emails from you might do a far better job.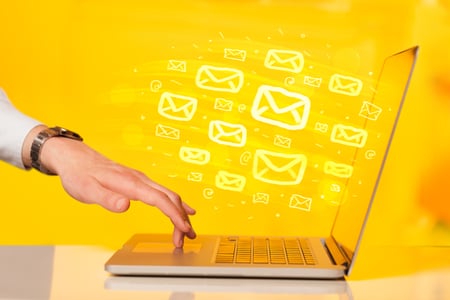 Here is how to use email marketing for your construction business.
Build an email list
To build an email list, you'll likely need some sort of a website or online platform where you can gather subscribers. Build a good landing page and offer something in turn for their subscription. You can also set up a page where they can get a quote price on your work based on their demands. This is one of the best ways to get subscribers because everyone prefers to have such information delivered to their inboxes.
Promise exclusivity like discounts, promo codes, tips, free content and so on. All of these things will lead to you gathering more email subscribers and having an active communication with your clients in season and off-season.
Write strong subject lines
The subject line is one of the first things the reader sees when they open your email and this means that it has to be striking. For one, it needs to be relevant to the subject at hand so you can't be deceiving and trick people with certain subject lines. Next, it should be attention grabbing. People usually open emails with question subject lines or their own name in it. Generic titles don't work as well.
Use a company email
Make sure that your email address is recognizable since your clients will have to be completely sure who it's coming from. Use a verified, personal email address that shows them who you are from the get-go and ensures them in your trustworthiness.

Write clear email copy
Email copywriting can be a daunting task for people who want to succeed in Email copywriting but have little to no experience in doing so. Construction work really has nothing to do with writing, so here are some powerful tools to help you out:
Studydemic- If you need an email copywriting guide, look no further than this resource full of helpful tips.
Boomessays - In case you feel like your writing could use some editing, you should get some help from this tool.
Writing Populist - Grammar mistakes can be pesky but with this checker, you will never need to check grammar yourself again.
Academized - Proofreading is essential in writing email copy. Use this simple tool.
Link to your site
Each one of your emails should contain a link that leads back to your website. This way, you get traffic and your subscribers get an opportunity to read more of your content, get acquainted with your prices and so on.
Include a CTA
The purpose of every email is to entice some action on the part of the recipient. Whether it's a share, a feedback response, a purchase or something else entirely, you need to add calls-to-action to every email you create. These are small but compelling lines at the end of your emails calling for the next step - for instance, 'Buy Now!', Get the discount here' and so on.
Don't spam
Be wary of the GDPR (General Data Protection Regulation) guidelines which explicitly say what you should and shouldn't do when email marketing. "These rules are very straightforward and you should pay attention to them. Most of the time, if you write properly and with the right intention, you can hardly make a mistake", - explains Sara Jordan, an Email marketing strategist at Student Writing Services.
Be friendly
When your subscribers receive your email, they don't want to hear from a stuffy, uptight construction contractor. They want to see a friendly, calming tone of voice - it's their personal inbox, after all.
So, try to sound moderately friendly and genuinely kind in your emails.
Write amazing emails! Starting an email newsletter can be a great thing for any construction business. You can use it to send updates, get more clients and get overall better results. These have been some tips on starting an email newsletter and hopefully, they will help.
---
About The Author:
Freddie Tubbs is a communication manager at Assignment help service. He also works as a blog writer and editor at Australian Reviewer and Grade on fire.
Recommended Reading: Like this post? Check our past blog posts related to this topic.
Access Code: FEAHEROS
Click here to download the App on Android:
Click here to download the App on iOS:
Simply scan the QR code or search for 'MyAccountants' in the App Store and enter the Access code: FEAHEROS to utilize the powerful App features and capabilities, and benefit from having our Construction Accounting App at your fingertips, 24/7."
PS: Even if you are not a Construction Contractor you will find a plenty of benefits in the app so we invite you to download it too! It's Free so why not?